On January 4, 1945, Sgt. Wendell Wolfenbarger was still with his unit, the 26th Infantry Division, 328th Infantry Regiment in Luxembourg. In a letter to his wife Ruby, he hints at upcoming action in mentioning he doesn't know when he'll be able to write again or if he would even be able to mail the letter he was writing. In the midst of the danger and devastation that was the Battle of the Bulge, the hardships of his former life at home seemed most unimportant. He wished himself back in his old job at the post office in Neosho. Wolfenbarger never had the chance to return to that job, to his family, or the "good old United States."
"Man Alive, how I wish I were back there. I would work 24 hours per day, Sundays included and not say a word about it. No use bitching tonight. I'm here and that's all there is to it...But at the same time I realize why we're here and know the job must be done."
On January 18, 1945, two weeks after this letter to his family, Wiley was killed by German machine gun fire in an open field near Berle, Luxembourg, a village that was decimated during the war like most in the Ardennes. Returning to his company with a small patrol of men after gathering vital intelligence on enemy troop strength, Wolfenbarger, the assistant squad leader, and the others were detected by the Germans. He managed to remain in position and provide the cover needed for his men to escape while he was mortally wounded. He was buried in Luxembourg with a chaplain officiating. The Silver Star was awarded to Wolfenbarger posthumously for his action that day and was later presented to his widow.
Sgt. Wendell Wiley Wolfenbarger is buried in Plot B Row 1 Grave 47 at Luxembourg American Cemetery. He rests there with 5,076 Americans who gave their lives during the war, most during the Battle of the Bulge.
Gift in Memory of Ruby May (Barlow) Wolfenbarger, 2012.346.010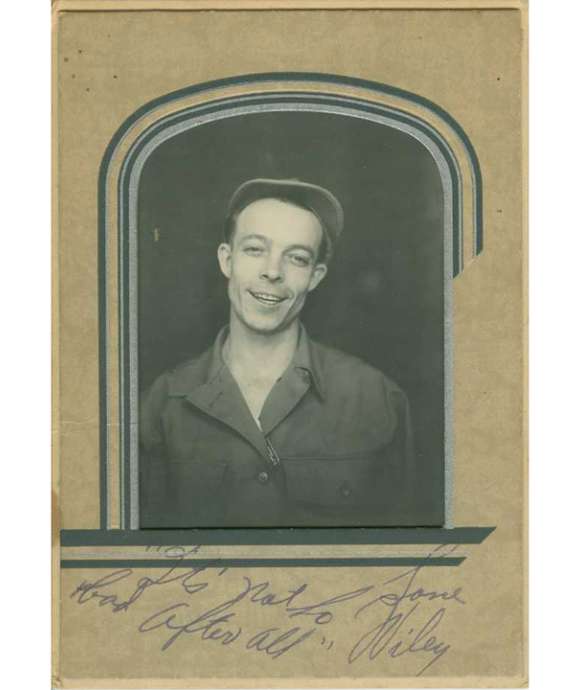 Mail Call: Wendell Wiley Wolfenbarger, January 1, 1945
"It seems kind of strange to put that 1945 on the date line instead of the old 1944. It hardly seems possible that a new year has rolled around."
Read More

Contributor
Kimberly Guise holds a BA in German and Judaic Studies from the University of Massachusetts Amherst. She also studied at the Universität Freiburg in Germany and holds a masters in Library and Information Science (MLIS) from Louisiana State University. Kim is fluent in German, reads Yiddish, and specializes in the American prisoner-of-war experience in World War II.
Learn More