Americans had many heroes during World War II. Some lay under white crosses on distant shores, others returned home wounded beyond recognition, many more were average young men who answered their country's call. Some carried rifles, others loaded large naval guns, or flew aircraft. But one of America's favorite heroes fought with his fists. When Joe Louis Barrow, known to America as Joe Louis, put on an army uniform in the early part of 1942, he wasn't just another young African American—he was boxing's world heavyweight champion, a title he had held since 1937.
Born in Alabama in 1914, Louis was the seventh of eight children born to Munroe and Lillie Barrow. His father was a sharecropper who left when Louis was young. Louis' mother married a widower, and the family grew with the addition of his six children. With so many mouths to feed, and fields to tend, Louis had very little formal education. He'd been slow to develop—slow to talk and walk, and when he did he spoke with a stutter. Louis was considered a quiet, good-natured child who did as he was told and never made trouble. He was, simply put, an unremarkable young man.
Years of bad farming combined with rampant racism and escalating violence began to pull many African Americans away from the South and farming. In 1926, Louis and his family moved north to Detroit where the auto industry drew hundreds of thousands in search  of better work. There, Louis attempted school, but by the sixth grade he was under performing and was sent to a trade school, where he found the  curriculum suited him better. Times were hard, and by age 15 Louis left school to help support his family. It was in those years that an amateur boxer friend convinced Louis to spar with him. It was the beginning of a historic career.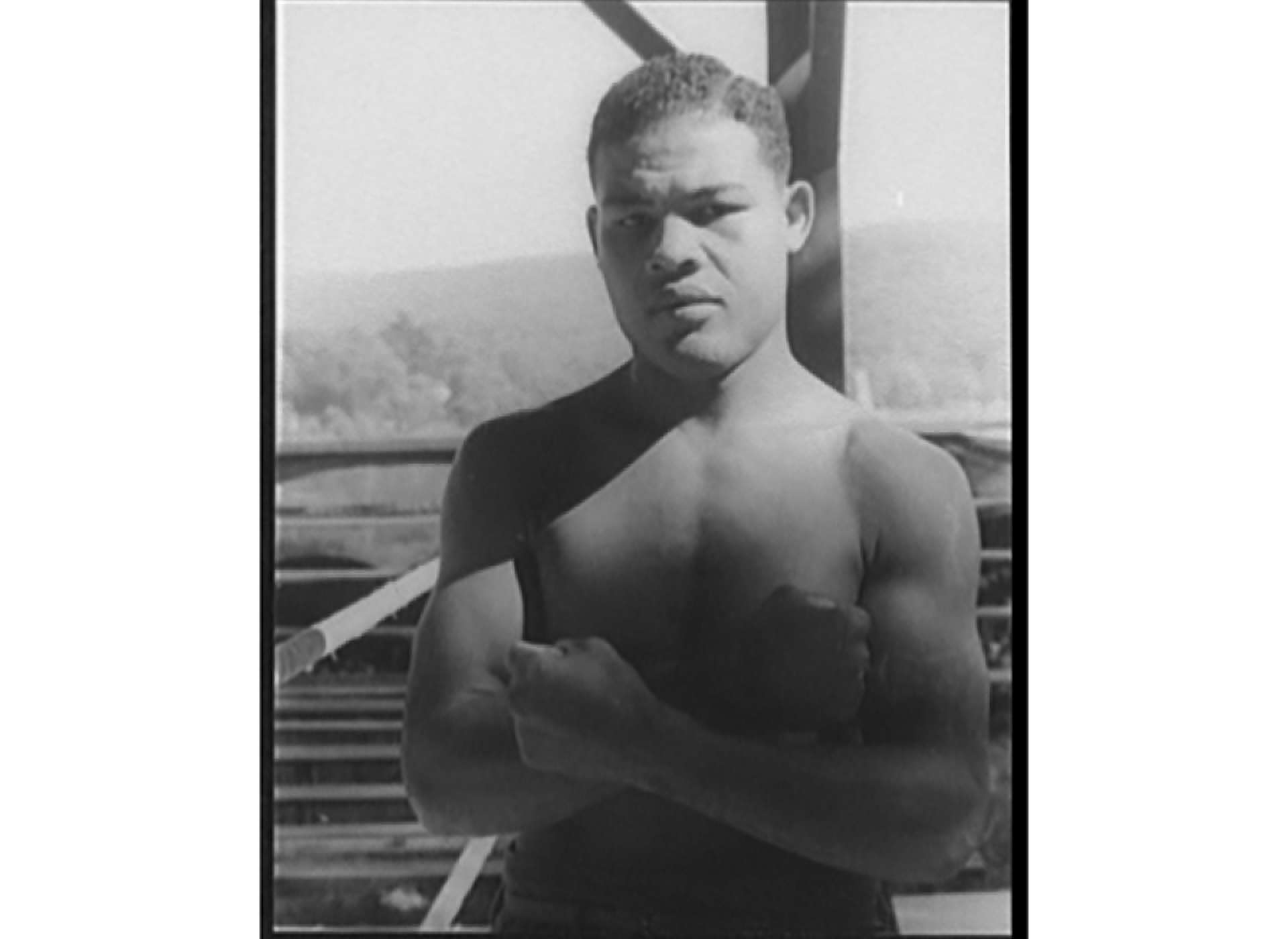 Louis took to boxing quickly and by mid-1934, after several years of learning not only how to fight but how to win, he was victorious in 50 out of 54 amateur fights with forty-three  knockouts. Louis was ready to go pro as a heavyweight, and did so on July 4, 1934, knocking out his opponent in the first round. His boxing career took off from there. Louis quickly became a hero to the African American community, and his handlers knew too well that a black fighter walked a thin line in 1930s America. Outspoken and flamboyant Jack Johnson, once the heavyweight champion, had pushed the line too far in his private life and had suffered for it. Louis was Johnson's opposite outside of the ring. He was naturally reserved, saying little and smiling even less, and black America came to love him as he brought them hope during the bleak days of the depression.
In 1936, Louis prepared to face his most famous opponent yet—German boxer Max Schmeling. Although he'd not yet fought for the heavyweight championship, Louis had fought several former champions and won. His fans were confident Schmeling would be the next victim of their beloved "Brown Bomber." The event sold out Yankee Stadium, and all of America listened. The celebrations which had erupted in Harlem and other African American neighborhoods in 1935 when Louis beat former champions Primo Carnera and Max Baer were not heard that night. Louis and Schmeling went twelve rounds before the German boxer put Louis on the mat with a knockout. 
1937 was a better year for Louis. He learned from his loss to Schmeling, trained harder, and on June 22, Louis faced the current heavyweight champion Jim Braddock. The fight lasted eight rounds before Louis knocked Braddock out. Across America, black neighborhoods erupted in celebration. He was their hero, their champion, an example of what many of them felt they could be in a world of equality. For Louis, it was half a victory. Despite the magnitude of what being the heavyweight boxing champion meant,  Louis wanted another shot at Max Schmeling.
That chance came in 1938, with a rematch scheduled for Yankee Stadium on June 22. For millions this was not just a boxing match, it was a literal fist fight of ideologies—a black American boxer against a friend of Hitler, and example of the so-called German "master race." By 1938, tension was growing between the United States and Germany. The 1937 heavyweight championship between Schmeling and Braddock was cancelled due to threats of boycott, and there was a fear that if the German boxer took home the championship, Louis would never get the chance to fight for it. Despite heavy propaganda against Schmeling, portraying him as the epitome of Nazi evil,  it was unbeknownst to the public that Schmeling had never joined the Nazi party and had saved the lives of two Jewish teenagers during the Kristallnacht raids.
The hype around the match grew as the date approached. Americans who had supported Schmeling in 1936 were swept up by the political wave washing over the match and turned against him. The match drew 70,000 to Yankee Stadium. An estimated 60,000,000 Americans (nearly half the population) tuned in via radio, along with over 100,000,000 worldwide. The bell rang, the match began. Two minutes and four seconds later it was over. Louis had knocked Schmeling down three times before the referee declared a technical knockout and ended the match, fearful that any further blows would be fatal. Joe Louis was still the heavyweight champion. America went wild, Germany went silent. A testament to Louis' performance was silence in German media. The win was too definitive to be disputed.
Riding the high of  defending his heavyweight championship, Louis continued to box as the world sped towards war. In October 1940, Louis registered for the draft. He was eager to do his part for his country, and his first opportunity came the next year when his manager suggested he donate his earnings from his upcoming match to defend his champion title to the US Navy Relief Society. Louis agreed, and was met with backlash from a large part of the African American community. The US Navy was the most staunchly segregated branch of the US Armed Forces, and many felt betrayed that he would donate funds to an organization that relegated African Americans to "servant" roles as mess men and cooks. Louis was undeterred: "No place else in the world could a one time black cotton picker like me get to be a millionaire. I love this country like I love my people." The controversy ended before the match, when Japanese forces attacked the US fleet at Pearl Harbor. Americans were all in the war together, and Louis became an even greater hero. Louis won the match and donated $89,092 to the Navy Relief Society the day after he enlisted in the US Army.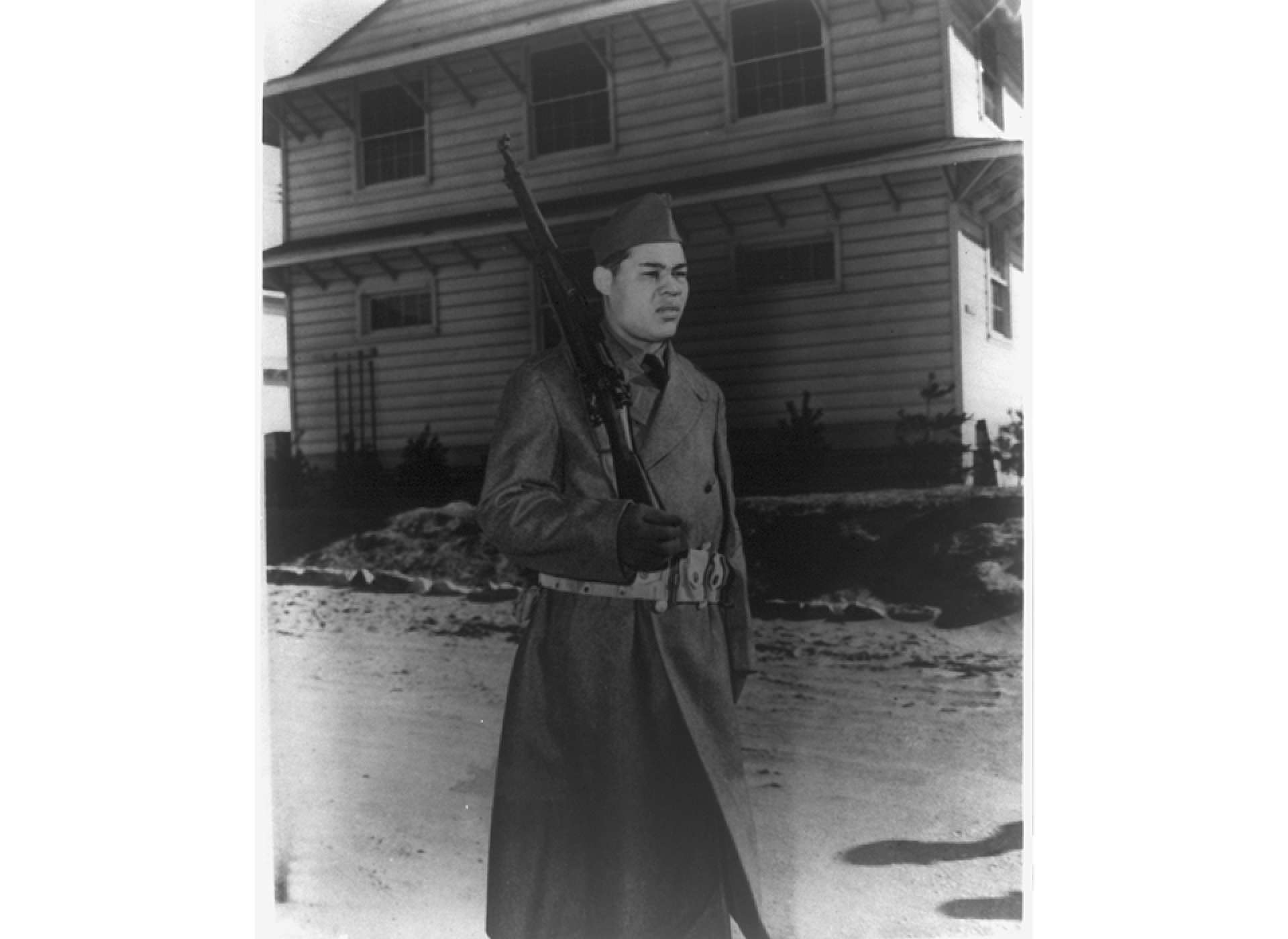 Louis went to boot camp, but was never destined for combat. His greatest value to the war effort was in his popularity. In a time where few, if any, photos of black soldiers in uniform were printed, a poster of Louis became one of the most popular for war bond advertisements. Dressed in full combat gear, wielding a rifle with a fixed bayonet, the poster quoted a line from a speech Louis had given at a fundraiser: "We're going to do our part… and we'll win because we're on God's side." The slogan became wildly popular, boosting the idea that America was on the right side of the fight. The only fighting Louis would do would be in the ring. He defended his title again in March 1942, raising money for the Army Emergency Relief Fund.
Although there was no desire amongst military and political leaders to integrate the armed forces, they understood the need to appeal to African Americans, and even more importantly to portray America as a unified country against Nazi tyranny, regardless of what the truth at home was. To this end, Louis was given the role of goodwill ambassador. The Army formed a traveling  group of black boxers which toured the United States and Europe. If he had an issue with an all-black boxing group, Louis never spoke up. He did, however, refuse to box in front of segregated audiences.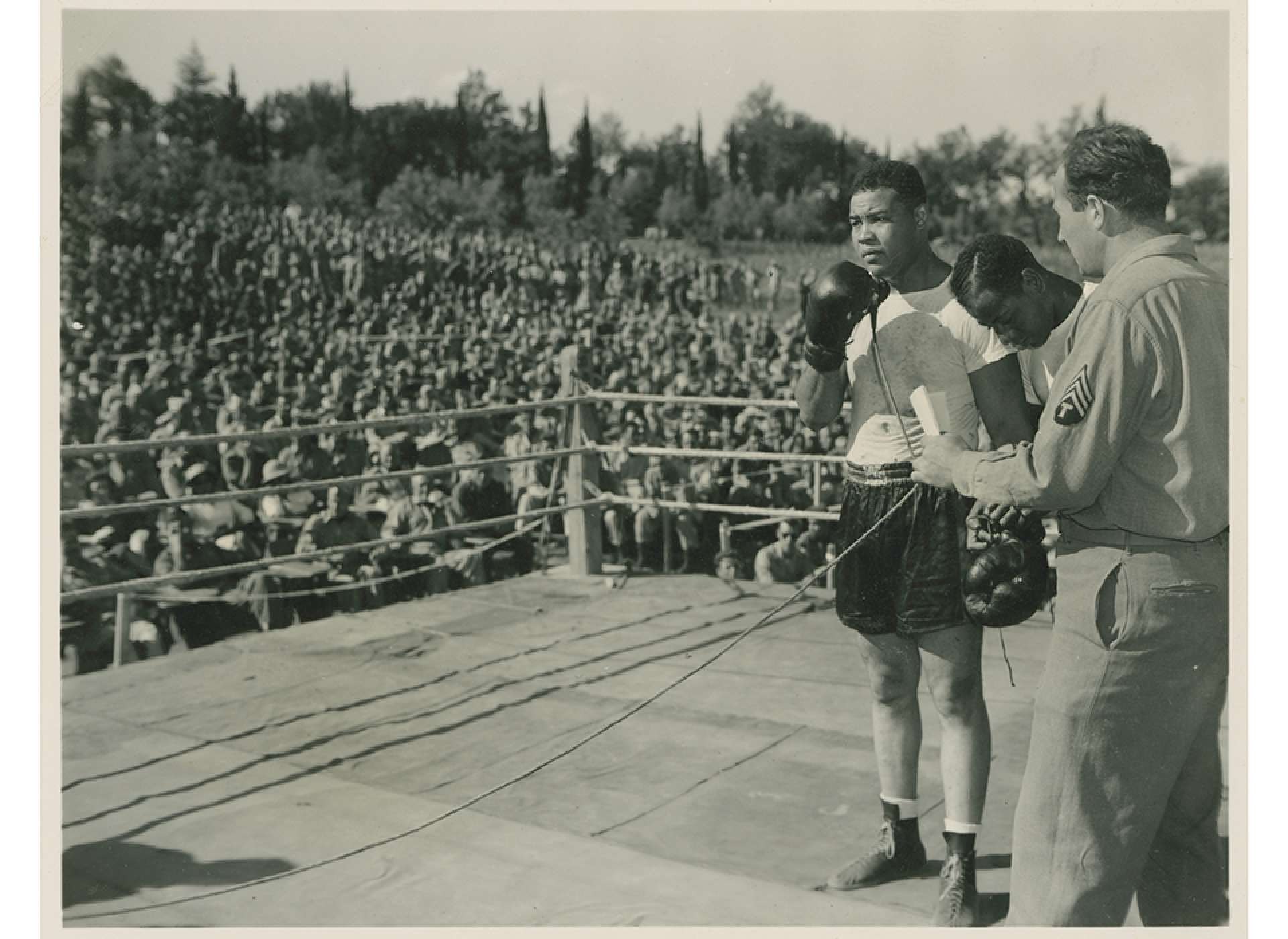 The show was a hit—a mix of boxing and singing and dancing (courtesy of Sugar Ray Robinson). In 1943, the tour spent 100 days on the road in the United States. By 1944 Louis was in Europe, entertaining troops and shaking the hands of wounded men from the Normandy campaign. In his book, Joe Louis, Randy Roberts explained the impact of Louis' visits to troops, quoting one GI who watched Louis perform and later wrote:  "No movie star has been greeted by our fighting men with more enthusiasm than that displayed when the Brown Bomber got into action." When he visited the wounded troops, one GI whose eyes had been seriously hurt in the fighting asked the nurse to remove his bandages. "Let me have just one look at him," he pleaded. "I'll take my chance with my eyesight."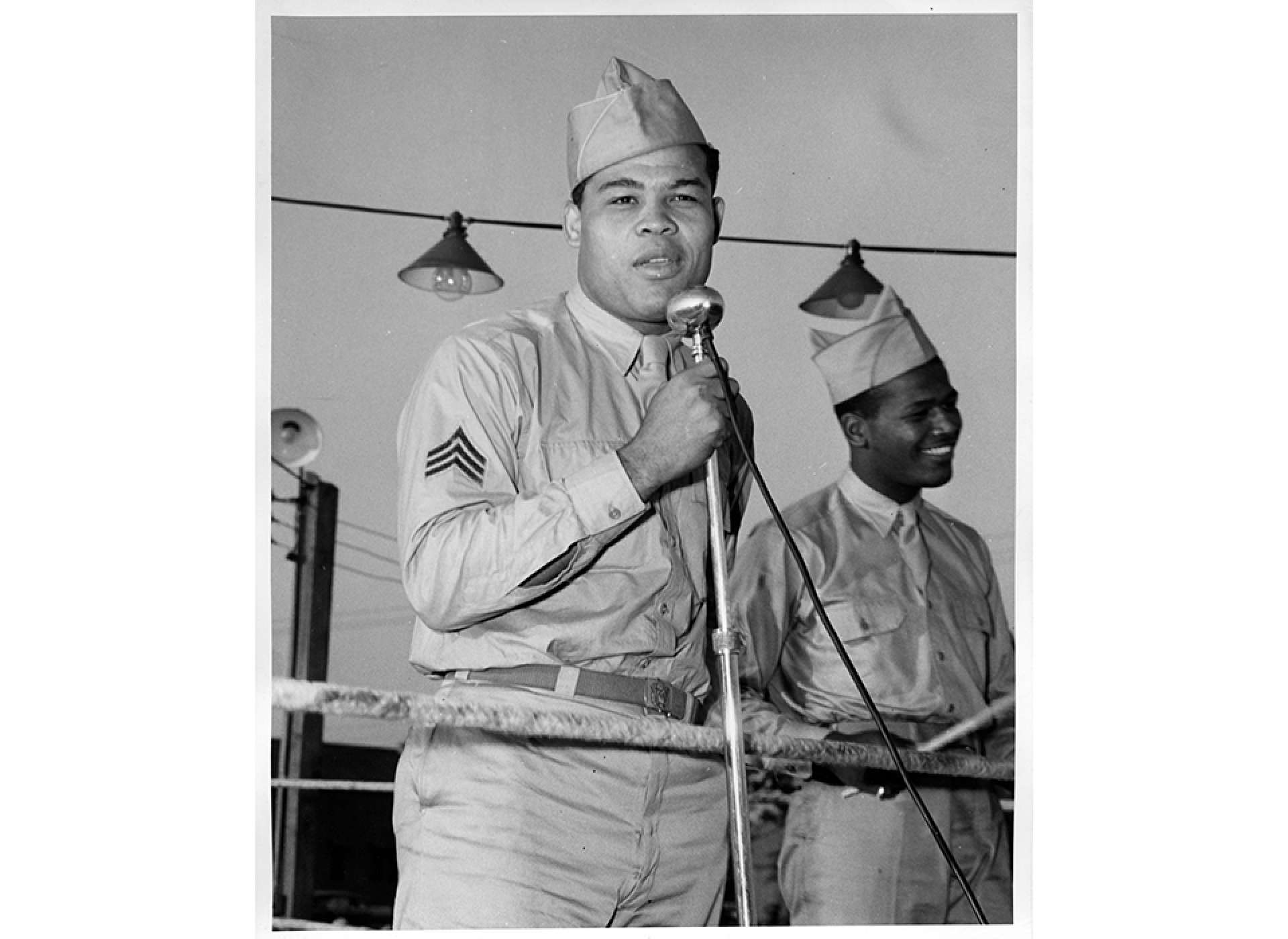 Behind the scenes, Louis used the information gathered from talking to black troops to encourage positive changes. He even stepped in to help future baseball star Jackie Robinson when Robinson knocked out a white officer's front teeth. Robinson had stood up to the officer after he made racist remarks. Louis was able to intervene, keeping Robinson from being court-martialed or worse, and Robinson was allowed to continue Officer Candidate School. It was just another example of how Louis was considered a "savior of African Americans" during the war. He had the respect to stand up for his fellow man, and the influence to make a difference. Louis' way of helping was in line with his personality. There were no loud speeches, no public displays, and no letters written. He would simply step in, ask a favor, or make the request himself. Louis is credited with helping to desegregate army buses, quietly, and successfully.
Despite his reserved personality, Louis appeared in several films during the war, including Irving Berlin's This is the Army and The Negro Soldier. Made with the hope of soothing growing racial tensions in the United States, Louis was a central feature in the latter film. Highlighting his fight with Schmeling in 1938, it played up the war as a continuation of the fight between the two. Produced by Frank Capra, The Negro Soldier portrayed African Americans in a way rarely seen at the time, as patriotic and thoughtful and with more personal depth than most contemporary portrayals of African Americans. An army film, it challenged segregation in the army and in America. Louis was once again a champion for his people, and his country.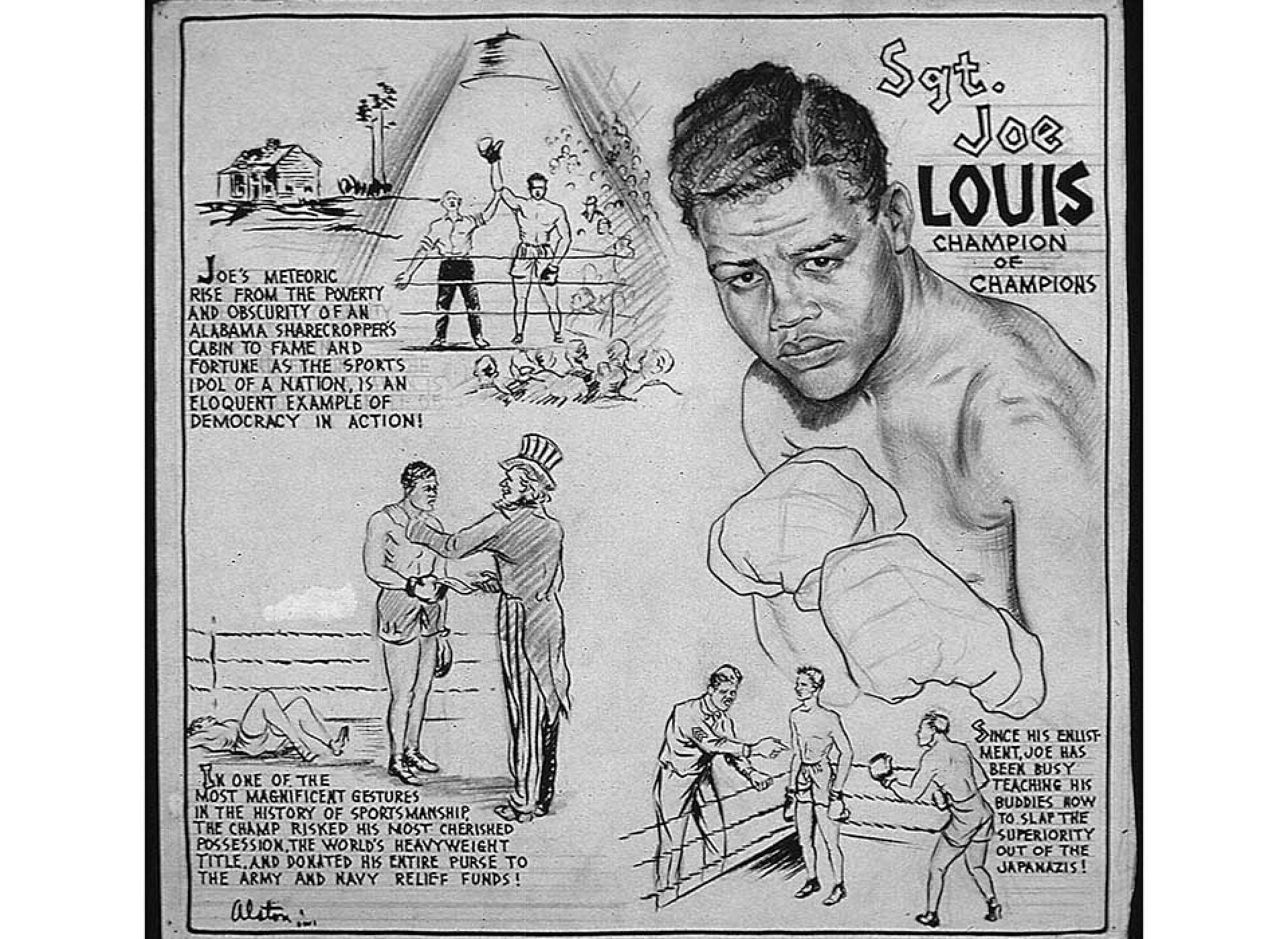 If America had liked Louis before the war, they loved him in 1945. Awarded the Legion of Merit, the citation read in part, "Staff Sergeant Barrow has entertained two million soldiers by frequent boxing exhibitions which entailed considerable risk to his boxing future as the champion heavyweight of the world, but he willing volunteered such action rather than disappoint the soldiers who desired to see him in the ring." Louis was discharged in 1945, a hero to many, and ready to maintain his heavyweight title, which he did until his retirement in 1949. He returned for a few matches, but lost his final match to fellow army veteran Rocky Marciano. The Brown Bomber retired for good, but remains one of American's most beloved boxers, a people's champion in hard times, and an example of a generation that rose up and overcame the challenges of the Great Depression and World War II.
To learn more about The Negro Soldier, listen to Episode 138 of the Museum's podcast Service on Celluloid, followed up by the Minisode to Ep. 138, where WWII veterans Edgar Cole, Harold Ward, and Roscoe Brown discuss their time in the segregated armed forces. 

Contributor
Kali Martin earned a bachelor's degree in International Studies and German at the University of Miami and a master's degree in Mili...
Learn More