Since this series of website posts launched a few weeks ago, I have received inquires about the signature photograph that concludes these columns: Where is it? Is it me in the photograph? Is the image Photoshopped or manipulated in some way?
In March 2014, my wife and I went on a Museum-sponsored tour to Normandy, France. It was my first time visiting Normandy; the weather is misty, wet, and full of fog during that time of the year. On such a dismal morning, after visiting the German cemetery at La Cambe (subject of a previous post), we departed for Omaha Beach. We arrived unable initially to see the beach, and walked toward the sound of the water. As we reached sand, a sign informed us that we had arrived at Vierville-sur-Mer, at the landing zones for Charlie and Dog Green sectors on Omaha Beach.
This was the zone where the 116thInfantry Regiment, 29th Infantry Division, landed on the morning of June 6, 1944. Company A was filled with young men from the small town of Bedford in rural Virginia, a place I visited the year before, and I was thinking of the 19 young soldiers who had perished in the first wave of the attack nearly 70 years before on the beach now in front of us. I did not say much, trying to focus my mind and emotions to absorb it all, and for what seemed like long minutes just peered into the foggy air, listening to the water lightly roll on the sand beyond. Then I just started walking across the wet sand toward the shallow water, determined to step as far into the grey mist and surf as I could to connect with the path of the soldiers who had lost their struggle to attain the beach I now crossed.
My wife Mary let me go ahead alone, but unbeknownst to me she snapped a photo in my wake. The image is not Photoshopped or touched up in any way. When I saw it later, I thought she had captured a perfect image of me, a visual explanation of who I am, and why I do what I do. The image shows a historian venturing into a new and faraway landscape and time, trying to know, feel, and understand what others had experienced in a different era. Philosophically, it speaks to me of the imperfect limits of our knowledge and reason—we know some things for certain, and can intuit or deduce other knowledge, even emotionally relate to what it must have been like. But we cannot live outside ourselves, to live through those times that precede or follow our own existences.
A print of this photo has hung in my study for three years, and now perfectly accompanies these History Through the Viewfinder posts. I like the fact that I am anonymous to the viewer, but with my camera bag and gait one can see purpose, with the small whitecap waves rippling across a dark gold and grey landscape that evokes a Rothko canvas, with the spirits of our past still there in that place and in our memories.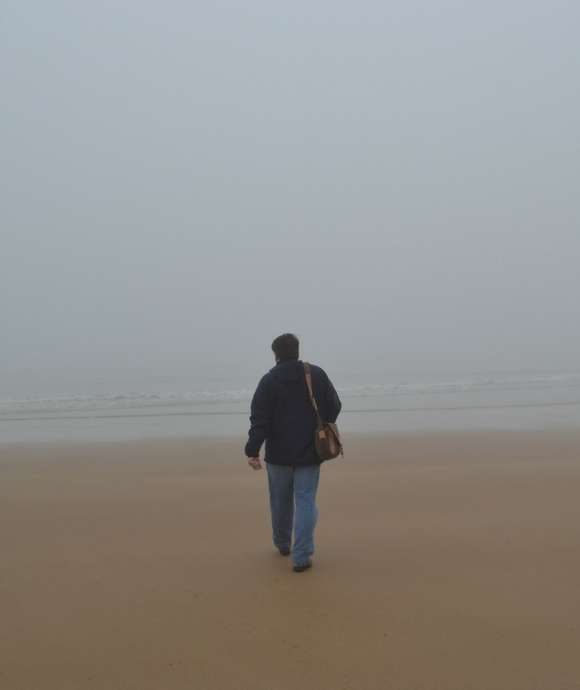 "No matter one's age, travel is a unique and exciting educational experience. In my work, I have had the opportunity to reflect on history, events, and people in the places where they experienced life. Through the viewfinder, we can not only find history and perspective, but create memory, and evoke our evergreen past."
– Keith Huxen, PhD, Senior Director of Research and History, The National WWII Museum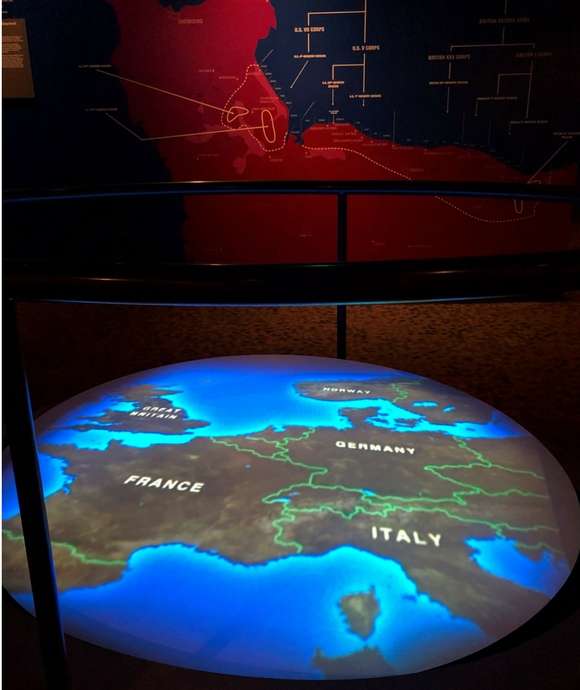 The D-Day Invasion of Normandy Gallery
A visitor favorite since the 2000 opening of The National D-Day Museum, The D-Day Invasion of Normandy Gallery is located on the third level of Louisiana Memorial Pavilion.
Learn more!

Contributor
Keith is the former Senior Director of Research and History in the Institute for the Study of War and Democracy at The National WWII Museum.    
Learn More