My grandfather's service in the US Army during World War II was a mystery to me growing up. I was too young when he passed away to have asked him about the war, and it was something he had been reluctant to talk about anyway. For years, I looked at my grandfather's photos from his postwar time in Germany, but I knew little more than a few stories my dad had heard and shared. These were mostly anecdotes, like the one that explained my grandfather's disdain for waiting in lines. "That's all you did in the Army," he would say. "Wait!" 
Born John Frank Martin in a small rural town in north Louisiana, he was drafted shortly after his 18th birthday and served with the 47th Infantry Regiment from December 1944 until August 1947. One of the few things I knew about his service was that he played baseball for his regimental team. His photo album is full of photos of himself and his fellow 47th Infantry soldiers in baseball uniforms. As much as I loved looking at the photos and imagining what he had experienced during and after the war, as a historian I was not satisfied with what little I knew. I decided to start researching. 
My family had some of his military paperwork, but the first step in researching was to request a copy of his Official Military Personnel File (OMPF) from the National Archives in St. Louis. A fire destroyed nearly 80 percent of Army documents at the St. Louis archives in 1973, so we were fortunate to get a copy of his discharge papers. As next of kin, my dad filed the request, and after a very long wait (almost nine months), we received an email with John Martin's paperwork. With these documents in hand, I knew enough to start looking into his unit: G Company, 2nd Battalion, 47th Infantry Regiment, part of the 9th Infantry Division. Known as the "Raiders," the 47th Infantry Regiment fought in North Africa and Sicily before coming ashore at Normandy several days after the D-Day invasion. 
In the summer of 2013, I traveled to Washington, DC, to do research at the National Archives, located just outside the city in College Park, Maryland. The National Archives in College Park, known as NARA 2, holds (among many other things) American military records from World War II, including material I was hoping to obtain: after action reports, unit histories, and narratives of larger engagements. These are all standard documents generated by Army units during the war, and provide detailed information about unit activity, though information on individuals is typically limited. 
I was able to find very detailed records from the 47th Infantry Regiment. Monthly unit reports contained records of daily activities of the regiment, including the activities of each battalion, which often operated independently of one another. These reports even provided the daily or weekly locations of each battalion and company based on their movements, and allowed me to track G Company's movements from my grandfather's arrival in theater in December 1944 through mid-1945, when the 47th arrived outside of Munich, where it was stationed as part of the occupation forces.
The 47th Infantry Regiment was east of Aachen when the German army broke through American lines in Belgium on December 16, 1944, the same day my grandfather arrived in Europe. He was assigned to his unit a few days later as they held the line north of the Bulge. At age 19, he spent Christmas 1944 in a foxhole near Monschau, Germany. The 47th continued to fight eastward into Germany, slogging through snowdrifts that were nearly impassible, with temperatures so cold the bolts on the men's rifles froze. As the winter melted away, the soldiers fought their way through mud while plagued by trench foot, the curse of the infantry. By March, the 47th began to move east quickly as the drive to the Rhine River was on. On March 8, 1945, the 47th Infantry Regiment was one of the first units to cross the Rhine River at Remagen. The 9th Armored Division had captured the Ludendorff Bridge intact. What the Germans had feared since the Normandy Invasion in June 1944 happened: the Allies were finally east of the Rhine. Facing high bluffs across the river, the 47th encountered fierce fighting as it pushed into the German heartland. I knew from my grandfather's discharge papers that he was wounded on the eastern side of the Rhine in Vettelschoss on March 15, and I found verification of this in unit documentation, where he is listed as wounded in action. Details about his wounds have been harder to find, as that information is likely to be included in records from a field hospital, if he was treated at one. 
 
The 47th Infantry Regiment stayed in the fight until Germany surrendered in May 1945, by which time it had linked up with Russian forces southwest of Berlin, along the Elbe River. After the German surrender, the 47th moved south to positions near Munich. My grandfather was discharged on February 28, 1946, in Dachau, Germany. He had fought through extreme cold and snow, crossed one of the biggest obstacles to Allied victory—the Rhine River—and had covered roughly 700 miles of German terrain, fighting in forests, plains, and up the bluffs of the Rhine. As a rifleman in an infantry regiment, he had experienced the extreme life of an army "grunt," but he reenlisted in the regular Army the day after his discharge and rejoined G Company as a military policeman.  
While stationed outside Munich with the 47th Infantry Regiment in 1946, he joined the Raider baseball team playing several positions, from shortstop to right field. I knew he had played baseball, but the biggest surprise for me at the National Archives was finding regimental newspapers for the 47th. Included were articles on the various activities of the regiment, including the baseball team. As I sat leafing through the papers, I came across a very familiar face: my grandfather, sitting cross-legged in a Raiders baseball uniform. When I started my research, I expected to learn more about what John Martin's unit did during the war, and build a picture of his wartime experiences from that information, but the surprise of seeing his face in a newspaper from 1946 was incredible. The newspapers also carried news briefs about men in the unit, and in those I read about when he made staff sergeant, when he broke a finger, and when he was shipped home, much to the disappointment of his fellow soldiers.  
I encourage anyone who wants to know more about a family member's service to start looking. My success in researching my grandfather inspired me to try to help others piece together their family stories. Working with Museum colleagues, we have produced a new Family Research Guide to help others start their research. If you know little about the veteran you want to research, start by requesting their Official Military Personnel File from the National Archives in St. Louis. If you already know a good deal about what branch or unit your servicemember was in, contact the National Archives in College Park and request some unit records. The National Archives will copy the documents for a fee, so you don't have to travel in order to obtain records. 
The free Family Research Guide—find it here on the Museum website—details the processes of requesting both military and civilian records, including records on Japanese Americans, Red Cross workers, and federal civilian employees. The guide provides information on the types of records that are available, where they can be found, and how to access them. Also included in the guide is a checklist for making your request and examples of the forms you'll use to make requests. This kind of research takes time, and you might also hit dead ends, but the unexpected things you may find make it a rewarding experience. As you work to piece together the stories of your family member as I did, remember that you probably won't learn everything you want to know, but you just might find a familiar face while you're looking.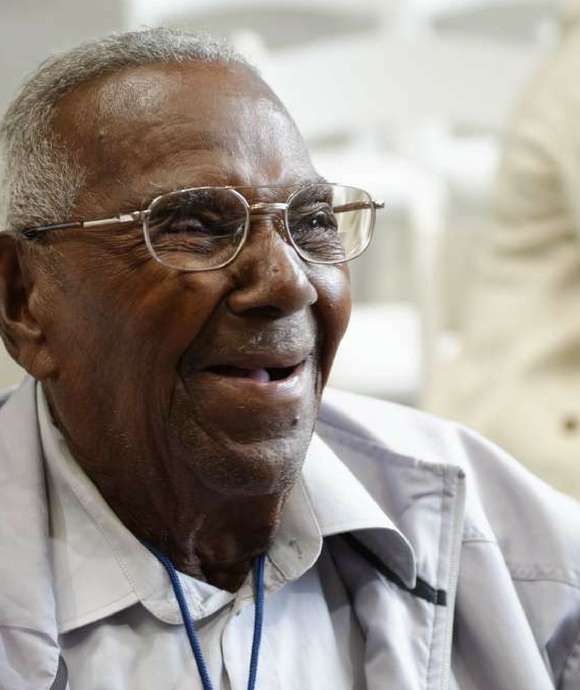 Veterans Day at the Museum
Join us to honor veterans of all conflicts and active-duty servicemembers on November 11.
Learn more!

Contributor
Kali Martin earned a bachelor's degree in International Studies and German at the University of Miami and a master's degree in Mili...
Learn More