Seventeen-year-old Eduardo Alberto Peniche y Carvajal arrived in the United States in 1942 with the singular aspiration to become an educated man; less than a year later, the US military inducted him into its ranks and prepared him for combat overseas. Peniche was one of approximately 15,000 Mexican nationals who served in the American Armed Forces during World War II. Many of his compatriots enlisted for the opportunity to secure citizenship, some welcomed the chance to demonstrate loyalty to the United States and support for the Allied cause, and others simply complied with American conscription laws. For Peniche, service was merely the cost of obtaining an education and the promise of a better life. It was a price he paid happily and honorably.
The oldest of eight children, Peniche was born on June 28, 1925 in the small fishing village of Progreso, Mexico, situated on the northern tip of the Yucatan Peninsula. He spent his formative years playing sports, satiating a love for reading, and attending church on the weekends. In his youth, Peniche's parents fostered his intellectual curiosity and innate sense of integrity. Under their guidance, he cultivated a passion for learning and a "can-do attitude" that he later credited with making his many successes possible.
The budding port city of Progreso offered little in the way of formal education—and Peniche had grand ambitions—so the aspiring scholar looked to distant lands for intellectual enrichment. In 1940, he applied for a student visa, but the outbreak of war in Europe the year prior, coupled with a mounting fear of foreigners across the United States, spurred the State Department to stiffen visa regulations. Two years would elapse before he received a response; by then, the United States was firmly embroiled in a global conflict.
Legislation governing visas stipulated the need for two sponsors, each of which had to be an American citizen or have permanent resident status. Many hopeful immigrants found this the most challenging barrier in the visa process, but fortunately Peniche's Aunt Pilar—his father's oldest sister—and her husband Eduardo Menendez relocated to Paducah in western Kentucky at the end of World War I. They agreed to facilitate their nephew's education and completed the necessary forms.
The demanding qualifications and extensive documentation required to sponsor or acquire a visa were staggering. Though the United States was still recovering from a crippling recession, Peniche's relatives had to provide proof of home ownership, that at least one of them had gainful employment, and that they had a minimum of $2,000 in accessible savings. In other words, they had to convincingly demonstrate that they were more than responsible and productive members of society that could capably support a dependent.
Meanwhile, Peniche had his own harrowing task list to tackle. He had to submit moral affidavits completed by several disinterested persons attesting to his character, a certificate of good conduct from local authorities, evidence of an exceptional school record, and a host of medical files—which included at least 11 x-rays taken over two years—showing that he had no infectious diseases.
After surmounting numerous bureaucratic hurdles, Peniche finally embarked on his transformative journey across the border. Equipped with little more than his optimistic disposition, he entered the United States on December 7, 1942, the one-year anniversary of the attack on Pearl Harbor. It was an emotionally charged day for many Americans, but Peniche brimmed with excitement at the opportunities that awaited. The enthusiasm was short-lived.
In the spring of 1943, just three months after Peniche enrolled in high school, a notice from the draft board arrived. It informed him that—despite not being an American citizen—US law subjected him to the draft and required him to register in advance of his 18th birthday. Peniche wrote home to solicit his father's advice, and his dad counselled him to obey the law. If his son could take advantage of the American education system, he could make a personal sacrifice for the nation in its time of need. Peniche agreed; he had a moral and legal obligation to answer if called upon to fight.
Soon enough the military declared its intent to draft Peniche. But before that could happen, he volunteered for the newly created V-12 Navy College Training Program to continue his education and become a fighter pilot. Since the Navy created the V-12 Program to fill the growing demand for commissioned officers, qualification required proof of citizenship, which rendered Peniche ineligible. He officially became a soldier in the US Army in September 1943, shipped out to basic for training in field artillery, and proceeded to advanced training as part of a Forward Observer team. By then, Peniche had "caught on to the patriotic fervor permeating the nation."
In May 1944, Peniche set sail with a contingent of replacements and alighted off the coast of England nine days later. While awaiting assignment, he happened upon a paratrooper recruitment presentation that he would later consider part of his destiny. Inspired by the speech—and partially incentivized by the additional monetary compensation—Peniche resolved to join the airborne, only to learn that at five-foot-five he stood one inch too short for admission. Coming to Peniche's rescue, a small band of loyal friends threatened to rescind their respective commitments if the airborne upheld its rejection. If that did not provoke the sergeant enrolling the volunteers to overlook the height issue, Peniche's interest in filling the incredibly dangerous and desperately needed role of "bazooka-man" certainly did. The sergeant pointed Peniche in the direction of the 101st Airborne Division.
Transported to Wales in preparation for D-Day, Peniche boarded the famed liberty ship SS Robert E. Peary on June 4, 1944 as part of a combat support element carrying heavy equipment and supplies bound for Utah Beach. At sea, a navigation error delayed the vessel's scheduled landing by three days. The ship arrived at Uncle Red sector on the appropriate shore on June 9 (D+3), and the Division of Artillery security echelon gathered at Heisville, France to ready for a counterattack at Carentan. Charged with preventing the infiltration of enemy forces and keeping communication lines open, Peniche spent the next month and his 19th birthday "in a foxhole…eating K rations." He experienced little combat in those early days of his first assignment, but that would soon change.
In July, the airborne divisions regrouped in England to plan the next offensive. At a Revolutionary-era country house called Basildon Park, Peniche tacked on another piece of insignia to his uniform when he completed glider training. He learned the intricacies of properly loading the engineless, flimsy, wooden aircraft with heavy artillery equipment and jeeps. Command then reassigned him to Charlie Company of the 81st Airborne Antiaircraft Battalion (AAA), a special force designed to support parachute infantry regiments with artillery.
On September 17, 1944, the ill-fated Allied assault on Holland by land and air, Operation Market Garden, commenced. Two days later, C-47s destined for the front towed nearly 90 gliders with reinforcements, supplies, and heavy equipment into the air. Less than 50 made it safely to the designated landing area. As the drop zone approached, ominous puffs of smoke from German flak dotted the sky, and Peniche saw planes engulfed in flames plummeting to the earth as well as the occasional glider—tellingly referred to as a "flying coffin"—bursting into splinters "like confetti." 
He could not avoid the thought that his plane might be hit or that he could be next. With a stoic spirit, he reminded himself that he could do nothing to change the situation, nor the outcome.
Following a rough crash landing, Peniche and his crew scrambled to free the artillery equipment from the damaged plane while mortar fire exploded all around them. In those moments of perilous danger, Peniche turned inward and relied on a clear mind and spiritual strength to see him through. "A 5'5" guy like me," he said, "there is no way I am going to be a bad-buttocks paratrooper," so mental fortitude and prayer became his strongest weapons on the battlefield. As Peniche recalled, soldiers tended to express their fears and frustrations with expletives. He preferred to call on his faith.
In Holland, the 81st was tasked with providing support for the 502nd Parachute Infantry Regiment by keeping the infamous Hell's Highway clear of German tanks. It was not easy. In the open, flat country of Holland every exposed soldier on the road made an easy target. Peniche compared the men to the ducks in carnival shooting galleries lining up to get shot. Despite the outcome of the operation, his battalion successfully accomplished its goals and ultimately endured over 70 days of continuous combat—48 of them directly on the front lines—before withdrawing to France for some rest and recuperation.
The 101st was called into action again after the German military unexpectedly initiated an offensive through the Ardennes Forest on December 16, 1944. The division received orders to deploy to the critical town of Bastogne to secure and defend a highway and railroad juncture that could prove vital to the German effort, and Peniche's battalion set up in a nearby village to the north called Longchamps to guard the main arteries into the town. As an anti-tank gun crewmember, he always found himself in the very front lines, a position he cheerfully called "preferential treatment."
In what became known as the Battle of the Bulge, the Screaming Eagles endured ceaseless enemy fire and deplorable conditions in the snow-covered woods for more than a week before General George S. Patton's Third Army provided much needed relief on December 26. Though afforded a brief respite, the division's soldiers faced their bloodiest encounter on January 3, 1945, when German tanks attempted one final push. A rain of shells signaled the armor's advance, and according to Peniche, trees fell "like toothpicks" in a brutal "hurricane of fire."
Amidst intense enemy fire, Peniche's crew immobilized three panzers before a German projectile blew his gun to pieces. The concussive blast dislocated Peniche's jaw and lodged a thick piece of shrapnel deep in his knee, also wounding his squad leader and another close companion. Against orders to retreat to the safety of his foxhole, and bleeding from the eyes and ears, Peniche imperiled his own life to crawl back to command post, apprise the medics, and guide them back to the injured soldiers—all the while praying in both English and Spanish to ensure that God would hear his pleas. His heroic actions in the face of life-threatening danger and the wounds he sustained earned him the Purple Heart and a Bronze Star. Peniche's convalescence in the hospital lasted for two months before he rejoined his outfit in Germany and served until the war ended in May of 1945.
After his discharge, Peniche returned to his native Mexico. His visa had expired during the war, and he refused to reside in the US illegally or become a "public charge" (a disparaging term used to describe immigrants considered a drain on the national economy). Before his departure, Peniche was informed that he was entitled by virtue of his military service to apply for a permanent visa.
In the meantime, the Mexican Army invited Peniche to help organize its airborne units and assist in their training at Fort Benning in Georgia. He served in that capacity for five years, ultimately becoming an officer in the Mexican Army Parachute Infantry. Disillusioned by the military's overbearing political influence, Peniche returned to the United States and re-joined the American Armed Forces. In 1953, he finally earned his high school diploma, married Lois Dean Baggett of Kentucky, and became an American citizen "by right and by choice." He proudly recollected how he outperformed everyone in the room on the naturalization test.
Eventually trained to speak Vietnamese, Portuguese, and French, Peniche continued his service in the Vietnam War as a linguist in an intelligence unit until he formally retired in 1970. He used his GI Bill—which he called the "greatest investment the US made in this country"—to obtain his undergraduate degree, while a fellowship helped pay his way through graduate school. For Peniche, education provided the foundation for occupational advancement and financial stability as he went on to become a successful college professor. "If that is not living the American dream," Peniche asserted, "I don't know what else to call it."
"I have been blessed. Blessed by higher education and blessed by the honor and privilege to serve in the United States Army."
In an oral history interview conducted by Betsy Plumb with The National WWII Museum in 2005, Peniche explained that he could not possibly talk about his life without acknowledging two facts: that he served honorably in one of the most distinguished divisions of World War II and that he became an educated Mexican American. The two were inextricably linked, and—before Peniche's death in 2008—he was writing a memoir of his experience emphasizing the role of his service in paving the way to an education and his own American dream. Though never published, Peniche's account would have certainly shown that brave immigrants like himself "measured up" when it truly counted.
Watch Eduardo Peniche's interview on the Museum's Digital Collections website.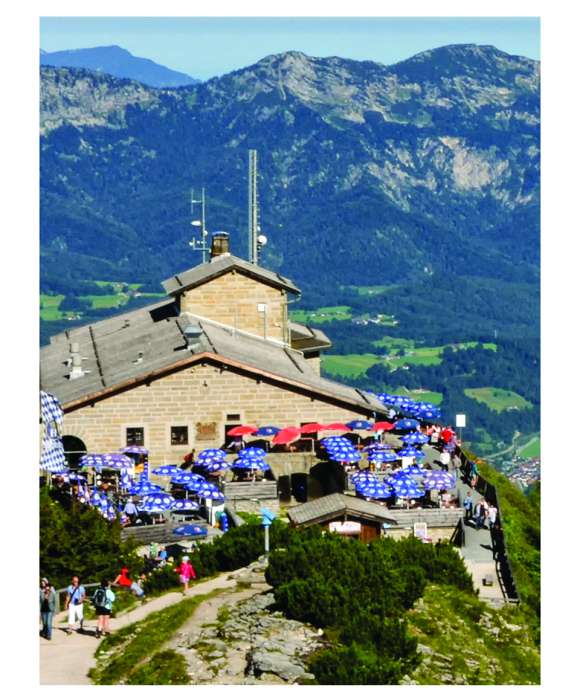 Easy Company: England to the Eagle's Nest
Follow Eduardo Peniche's path by joining staff from America's official WWII museum and notable historians for the real-life epic journey across Europe.
LEARN MORE

Contributor
Chase Tomlin is an Associate Curator at The National WWII Museum.
Learn More