The first Gold Star Families Memorial Monument in Mississippi was unveiled in a ceremony at the Armed Forces Museum at Camp Shelby on 16 May. Hundreds of people came to acknowledge the sacrifice Gold Star families endure—the loss of family members who never returned from war. To paraphrase Woody Williams, Medal of Honor recipient and keynote speaker, the memorial embodies the Nation's obligation to remember, acknowledge that sacrifice and the vital role of military families' in defense of our country.
Governor Phil Bryant said, "For all the Gold Star families that have existed throughout the ages, their grief is just as real, the moment is just as urgent as the time when someone appeared at the door and we realized we lost another American Hero." The audience nodded in agreement, many of them perhaps remembering that very moment in their lives.
Several family members expressed their pride in their loved one and the fear that, one day, they will be forgotten. It is a sentiment I hear often when I speak with the families of MIA/KIA as the Department of Defense POW/MIA Accounting Agency (DPAA) Genealogist in residence here at the Museum. The Honorable Randy Reeves, Undersecretary of VA Memorial Affairs addressed that issue. He spoke of his commitment to the Veterans Legacy Program and its mission "to memorialize our nation's veterans through sharing their stories of service and sacrifice." They have partnered with universities and schools to research Veterans buried in National Cemeteries and retell their military and community service stories. These stories will also be made available via social media and in digitizing the national cemeteries.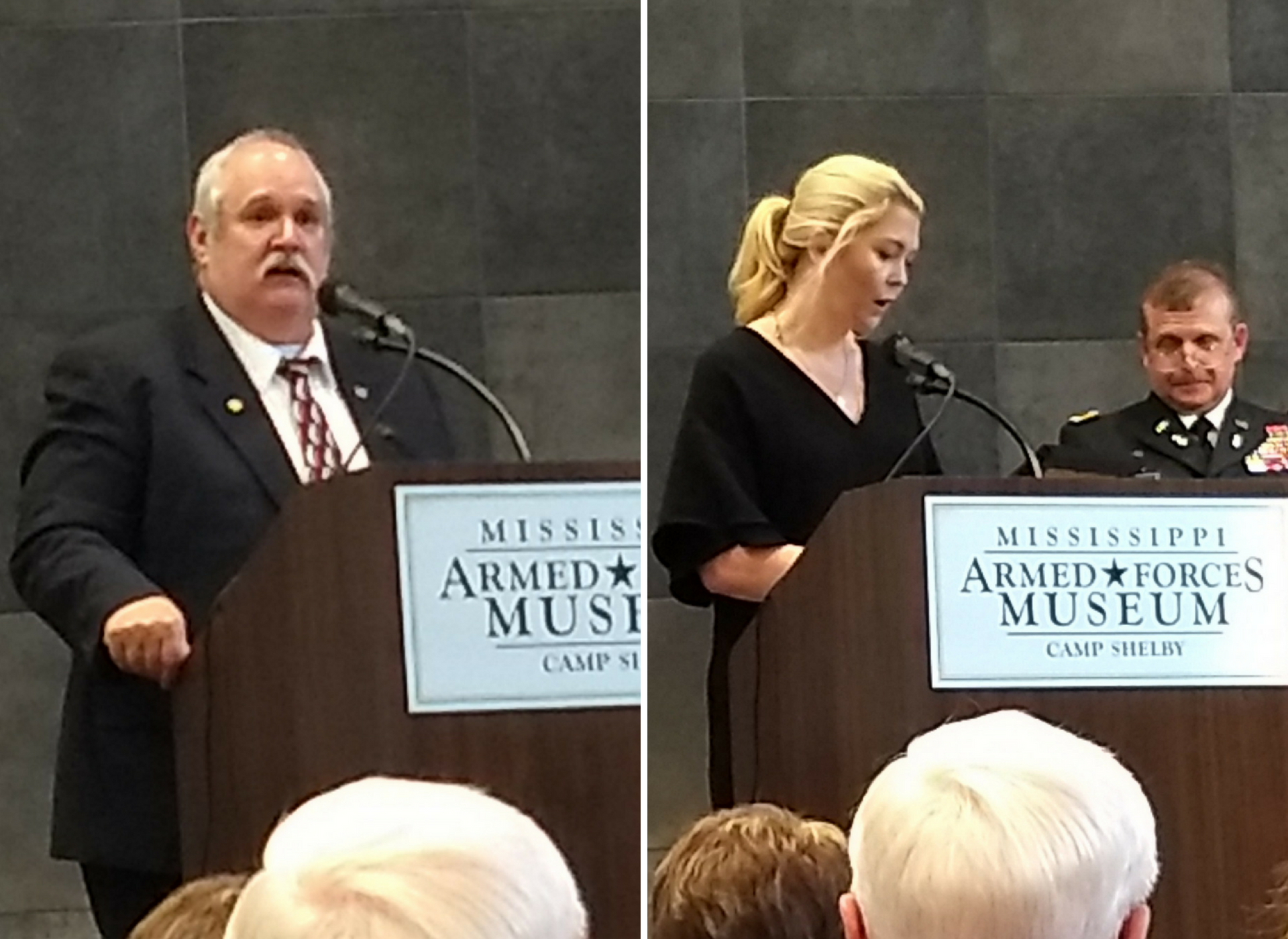 Mrs. Jenny Smith and Mr. Leonard Scardino, both Mississippi Gold Star parents, aided in the dedication of the memorial as a missing man formation flyover marked the sky. Four additional Gold Star Families Memorial Monuments will be placed throughout Mississippi to ensure the sacrifice of our servicemen and women is not lost in the fog of time. The other planned locations are Meridian, Tupelo, Jackson area, and the Gulf Coast. The Hershel "Woody" Williams Medal of Honor Foundation and many private donations help to bring the monuments to fruition to honor not only the soldier, but the families—the 'Homefront,' as well. The back of the monument depicts images of Homeland, Family, Patriot, and Sacrifice.
The Gold Star Families Memorial Monument is located on the side lawn of the Mississippi Armed Forces Museum, Building 850, Camp Shelby, Mississippi, 39407. Tommy Lofton, Director of the Mississippi Armed Forces Museum previously worked at The National World War II Museum as a historian and curator.
The National Gold Star Family Registry (http://www.goldstarfamilyregistry.com/)
Veterans Legacy Program (https://www.cem.va.gov/legacy/)

Contributor
Clarise Soper, certified by the Board for Certification of Genealogists® and a US Army veteran, works with Past Conflict Repatriations Br...
Learn More