Dr. Rothacker Smith looked death in the eye several times during World War II. In these moments during his wartime service, during captivity as a German POW and beyond, his faith carried him through and indeed directed much of his life, as did the proud tradition of the Buffalo Soldier which he upheld. Evolving out of the Black Cavalry's regiments beginning in 1866 and into the Spanish American War, World War I and beyond, Buffalo Soldiers have faced the nation's enemies while fighting segregation and oppression in the US military. 
Smith's service began in January 1943, when the Seventh Day Adventist entered the Army as a Conscientious Objector and began training as a medic. He trained at Camp Stewart in Georgia with an additional surgical technician's course at Beaumont General Hospital. To Smith and other African American soldiers who grew up in the north, but did their training in the Jim Crow south, enduring the racist atmosphere was a difficult experience. But this experience was almost a pre-trial by fire; they were after all serving within a segregated Army in which most African American units were assigned white officers (a majority from the south.) Smith was posted to the Second Battalion, Medical Section, 366 Infantry Regiment. He wrote, "'Our regiment was separate and unique as it had no white officers...The 366th was all African American from our bird colonel commanding officer down. The regiment was a political headache for the government." In all, seven African American infantry regiments were activated during World War II; three were assigned to the 92nd Infantry Division and three to the 93rd.
The 366th's make-up did not help protect them from prejudice and harm within the larger military system. In March 1944, the 366th shipped out to Oran, North Africa. There, black troops experienced discrimination and mistreatment from white MPs that included punishments, demotions, and even beatings. They were judged severely for any small infraction and subjugation was enforced. Even their CO, Colonel Howard Donavan Queen was denied entrance to the officer's club. Here, in service overseas, they experienced racist discrimation akin to what they had experienced in Texas and Georgia. Smith suffered from persecution not only because he was African American, but because of his religion. Smith had earned the rank of T5, but was busted down to buck private by his own commanding officer for advocating to attend church services on the Adventist sabbath of Saturday.
Finally, in April 1944, the 366th was moved to Italy where the regiment was split up throughout the southern part of the country. Smith wrote, "Our mission was to provide air base security and to guard ammunition dumps, bomb dumps, etc. I would be assigned to different locations to provide medical support for the troops and their different guard duties." He later described many of the adventures he had in this period, meeting locals, learning Italian, making a kayak out of a discarded fuel tank. He wrote, "The summer of '44 for me was like being in a resort area." The down-time and restful period would not last long. In October 1944, elements of the 366th were reassembled for combat duty, destined for action in the offensive to breach the German line of defense in northern Italy, the Gothic Line.
In late November and December, the 366th made its way north in Italy. They had a cold, soggy Thanksgiving day dished out on mess kits near Pisa. Smith recalled a dispiriting reception on December 1st, as the 366th was eventually rejoined with the other elements of the 92nd; Major General Edward Almond, commanding general of the 92nd, said that he had not asked for them and that he did not want them. General Almond was reported as saying: "I did not send for you. Your Negro newspapers, Negro politicians, and white friends have insisted on your seeing combat, and I shall see that you get combat and your share of the casualties."
Days later they reached their destination of Sommocolonia, an ancient town that was a key position in the Gothic Line. For weeks, the 366th would exchange daily fire with the Germans who were very close by, just across a small valley. Smith was initially part of a forward aid station, but after 10 days in the town was ordered to serve as the medic for a machine gun squad encamped in a house (the occupants and most other townspeople had fled) on the side of town closest to the German lines. On December 26, the German counterattack began. Mortar shells, which had been falling all day on Christmas, hit closer and more frequently. All hell broke loose. 
Smith heard an "inner voice" tell him to put his aid kit on, so he walked to the opposite side of the room from the window, just as a German mortar shell exploded.
This action likely saved his life. Out of nine men in the squad, three including Smith were seriously wounded. The other men made them as comfortable as possible and made an escape. Smith was lying injured just 500 yards away from the observation tower where forward observer John Fox would be mortally wounded in the artillery barrage he called for on his position, rather than withdraw. It would take more than 50 years for Fox's actions to be recognized with the Medal of Honor, one of seven awarded to African American servicemen in 1977.
Smith and the other wounded men of the 366th feared discovery by the Germans believing that as black troops they would be killed rather than taken prisoner. The next day, they were captured and began the long journey into POW camps. Smith was badly injured, tired, and hungry, but he held on, making it eventually to a camp in Italy (with 21 other African Americans.) In April, the Germans transferred the POWs to Germany, where they landed in Stalag VIIA at Moosburg just a couple of weeks before liberation on April 29, 1945. Overall, the 92nd Infantry Division would have 2997 total battle casualties and Rothacker Smith was one of the unit's 56 prisoners of war.
Dr. Rothacker Smith is featured in the Museum's exhibition Fighting for the Right to Fight: African American Experiences in World War II. Several of his artifacts are on display including the undershirt he was wearing when wounded, the shrapnel that tore through his shoulder, his German POW ID tag, and the spoon he used as his vehicle for meagre nourishment while a POW. This exhibit is now traveling the country, but in July 2015, we were honored to have Dr. Smith speak at the exhibit's opening. Dr. Smith's autobiography No Way Out: The War Story of A WWII Black Buffalo Soldier is a fascinating account of his life and service.
View Dr. Smith's oral history on the Museum's Digital Collections.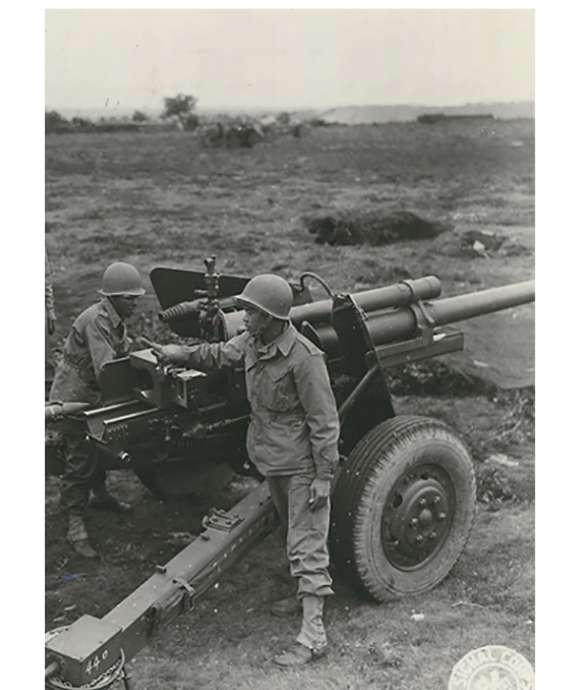 Destroyers: African American Gunners' Heroic Stand at Climbach, 1944
The African American 614th Tank Destroyer Battalion earned a Presidential Unit Citation for its heroic stand at Climbach in December 1944—and eventually a Medal of Honor.
LEARN MORE

Contributor
Kimberly Guise holds a BA in German and Judaic Studies from the University of Massachusetts Amherst. She also studied at the Universität Freiburg in Germany and holds a masters in Library and Information Science (MLIS) from Louisiana State University. Kim is fluent in German, reads Yiddish, and specializes in the American prisoner-of-war experience in World War II.
Learn More