Although the precipitating events could not have been more different, both high school students in World War II and high school students today have seen their school lives disrupted and irrevocably changed seemingly overnight. For students in the first half of the 1940's, this interruption arrived in the form of the attack on Pearl Harbor. For high school students in the United States today, it is the current and ongoing global pandemic. Then, as now, daily routines of instruction, evaluation and socialization had to be immediately reconsidered. While schools did not disperse in the wake of the December 7, 1941 attack, the lives of high school students of the Class of 1942 bore little similarity to those of graduates from only a few years earlier. So too will be the stark contrasts revealed in comparing the experiences of the graduating Class of 2020 to those of the Class of 2019 or 2018.
Of the many rites of passage of high school life modified or entirely sacrificed for the good of the country such as athletics, theatrical performances or band concerts, none are likely to be more visibly missed than the traditional school prom. However, high school students today are not alone in this experience, as artifacts from the war years such as high school yearbooks from The National WWII Museum's collection can readily attest. Though many dances and formals still went on, no sector of American life was free from the inescapable influence of the War, not even high school proms.
Much as with formals or proms today, students 75 years ago put on their fancy best for a night of excitement, dancing and fun. For many of the male attendees, however, formal military attire took the place of tuxedos and tails as can be seen in this page from the 1945 Fairfieldana yearbook from Roger Ludlowe High School in Fairfield, Connecticut. For the majority of male graduates between the years of 1941 – 1945, their next destination upon graduation was likely the military, with many students either voluntarily or involuntarily ending their studies prematurely to enter into the service. Many schools adopted patriotic or "Victory" motifs as the themes to their prom courts and dances, as can be seen with the "Victory Court" from the 1944 Bruin yearbook from Bolton High School in Alexandria, Louisiana.
Some schools such as President William McKinley High School in Honolulu, Hawaii took things further using their Centennial Dance as a fund-raiser and war bond-selling opportunity, with the combined student attendees purchasing $68,635.65 in war bonds, as can be seen in the 1944 Black & Gold yearbook. Still others incorporated new war-time realities such as working a "swing shift" in a factory into their prom's themes, as evidenced in the 1943 Warrior yearbook from Washington High School in Sioux Falls, South Dakota.
While the current pandemic prevents today's high school students from attending their proms or dances, during World War II some high school students faced much greater barriers. In much of the country, school segregation and the doctrine of "Separate But Equal" remained at least the de facto law of the land. These policies even made their way into the school activities of nominally integrated student bodies, as can be seen in the 1944 Sunflower yearbook from Topeka High School in Topeka, Kansas, with separate pages and unequal space devoted to the separate and unequal prom celebrations reserved for white and African American students.
As many of today's high school students are learning and completing their studies at home, many students of Japanese American descent during World War II were uprooted from their studies on the American West Coast and placed behind barbed wire at one of ten Japanese American incarceration centers. At the same time as the country was united in support of millions of servicemen and women spread across six continents, the incarcerated students at the high school within the Rohwer Center in McGehee, Arkansas, attempted to recreate a degree of normalcy by crowning their 1944 Campus Co-Ed as part of their spring prom court.
It's impossible to say how many proms or dances were canceled or simply not held during World War II, either due to war-time shortages such as paper rationing or simply born out of a feeling that a mass celebration was inappropriate while the country was engaged in an all-out global war. Nevertheless, whether you attended your high school prom this year or not, or even many years prior, these images show that the optimistic spirit of youth never changes, even if the hair-styles, fashion choices and societal challenges do.
For more images and glimpses into the lives of students from across the United States during World War II, please visit the Museum's digital learning project below or watch this free student webinar exploring the Museum's yearbook collection.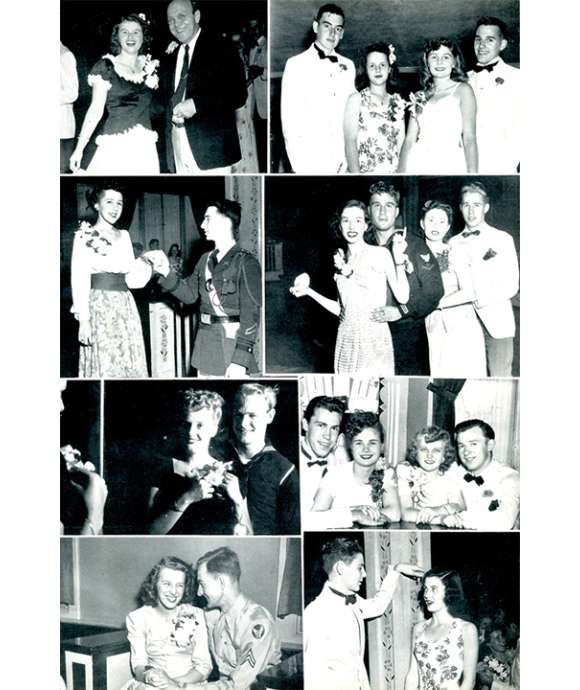 See You Next Year! High School Yearbooks from World War II
Between 1941 and 1945, WWII touched and shaped every aspect of American life. From large urban centers to small rural hamlets, no sector of daily life—whether public or private—was immune to the war's influence; not even the lives of high school students not yet old enough to vote. As students dealt with typical high school experiences like prom and varsity sports, they were forced to confront the realities of the war.
LEARN MORE

Contributor
Assistant Director of Education for Curriculum, Collin Makamson holds a MA in History from the University of Southern Mississippi a...
Learn More