The National WWII Museum is an exciting, educational experience for students and teachers alike. There are several ways to navigate the Museum and we will be happy to assist you in planning your visit. Please read the following information and then contact our Sales office 504-528-1944 x 222 or toll free 1-877-813-3329 x 222; or email group.sales@nationalww2museum.org.
The Education Department at The National WWII Museum helps you explore the history and lessons of World War II. Museum field trips incorporate object-based learning, educational technology, and world-class exhibits. The Museum's rich collection of artifacts, archives, and oral histories take history beyond the textbook and into the hands of curious students.
Tour Options
Self-Guided Tour
If your group is larger than 60, or if you do not want a guided tour, students may explore the Museum on their own, accompanied by adult chaperones. Please download the Campaigns of Courage Recon Mission to use while exploring The Duchossois Family Road to Berlin: European Theater Galleries and the Richard C. Adkerson & Freeport McMoran Foundation Road to Tokyo: Pacific Theater Galleries. Also, download the Arsenal of Democracy Gallery Exploration worksheet to use while exploring The Arsenal of Democracy: The Herman and George Brown Salute to the Home Front.
Tour Options
Docent-Led Tour
Trained volunteers foster your students' interactive exploration of the US Freedom Pavilion: The Boeing Center. The US Freedom Pavilion docent tour includes a Who, What, and Where group activity. Students choose a veteran's story, a WWII airplane, and a battle to explore. Group discussions highlight the larger picture of the war. Students are issued workbooks to record their discoveries
There are a limited number of docent-led tours available each day. The maximum number of students and chaperones on any one docent-led tour is 60 to allow smooth, timely movement through our exhibits. Please inquire about availability as you schedule your field trip
Available for grades 5 – 12
Size limit: 60 (students and designated chaperones)
Length: 1 hour and 15 minutes
Offered with advanced reservation weekdays at 11:00 a.m. or 1:00 p.m.
Availability based on volunteer docents
Tour Options
Education Connections
EdConnect is a topical menu of 15- to 20-minute educator lead interactions for groups of students in 5th to 12th grade who are not participating in a guided docent tour, STEM tour, or Special Exhibit tour. EdConnect sessions are based on current available Museum curriculum offerings and exhibits. EdConnect sessions foster a variety of skills including photo analysis, primary sources analysis, critical thinking, and group discussions.
EdConnect is sponsored by the Toler Foundation. Group tickets must be purchased to visit the Museum.
Maximum one EdConnect session per school for up to 60 students (and six designated chaperones).
All EdConnect sessions are subject to availability.
Offered between 9:00 a.m. and 11:00 a.m. weekdays by advance reservation.
EdConnect lectures must be chosen at time of confirming visit:
9th – 12th Grade:

A Costly Decision: The Atomic Bombing of Japan

9th – 12th Grade:

Pacific Strategy: Strategic Decision-Making in the Pacific

9th – 12th Grade:

Propaganda: Defining Race in World War II

7th – 12th Grade:

Double Victory: African American Experiences in World War II

7th – 12th Grade:

What Did We Know? US Newspapers and the Holocaust

7th – 12th Grade:

D-Day: June 6, Significance and Challenges

5th – 8th Grade:

What Does It Take to Win a War? Students examine how the United States responded to the manufacturing challenges faced by the global conflict.
Tour Options
STEM Experience
The National WWII Museum offers STEM field trips specially designed for science and engineering students. Focused on hands-on problem solving, collaboration, and critical thinking, students explore the scientific and technological innovations that helped win the war. The visit includes an engineering design challenge. Real-world science and math are just a bus ride away. Ask about free Title I opportunities for Louisiana schools supported by Capital One! Non-Title I groups must purchase a Museum ticket. No additional cost for STEM field trip.
Forces of Flight
Students will learn about the innovations of flight in planes and helicopters during World War II and participate in a series of design challenges related to flight. They will learn about forces in the context of the engineering design process while building and testing their own aircraft.
Grades 3–6
30 students and 6 chaperones maximum capacity per session
Lil Engineers
Students will read Rosie Revere, Engineer, a story that follows a curious young girl's quest to build a helicopter. Then, they will be challenged to build their own flying machine in a guided interactive activity that helps students learn basic concepts of flight and teamwork.
After the Museum-led portion of the field trip, students are invited to embark on self-guided exploration of US Freedom Pavilion: The Boeing Center.
Grades K–2
30 students and 6 chaperones maximum capacity
Brand new middle school and high school field trips will be launched in the fall of 2022!

Supported by Capital One

Tour Options
Performance Opportunities
We are excited to offer school groups the opportunity to perform here at the Museum. Admission must be purchased for a school band or choral group to perform. This may be arranged through Group Sales at 504-528-1944 x 222 or toll free 1-877-813-3329 x 222.
All performances are open to the public. Performances will be held outdoors on Museum campus subject to weather. The Museum does not have space for instrument storage or for groups to change clothes before or after performing. On weekdays during March – May, only afternoon performances may be scheduled. The Museum has ongoing construction through 2019.
Details:
We have a limited number of performance chairs.
Performance time is limited to 30 minutes.
No amplification or instruments requiring power are allowed.
The Museum will allow a maximum of 50 student performers.
Flag bearers/baton majorettes may not perform.
1940s, swing, and/or patriotic music is preferred.
Regular visitors often stop to hear the bands or choral groups; however, often the audience is largely made up of friends, families, and supporters of the band or choral group.
The American Sector Restaurant & Bar serves a unique garden-to-table menu, featuring locally grown vegetables and herbs, as well as hand-selected meats, seafood, and dairy products from local and artisanal producers.  American Sector Catering offers delicious group box lunch options to dine in or take away for groups of 10 or more. Please make arrangements for lunch with our Group Sales team when you book your tour. To place your group dinning order, please contact 504-528-1944 x 222.
---
Details
Click below for additional information.
Scheduling a Group
Please contact Group Sales to schedule your visit at least one week in advance to determine if desired visit date and arrival time is available. Peak months for groups are March, April, and May. For tour groups, the Museum offers complimentary admission for tour escort and driver. Youth groups are required to have one chaperone for every 10 kids.
We suggest a minimum of three hours to view Museum galleries. Groups may also view the 4D cinematic experience Beyond All Boundaries, and perform as crew members in Final Mission: USS Tang Submarine Experience by additional fee subject to availability. Group Sales will also be happy to assist you with BB's Stage Door Canteen group reservations and/or group lunch and dinner options at the Museum.
To plan your group visit or for more information, please call 504-528-1944 x 222 (toll free 1-877-813-3329 x 222) or email group.sales@nationalww2museum.org.
Hours and Accessibility
Museum Exhibits & Museum Store
Open daily 9:00 a.m. – 5:00 p.m.
Beyond All Boundaries at The Solomon Victory Theater
Sunday–Thursday: 10:00 a.m. – 4:00 p.m.
Friday–Saturday: 10:00 a.m. – 5:00 p.m.
Showtimes on the hour
Final Mission: USS Tang Experience
Sunday–Thursday: 9:35 a.m. – 4:35 p.m.
Friday–Saturday: 9:35 a.m. – 5:35 p.m.
Show times at 15, 35, and 55 after the hour
The American Sector Restaurant & Bar
Sunday – Thursday: 11:00 a.m. – 7:00 p.m.
Friday – Saturday:  11:00 a.m. – 9:00 p.m.
Happy Hour: 4:00 p.m. – 7:00 p.m.
Jeri Nims Soda Shop
Daily: 7:00 a.m. – 5:00 p.m.
All venues are closed Mardi Gras Day, Thanksgiving Day, Christmas Eve, and Christmas Day.
Accessibility 
The Museum is fully  ADA accessible to all visitors. A limited number of wheelchairs are provided for use in the Museum at no charge.
Payment and Cancellation
Payment is preferred upon arrival on the day of the visit in the form of organizational check, cash, or credit card. There should be one designated group leader to process payment for the group at the Museum's ticket counter. The Museum does not provide direct billing or receive purchase orders for payment. Deposits and prepayment will be accepted in advance of arrival date but are not required unless contracting group food and beverage. Payment for group meals should be handled by American Sector Group Sales prior to arrival.

Please notify us as soon as possible in writing to cancel an existing reservation. Group visit cancellations within 72 hours prior to arrival are nonrefundable.
Parking and Directions
The Museum provides an unloading/loading zone only for buses along Magazine Street (GPS address: 945 Magazine Street, New Orleans, LA 70130). Museum staff will issue the bus driver a parking pass for complimentary parking two blocks down Magazine Street under the I-10 overpass. Buses are not allowed to unload/load on Andrew Higgins Drive in front of the Museum due to safety hazards. Paid car parking is available in Museum 's parking garage located at 1024 Magazine Street.
OUR CAMPUS
Designated by Congress as the official WWII museum of the United States, The National WWII Museum is located in downtown New Orleans on a six-acre campus, where five soaring pavilions house historical exhibits, on-site restoration work, a period dinner theater, and restaurants. 
Explore Our Pavilions and Exhibit Spaces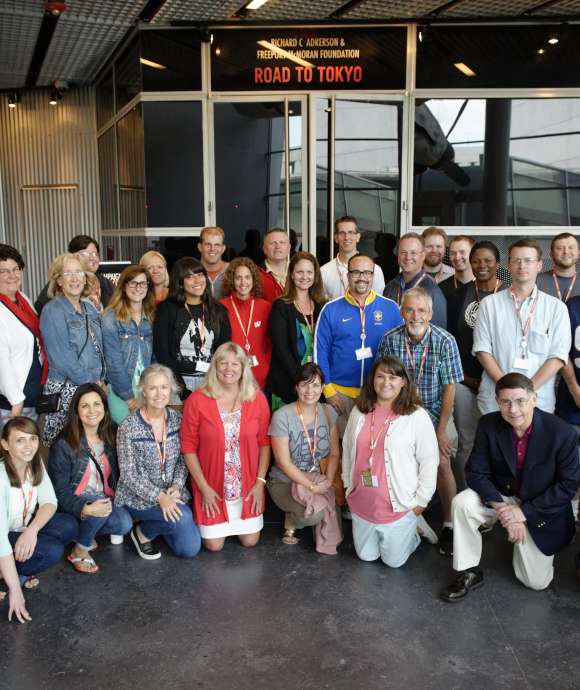 Group Visits
The Museum provides one of the most unique group experiences available. Group rates offered for 10 or more guests. 
Learn More