The National WWII Museum's exhibits are self-guided and cover the epic and global scale of the war that changed the world, in a voice that is intimate and personal, right in the heart of New Orleans. Currently housed in three buildings, each arranged around central themes of the war, Museum exhibits offer visitors an opportunity to experience the war through the eyes of the men and women who lived it.
TOUR OPTIONS
SELF GUIDED TOUR

Museum Flagship Tour
Campaigns of Courage Guided Tour
Follow American citizen soldiers through World War II in this exclusive small-group guided tour of the  immersive, interactive Campaigns of Courage: European and Pacific Theaters pavilion.
For more information, check out our Campaigns of Courage Guided Tour page.
From Boardroom to Battlefield

Join The National WWII Museum and the Institute for the Study of War and Democracy for an inspiring and educational experience!
Arrive as Individuals, Leave as a Unit.

$85 per person, including tax, minimum 15 people
Recommended four-hour visit
Includes:
Museum admission
Beyond All Boundaries 4D experience (allow 48 minutes)
Thirty-minute dynamic presentation by an Institute historian on leadership in World War II (other topics available)
*Add-ons:
A Guided Group Tour of our Campaigns of Courage: European and Pacific Theaters pavilion
Higgins box lunch (vegetarian options available)
*All add-ons come with an additional cost.
Additional Group Experiences
BB's Stage Door Canteen
The Canteen offers a wonderful variety of live musical performances every weekend and select weekday matinees plus delightful dining from The American Sector Restaurant + Bar. Group rates available for 10 or more guests. Ask about our Five-Star Premier Show Experience for groups up to 40 guests!
The American Sector Restaurant + Bar serves a unique garden-to-table menu, featuring locally grown vegetables and herbs, as well as hand-selected meats, seafood, and dairy products from local and artisanal producers.  American Sector Catering offers delicious group lunch options to dine in or take away for groups of 10 or more. To place your group dinning order, please contact 504-528-1944 X 222.
---
Details
Click below for additional information.
Scheduling a Group
Please contact Group Sales to schedule your visit at least one week in advance to determine if desired visit date and arrival time is available. Peak months for groups are March, April, and May. For tour groups, the Museum offers complimentary admission for tour escort and driver. Youth groups are required to have one chaperone for every 10 kids.
We suggest a minimum of three hours to view Museum galleries. Groups may also view the 4D cinematic experience Beyond All Boundaries, and perform as crew members in Final Mission: USS Tang Submarine Experience by additional fee subject to availability. Group Sales will also be happy to assist you with BB's Stage Door Canteen group reservations and/or group lunch and dinner options at the Museum.
To plan your group visit or for more information, please call 504-528-1944 x 222 (toll free 1-877-813-3329 x 222) or email group.sales@nationalww2museum.org.
Hours and Accessibility
Museum Exhibits & Museum Store
Open daily 9:00 a.m. – 5:00 p.m.
Beyond All Boundaries at The Solomon Victory Theater
Sunday – Saturday: 10:00 a.m. – 4:00 p.m.
Showtimes on the hour
Final Mission: USS Tang Experience
Sunday – Saturday: 11:15 a.m. – 1:35 p.m.
Show times at 15 and 35 after the hour
The American Sector Restaurant + Bar
Sunday – Saturday: 11:00 a.m. – 4:00 p.m.
Jeri Nims Soda Shop
Sunday– Saturday: 8:00 a.m. – 3:00 p.m.
All venues are closed Mardi Gras Day, Thanksgiving Day, Christmas Eve, and Christmas Day.
Accessibility 
The Museum is fully ADA accessible to all visitors. A limited number of wheelchairs are provided for use in the Museum at no charge.
View a campus map of The National WWII Museum before your visit!
 
Payment and Cancellation
Payment is required 72 hours in advance of arrival. There should be one designated group leader to process payment for the group before arrival and for check in at the Museum's ticket counter for the day of the visit. The Museum does not provide direct billing or receive purchase orders for payment. Payment for group meals should be handled by American Sector Catering prior to arrival.
Please notify us as soon as possible in writing to cancel an existing group reservation. Group visit cancellations within 72 hours of the group arrival are nonrefundable.
Parking and Directions
The Museum provides an unloading/loading zone only for buses along Magazine Street (GPS address: 945 Magazine Street, New Orleans, LA 70130). Museum staff will issue the bus driver a parking pass for complimentary parking two blocks down Magazine Street under the I-10 overpass. Buses are not allowed to unload/load on Andrew Higgins Drive in front of the Museum due to safety hazards. Paid car parking is available in Museum 's parking garage located at 1024 Magazine Street.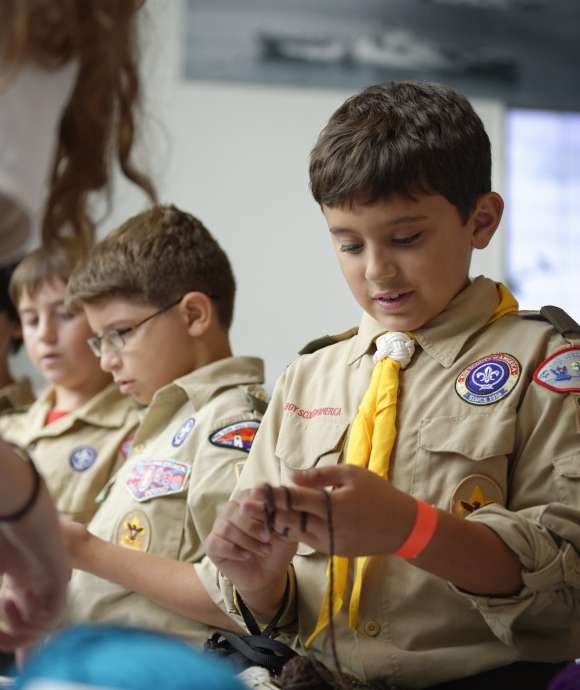 Field Trips
The National WWII Museum is an exciting, educational experience for students and teachers alike. There are several ways to navigate the Museum and we will be happy to assist you in planning your visit.
Learn More