Each year, on Veterans Day, we commemorate those who've selflessly served our country, those whose sacrifices we must never forget. The foundation of our mission is to preserve the stories of our nation's servicemembers, and on this Veterans Day, we're launching new efforts and programs to honor all servicemembers who have and continue to honorably serve our great nation:
On-site programming at the Museum, including a commemoration ceremony, band performance, and more
The refresh of ww2online.org, including more than 100 new oral histories and 3,000 new images uploaded
Our first annual letter-writing campaign, in which Museum volunteers hand-wrote hundreds of letters to WWII veterans in Louisiana, thanking them for their sacrifice in the war that changed the world
A comprehensive guide for anyone wishing to research a veteran's military records from the National Archives in St. Louis
A new direction for $10 for Them, which originally served to fund WWII veterans' free admission to the Museum. Because this previous funding goal has been achieved, donations will now go towards preserving WWII veterans' stories so their memories are not forgotten.
On Veterans Day, the Museum will offer free admission to veterans of all conflicts.
---
Museum Events Schedule
Saturday, November 11, 2017
10:00 a.m. – 3:00 p.m.: Hands-On History
Louisiana Memorial Pavilion
10:30 a.m. – 11:00 a.m.: American Legion Band Performance
US Freedom Pavilion: The Boeing Center
11:00 a.m. – Noon: Veterans Day Commemoration Ceremony featuring Medal of Honor recipient Jay Vargas
US Freedom Pavilion: The Boeing Center
Noon – 3:00 p.m.: Knit Your Bit Scarf Handout to Veterans and Knit-In
US Freedom Pavilion: The Boeing Center
While visiting the Museum this Veterans Day, be sure to check out this unique expression of gratitude. More than 150,000 Museum Members from across the country showed their support in 2013 and 2014 by writing messages of thanks on squares of fabric. The approximately 4,000-plus pieces of cloth were stitched together into two 8' x 10' banners, which will be on display throughout Veterans Day weekend. The pieces feature a variety of personal and creative designs, including messages from veterans as well as others who wanted to express their appreciation for all who serve.
---
Show Your Support

There are many ways you can show your gratitude on Veterans Day—we've highlighted a couple of ways you can do so through the Museum:
Regardless of your choice, we hope you'll visit us at the Museum or online this Veterans Day as we pay honor to our heroes.
---
Show Your Gratitude on Our Road to Victory
As you take the time to say thank you to our nation's veterans, consider adding your voice to the thousands in the Museum's Road to Victory. For just $200, you can purchase a brick to honor a personal connection or all veterans who served to preserve freedom. The message could be as simple as a "thank you" with your family name. Don't miss the chance to create a tribute that will last for years to come. Your purchase supports the work of The National WWII Museum to preserve the legacy of the WWII generation.
Honor a Hero
---
Support Our Mission

All proceeds from purchases made through The National WWII Museum Store fund the Museum's continuing educational mission.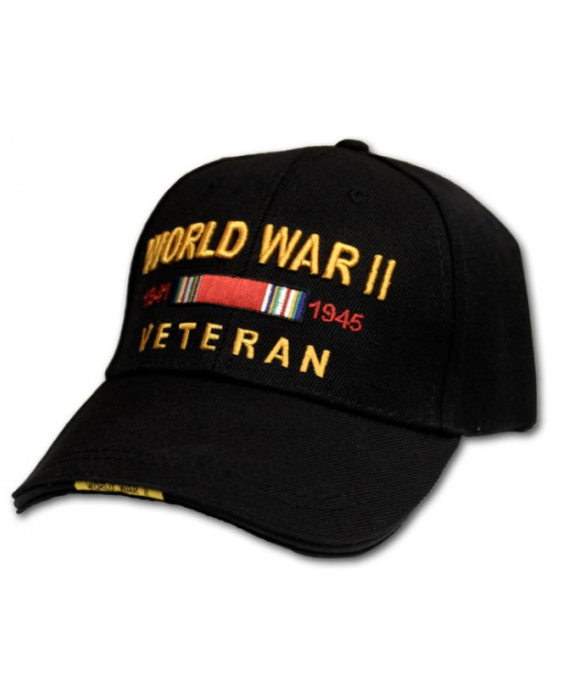 World War II Veteran Cap
$14.95
You'll be proud to wear this WWII Veteran cap dedicated to every veteran who served in any branch of our Armed Forces.
Buy Now