The National WWII Museum's bond with President George Herbert Walker Bush dates to the early 1990s, when Bush agreed to serve on an honorary board of national figures supporting the development of a New Orleans museum dedicated to the Normandy invasion. The vision of University of New Orleans professors Stephen Ambrose and Gordon H. "Nick" Mueller to build such an institution was years away from being realized, and the imprimatur of a former US president—and US Navy WWII combat veteran—was a powerful endorsement. 
A few years later, in April 1999, Bush visited the Museum—still a Warehouse District construction zone—at Ambrose's request. In addition to giving their early, influential patron a glimpse of progress toward completion, Ambrose and Mueller had hoped to enlist Bush in fundraising efforts. "We were desperately trying to raise money," Mueller said. Over lunch at Emeril's, Ambrose and Bush discussed Museum plans and Bush's wartime experiences, but the fundraising pitch fell to Mueller. 
"Mr. President, it would be wonderful if you could help us a bit with people in Texas, friends who might be willing to help," Mueller said. Bush swiftly replied that his philanthropy efforts were focused exclusively on Texas institutions. Mueller pitched again and Bush again politely but firmly declined. 
"I went back for a third time and said, 'Would it be possible for you to do a short, 60-second video for us that indicated your support?' Steve at about this time was ready to crawl under the table, but the president said, 'You got it! That's a gimme putt! I'll do it for you tomorrow!' He cut a 60-second spot that was just terrific.'" 
After lunch came a tour.  
"We took him up to the second level," Mueller said. "Walls were coming down. It just looked like rubble, piles of rock and bricks. Steve and I were really excited. But the look on his face—he was stunned. 'When are you opening?' he said. 'June 2000! Fourteen months from now!' He was very polite and quiet, in the way only he could be, even though he probably thought we were delusional." 
The cofounders' vision for the Museum reached well beyond its opening. 
"When we told him of our expansion plans, including the Pacific island-hopping campaigns that would include his story, he was very, very pleased," Mueller said. Bush was also pleased by Museum plans to obtain a TBM Avenger torpedo bomber, the aircraft he flew in combat during WWII, which today is among the fleet of WWII warbirds on display in US Freedom Pavilion: The Boeing Center. 
The National D-Day Museum opened on schedule—June 6, 2000—and quickly pivoted to expansion mode. There had been multiple D-Days in the Pacific, and Mueller and Ambrose knew that many veterans of those campaigns, including Bush, wanted the Museum to expand and recognize those invasions—and the Pacific campaign generally.
Recipient of the Distinguished Flying Cross for his WWII service, Bush attended the grand opening of the Museum's D-Day Invasions in the Pacific exhibit on December 7, 2001. "We live in a different era," he said in his remarks, "but I think `duty, honor, country' still prevail." Also present for the ceremony, which included a military parade of WWII veterans and flyover of military aircraft, were Tom Hanks and 12 Medal of Honor recipients. The days-long event also included WWII veteran interviews, a memorial service in St. Louis Cathedral, and battle reenactments at Lake Pontchartrain. Mueller's favorite memory of the occasion is a quiet preopening tour of the new exhibit with Bush, Bush's grandson, and Ambrose. 
"President Bush was a very authentic, great American leader. And like so many WWII veterans, he never lost his appreciation for the values and principals America advanced around the world and at home after World War II."
– Gordon H. "Nick" Mueller, PhD, Museum President & CEO Emeritus
 "Very sadly, he did come back again 10 months later to speak at the Ambrose memorial service," Mueller said. Ambrose died in October 2002, and was remembered at a memorial held at the Museum attended by Bush, WWII veteran and former US Senator George McGovern, Tom Brokaw, academic and Museum colleagues, family, and many prominent leaders from business and government—locally and nationally. 
Ambrose's work, Bush said at the ceremony, "made us proud of our courageous, hard-working, visionary forebears."
In 2007, Bush received the American Spirit Award, the Museum's highest honor, at a ceremony in Houston hosted by Robert Mosbacher, a former Secretary of Commerce and longtime friend of the Bush family. "It was a wonderful and intimate evening in Mosbacher's home," Mueller said. "It was attended by many of the president's closest friends. It meant a lot for us for him to accept it, and despite his many awards over a lifetime of extraordinary achievements, we could not help but notice how personally touched he was to receive the iconic World War II bronze sculpture of a Higgins boat crafted by Andrew Higgins in the 1940s." 
As remembered in media accounts since Bush's death on November 30 at age 94, the president and New Orleans shared many milestones. He accepted the Republican Party's presidential nomination here in 1988. He partnered with Bill Clinton to raise money for Hurricane Katrina relief. And there was his work on behalf of The National WWII Museum. 
The staff, volunteers, and Board of Trustees of the Museum will remain forever grateful for President Bush's service to his country, his lifelong embodiment of the America spirit, and his support of our mission. 
"President Bush was a very authentic, great American leader," Mueller said. "And like so many WWII veterans, he never lost his appreciation for the values and principals America advanced around the world and at home after World War II. I think that those commitments and policies came, to a large extent, from his WWII experience. He was the last of the WWII veterans who served as president, and what he learned in the crucible of war carried over to his foreign and domestic policies, and also to his belief in the American spirit.
"The end of the Cold War, the bringing down of the Iron Curtain walls that separated Eastern Europe, will go down as one of the greatest achievements of any American president, and for that reason his presidency will always have a special place in the nation's history and in the story of the Museum. President Bush will always have a special place in my heart and in my memory for his support of the Museum during the very trying times we experienced in building The National D-Day Museum in New Orleans, which began with his friendship with Stephen Ambrose."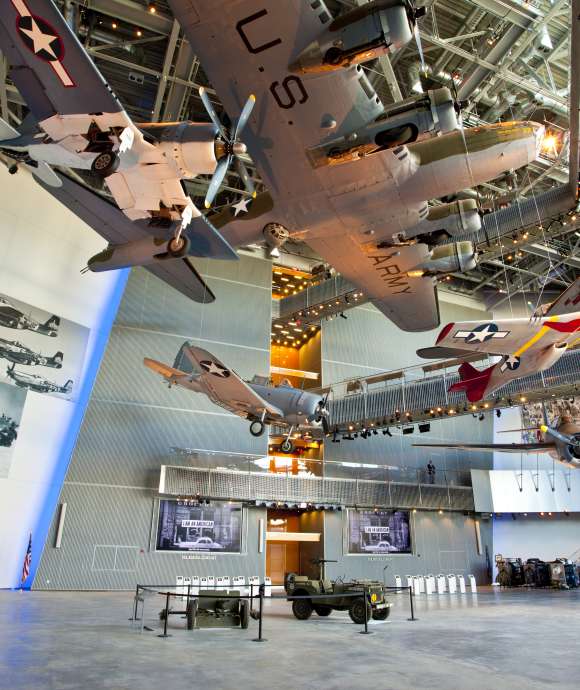 The George H.W. Bush Aviation Gallery
From his tours of duty as a US Navy lieutenant during World War II to his term as President of the United States, George Herbert Walker Bush inspired generations of Americans through his lifetime of service. As a prominent and lasting tribute in his honor, the George H.W. Bush Aviation Gallery—located in the airspace of our US Freedom Pavilion: The Boeing Center—features six fully restored iconic WWII warbirds, including a General Motors TBM Avenger like Bush flew as the youngest pilot in the Navy at that time.
Learn More