In May of 1940, 60 years ago this month, Donald Roebling delivered a prototype of an amphibious vehicle for testing by the United States Marine Corps.
Donald Roebling had moved to Clearwater, Florida in 1929 to get away from his parents. He was heir to a famous name and prestigious family. His great grandfather John Roebling designed the Brooklyn Bridge, and his grandparents Col. Washington and Emily Warren Roebling led its construction. His grandfather was a Civil War hero of the Union Army, who suffered from decompression illness (the bends) after he fought a fire in the underwater building structures used to construct the Brooklyn Bridge, and his grandmother took over management of the massive project afterwards. Their son, John Roebling II, was also an engineer, and a chemist. The family company was large, and produced important material for the military in World War I. Donald had quite a legacy to live up to.
Donald grew up in New Jersey, on his family's estate, and was sent to boarding school in Virginia. He did not do well in school, and on graduation in 1927, enrolled in an electrical training school. That lasted only a few months, when he was expelled after conflicts with his instructors.
When he arrived in Florida at the age of 21, his father helped him start a company to construct luxury homes as part of a housing boom in the area. Donald also built himself a fine home, married, and put together a big workshop to tinker in.
With the Great Depression, the bottom fell out of the real estate market. Those years also saw a series of terrible hurricanes. Six months before Donald moved, the 1928 Okeechobee Hurricane had come through. It formed in the Caribbean in September and hit Puerto Rico with winds over 160 mph before arriving in South Florida. It landed at Palm Beach with winds at 145 mph destroying many homes. Some of the worst impact was well inland, as Lake Okeechobee broke through its dikes. At least 2,500 people died, and many bodies were never recovered. In 1933 a category 4 storm came ashore in Jupiter, and then in 1935 a category five hurricane (winds of 185 mph) hit most of the state. Known as the 1935 Labor Day Hurricane, it crossed the keys with storm surges of 18-20 feet, and then traveled northward, skirting the west coast of Florida and staying off the coast. It is still the strongest hurricane to make landfall in the United States. It cost $100 million very scarce Depression-Era dollars in damage.
John Roebling II encouraged his son to take on an engineering task. He asked Donald if he could make an amphibious vehicle that could rescue people from the flood waters after hurricanes. John offered to pay for the design, manufacturing, and testing of such a vehicle. He knew that his son was mechanically gifted and eccentric, and hoped to set him a task worthy of his family history. Donald was excited by the challenge.
He chose aluminum because it was light, and instead of powering the vehicle with two drive trains for land and for water, he chose one—tracks with cleats that both gripped mud and paddled through water. He named it the Alligator. His innovative choices were the keys to the success of his vehicle, but also complicated its manufacturing. Use and methods for working with aluminum were untested, and methods for steel did not apply. Tracks that were good in both mud and water were tough to make, requiring testing of different patterns and materials.
He had a prototype ready for testing in 1935. Powered by a 92-horsepower Chrysler engine, it weighed over 14,000 lbs and was 24 feet long. It managed a speed of 25 mph, but the tracks broke after a few miles, and it went only 2 mph in the water. Redesigns were often quick, with no blueprints or engineering drawings made of these early versions. The model II prototype was ready a few months later. It weighed in about 2,000 lbs lighter, and used an 85-horsepower Ford V8 automobile engine. The model II was slower on land—18 mph—but doubled its speed in the water. A few months later they tested the model III. It was a little lighter and faster, but there were still problems with the tracks breaking, and getting stuck in transition from water to land. It had progressed to a point where it was clear that it could be useful if those problems were solved.
In 1937, a model IV prototype was ready for testing. It weighed much less than the earlier models, at 8,700 lbs, and was four feet shorter. The reduced weight and length made it more maneuverable, and it managed 18 mph on land and almost 9 mph in the water. Most importantly, Donald had found a way to change the way the track ran, making it stronger and more durable. He billed his father $100,000 for the model IV prototype, inclusive of the earlier versions and testing. He made a copy of it and billed John Roebling II $18,000 for it.
Donald took the model IV for testing around South Florida, and made the tests open to the public and press. For one of those tests Life magazine arrived with photographers. The October 4, 1937 issue had a pictorial article with exuberant praise for the amphibious vehicle.
The article was noticed by influential officers in the Marines. They envisioned a coming war in the Pacific that would require bringing troops to shore in rough terrain, and the Alligator fit that vision. After much political and financial wrangling, Donald Roebling received a contract in spring of 1940 for one Alligator, with the Navy providing the $24,000 for its construction and delivery. Over the intervening years, Donald had incorporated much of the feedback he had received from the military. This version weighed 7,700 lbs, and could hold another 7,000 lbs. It traveled at 29 mph on land and over 9 mph in water.
When large orders and equipment changes came in the following years, Daniel Roebling subcontracted with the Food Machinery Corporation to fulfill the orders. During World War II, the Alligator was renamed the Landing Vehicle Tracked (LVT) and underwent four redesigns (LVT-1 to LVT-4). Over 18,000 LVTs were manufactured in World War II, and they served from North Africa to the Rhine, and most famously in the Pacific on Iwo Jima. The National WWII Museum has an LVT-4 on display in the STEM Innovation Gallery of the Kushner Restoration Pavilion. The LVT-4 weighs about 18 tons, since it is plated with steel, and is powered by a Continental W-670-9A, 7 cylinder, 4 cycle, radial gasoline engine. This airplane engine and the transmission are borrowed from the Stuart tank. Armored versions (designated LVTA) have Stuart gun turret.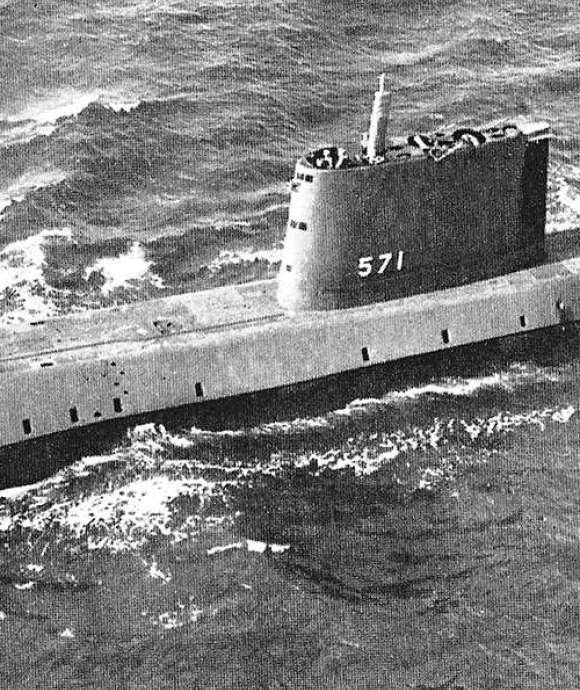 WWII Innovations: The Fruit of the Manhattan Project
The technology of the Manhattan Project didn't just find its way into bombs--it powers submarines and other ships today.
LEARN MORE

Contributor
Rob runs teacher workshops and develops curriculum, including Real World Science, funded by The Northrop Grumman Foundation.
Learn More