Jeff Taddeo remembers the day he first heard about his grandfather's WWII letters during a visit to his grandparents' house. At that time, both of his grandparents were experiencing differing degrees of dementia, but his grandmother began telling anecdotes from the war. As she spoke, Jeff's grandfather, whose dementia was more advanced, smiled and nodded from his chair. When his grandmother mentioned she had found some of his grandfather's letters from this time, Jeff was intrigued, assuming there would be maybe two or three letters in total. Instead, his grandmother retrieved a grocery bag spilling over with hundreds of letters. When she mentioned she might throw the letters away, Jeff seized the opportunity to save them by offering to take them home with him.
At his home, the grocery bag filled with his grandfather's WWII experience sat on a shelf as time passed by. Over the years, Jeff's grandparents, mother, and aunt passed away. As he thought about his surviving family members, he remembered his grandfather's letters and realized they told a story that should be shared. Unsure of the best way to handle these materials at home, Jeff reached out to The National WWII Museum for preservation advice, thereby saving his grandfather's letters for a second time.
Preserving Family Papers at Home: Quick Tips 
If you find yourself in a similar situation, the US National Archives and Records Administration provides basic but essential measures to be aware of while handling and storing your family's paper-based materials. First, when organizing your family's papers, you must have a clean, dry space where you can work. It is imperative that you don't eat, drink, or smoke near the materials. When handling paper, using your bare hands is ideal if they are clean, dry, and lotion-free. As you touch the papers, be aware of any tears or fragile spots and handle with care.
Secondly, there are many factors to consider when choosing a storage location in your home for paper-based materials. For instance, maintaining a temperature below 75 degrees Fahrenheit will reduce insect activity and chemical decay. Keeping the relative humidity below 65 percent and above 15 percent can prevent mold growth, brittleness, and insects. For these reasons, paper-based materials should be stored away from damp or hot rooms such as basements, garages, and attics. Avoiding pipes, windows, and other sources of leaks is also crucial. Additionally, storing materials on a shelf can prevent them from being damaged by floods and pests. Keeping food and liquids away from your family's papers can also prevent pests and insects. Lastly, choosing an appropriately sized, lignin-free, acid-free container is an important part of preservation. At the conclusion of this article, a link will be provided where you can view and purchase these kinds of products. Make sure that your container is large enough for your papers to lay flat or upright without folding and bending. To prevent potential damage to the materials, avoid overstuffing or underfilling your container. For papers that are especially fragile or heavily used, a polyester L-sleeve can enable accessibility while also providing protection from further wear and tear.
Starting the Process: Jeff Taddeo's Experience 
After communicating with The National WWII Museum archivist about these preservation measures, Jeff set to work unpacking his grandfather's letters so he could better organize them. His first step was to arrange the letters by year, and then further organize the materials chronologically. Because his grandfather only recorded the day of the week, month, and day, Jeff has printed calendars from 1944, 1945, and 1946 so he can match the letters to their correct years. To help with this tedious work, he has involved his young sons in the process, turning it into a family project. During this organization, Jeff has uncovered letters on stationary, postcards, and ephemera, including a menu from Christmas in 1944. He notes that the menu includes the meal that was served (roast turkey, sage dressing, mincemeat pie, and ice cream), but also the names of officers and non-commissioned officers in attendance, most of whom were from the Northeastern United States. Jeff writes, "There is a little stain on the menu, and I like to think it is from dinner on that Christmas Day."
The Man Behind the Letters: John "Jack" Meagher
Jeff shares that his grandfather John "Jack" Meagher was a quiet, handsome man who lived most of his life in Rochester, New York. He married a woman named Rita and together they had four girls and one boy. Prior to sorting through his letters, Jeff knew very little about his grandfather's military career, though he recalled one specific reminiscence. When asked if he had ever been in battle, Jack recalled that he was once shot at in Italy, but he felt the shooter was only trying to scare him with no ill will intended. "That's my grandfather," Jeff marvels, "even when getting shot at, [he believed] they really didn't want to hurt him."
Apart from these letters and a couple of pictures, Jeff has nothing else that belonged to his late grandparents. Through preserving his grandfather's writing, however, he is learning more about his time in the military as well as his relationship with his wife and children. Based on a menu he found in the collection, he has determined that his grandfather was in Company B, 7th Training Battalion, 2nd Training Regiment, IRTC (Infantry Replacement Training Center), Fort McClellan, Alabama. From the letters, he has also learned that his grandfather spent time in Italy and Switzerland. He has further observed that some of the letters in his collection were from his grandfather to his daughter and Jeff's mother, Kathy. In his writing, Kathy is addressed as "Snooky." Jeff points out, "Interestingly enough, when he came back home after the war, he never called her by that name again. I often wonder why he would do that, whether it was too difficult to write her name while being away, or maybe he didn't want to call her Snooky upon his return because it reminded him of a different time. Unfortunately, I'll never know."
The Importance of Preservation: 
For Jeff, organizing and rehousing his grandfather's WWII letters is just the first step of ensuring their preservation and sustaining this part of his grandfather's legacy. Eventually, he would also like to scan or photograph the materials so they can be shared with his aunts and uncle, who he feels are his closest living connection to his grandparents. In conclusion, he writes: 
"My goal is to give these letters in a book format to everyone in my family so that these words are never forgotten. … While we go through an extremely difficult time right now, I am with my family. I can't imagine being separated from my family, including a young toddler, during a world war. My grandfather's letters deserve to be remembered, and it's my responsibility to do that. I guess there's no better time to start than now."
Special Thanks: 
The National WWII Museum Collections team would like to say a special thank you to Jeff Taddeo for including the Museum in his preservation project and generously sharing his grandfather's story.
Sources and additional resources:
The US National Archives and Records Administration: How to Preserve Family Archives (papers and photographs)
To ask National WWII Museum staff questions about collections care at home: info@nationalww2museum.org
View or purchase archival supplies at Gaylord Archival or Hollinger Metal Edge.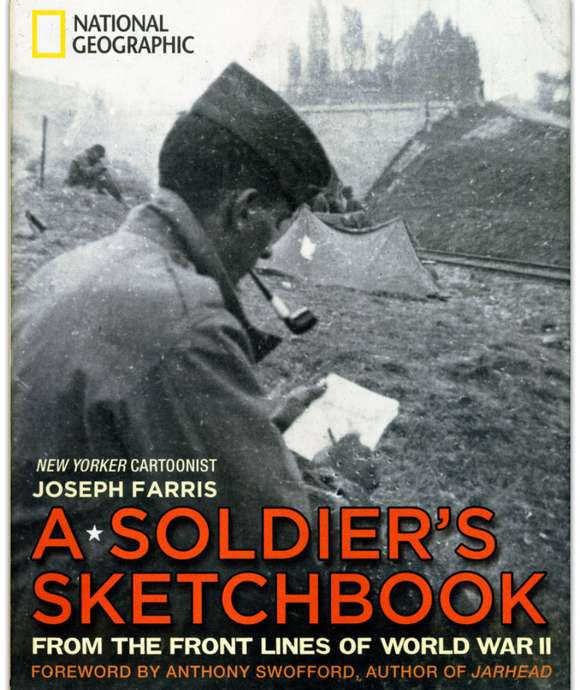 A Soldier's Sketchbook
Support the continuing educational mission of The National WWII Museum by shopping our book selection.
Museum Store

Contributor
Laura Frizzell earned her master's degree in Information Sciences from the University of Tennessee in 2015. After working as an archivist in the archives of the Coca-Cola Company and the David J. Sencer CDC Museum in Atlanta, Georgia, she relocated to New Orleans to be the archivist at The National WWII Museum in 2020.
Learn More