In honor of International Holocaust Remembrance Day and in celebration of The National WWII Museum's new exhibit Dimensions in Testimony: Alan Moskin, the New Orleans Public Library has created a supplemental reading list to accompany the exhibition.
The list is made up of narrative works published in the last four years that tell stories of the Holocaust and its devastating and long-term effects. Additionally, this list features recommended movie titles surrounding the same themes.
All titles featured in this list are available for free through the New Orleans Public Library, a partner of The National WWII Museum. Through this partnership, Orleans Parish residents with a New Orleans Public Library Card can reserve passes for free admission to The National WWII Museum and other local museums and attractions through the Library's Culture Pass program. To find out more, go to culturepass.nolalibrary.org.
---
Books for Adults
1. The Art of Resistance: My Four Years in the French Underground, A Memoir by Justus Rosenberg (2020) available in print
In this WWII memoir set in Nazi-occupied France—a story of bravery, daring, adventure, survival, and romance—a former Eastern European Jew remembers his flight from the Holocaust and his extraordinary four years in the French underground.
2. We Spoke Out: Comic Books and the Holocaust by Neal Adams, Rafael Medoff, and Craig Yoe (2018) available in print and e-book
Long before the Holocaust was taught in schools or presented in films such as Schindler's List, the youth of America was learning about the Nazi genocide from Batman, the X-Men, Captain America, and Sgt. Rock. Comics legend Neal Adams, Holocaust scholar Rafael Medoff, and comics historian Craig Yoe bring together a remarkable collection of comic book stories that introduced an entire generation to an engaging and important subject.
3. The Tale of a Niggun by Elie Wiesel (2020) available in print
An evocative narrative poem based on true events from World War II traces the powerful sacrifice of a Persian rabbi and his community, who stood together to sing a wordless song of joy as they were massacred by the Nazis.
4. Europe Against the Jews, 1880-1945 by Götz Aly (2020) available in print and e-book
Drawing on a wide range of previously unpublished sources, an award-winning historian of the Holocaust, in this groundbreaking study, stresses the importance of looking at other countries decades before the Nazis came to power that fueled the surge of antisemitism.
5. Max Jacob: A Life in Art and Letters by Rosanna Warren (2020) available in print
A comprehensive portrait of the early twentieth century poet explores how Max Jacob's complex relationships with art, faith, and sexuality impacted his life in bohemian Paris and shaped the symbolic themes in his poetry.
6. Culture Warlords by Talia Lavin (2020) available in print, e-book, and e-audiobook
The unapologetic journalist and anti-discrimination activist recounts her immersive investigation into white supremacy to reveal how it proliferates online, exposing a rampant Web subculture of religious extremism, misogyny, racism, and antisemitism.
7. The Memory Monster: A Novel by Yishay Sarid (2020) available in print
A young, initially reluctant Holocaust scholar works at Yad Vashem, Israel's memorial to the victims of the Holocaust. The job becomes a mission, and then an addiction, and the narrator harrowingly learns how memory and the effort to preserve it can become an all-consuming monster.
8. Exile Music by Jennifer Steil (2020) available in print, e-book, and e-audiobook
The daughter of respected Jewish music artists finds her culturally rich life in 1938 Vienna shattered by the Nazi invasion and a devastating secret that threatens her efforts to start over in a Bolivian Andes refugee community.
9. The Lost Shtetl: A Novel by Max Gross (2020) available in print
A tiny Jewish shtetl that has peacefully escaped the devastations of the Holocaust and Cold War is wrenchingly forced into the twenty-first century by a marriage dispute that spins out of control.
---
Books for Youth
1. Nicky & Vera: A Quiet Hero of the Holocaust and the Children He Rescued by Peter Sís (2021) available in print and e-book, for elementary school readers & up
In 1938, 29-year-old Nicholas Winton saved the lives of almost 700 children trapped in Nazi-occupied Czechoslovakia—a story he never told and that remained unknown until an unforgettable TV appearance in the 1980s reunited him with some of the children he saved.
2. We Must Not Forget: Holocaust Stories of Survival and Resistance by Deborah Hopkinson (2021) available in print and e-book, for middle school readers & up
A thoroughly researched volume of true Holocaust stories collects firsthand testimonies and interviews with diverse survivors who recall their persecution, endurance, and resistance.
3. Chance: Escape from the Holocaust by Uri Shulevitz (2020) available in print, for middle school readers & up
The Caldecott Medal-winning illustrator of The Fool of the World and the Flying Ship presents a heartrending, illustrated account of his childhood escape from Nazi-occupied Warsaw to the Soviet Union, where he experienced his awakening as an artist.
4. The Missing: The True Story of My Family in World War II by Michael Rosen (2020) available in print, for middle school readers & up
The former UK Children's Laureate and award-winning author of We're Going on a Bear Hunt traces the losses of several relatives during the Holocaust and his adult search for information about their stories.
5. Peter's War: A Boy's True Story of Survival in World War II Europe by Deborah Durland Desaix and Karen Gray Ruelle (2020) available in print, for middle school readers & up
A true account of a Jewish-German boy's survival during World War II describes how his family fled Nazi persecution throughout Europe before the capture of his parents forced him to fend for himself during the hardest times of the war.
6. Survivors Club: The True Story of a Very Young Prisoner of Auschwitz by Micahel Bornstein and Debbie Bornstein Holinstat (2017) available in print and e-book, for middle school readers & up
One of Auschwitz's youngest survivors uses his own memories and interviews with family and other survivors to reveal how he and others survived the death camp.
7. We'll Soon Be Home Again by Jessica Bab Bonde and Peter Bergting (2020) available in print and e-book, for high school readers & up
A graphic novel based on interviews with six Holocaust survivors, these first-person point of view stories relate living through the de-humanization and starvation in concentration camps and the industrial-scale mass murder in extermination camps.
8. Claiming My Place: Coming of Age in the Shadow of the Holocaust by Planaria Price with Helen Reichmann West (2018) available in print, for high school readers & up
Documents the story of a young Jewish woman who survived the Holocaust by moving into Nazi Germany and hiding in plain sight, describing how she used her blonde hair and other Aryan features to assume a new identity and pass herself off as a non-Jewish woman in order to stay in the place she called home.
---
Films
1. Shoah: Four Sisters, Holocaust Survivors Tell Their Stories (2018) available for streaming on Kanopy
Starting in 1999, Claude Lanzmann made several films that could be considered satellites of SHOAH, comprised of interviews conducted in the 1970s that didn't make it into the final, monumental work. In the last years of the late director's life, he decided to devote a film to four women from four different areas of Eastern Europe with four different destinies, each finding herself improbably alive after war's end.
2. A Happy End (2015) available for streaming on Kanopy
In 1932-33, a Jewish couple are living in Berlin with their son. Although the signs of danger increase as the Nazi Party takes power, the family ponders whether to seek an unknown future outside their beloved Germany or stay.
3. Sophie's Choice (1982) available on DVD and for streaming on Hoopla
Sophie is the survivor of Nazi concentration camps, who has found a reason to live in Nathan, a sparkling if unsteady American Jew obsessed with the Holocaust.
---
Visit catalog.nolalibrary.org  for additional materials about the Holocaust, World War II, and the Jewish experience.
The Library is currently offering a contactless pick-up and drop-off service and is open for timed in-person sessions, which can be reserved by calling your Library location. The Library is also offering Book Bundles, a fun way to discover new books based on a topic, author, or genre you're interested in. Call your Library location to request a Book Bundle.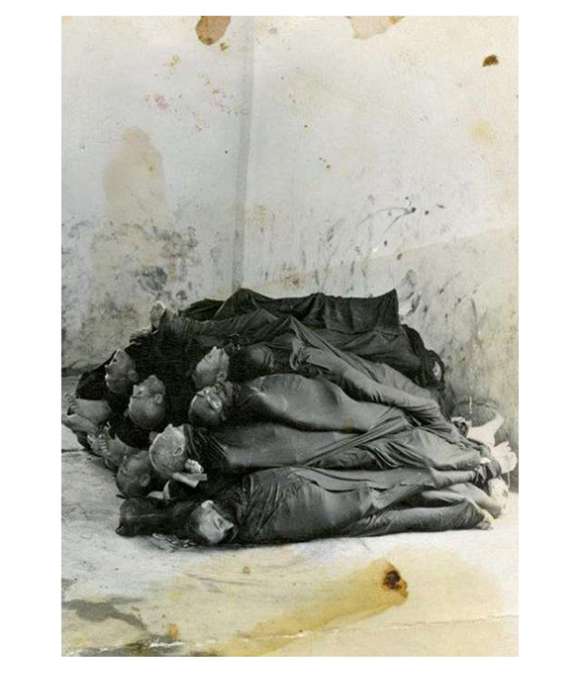 Indelible Nightmare: The Holocaust
Today we pause and take the time to reflect on one of the most heinous atrocities committed in the twentieth century. The Holocaust has left a dark shadow on human history and lives in the memories of the Survivors.
LEARN MORE