On Thursday May 30, 1946, the first Memorial Day following the war, ceremonies took place around the United States in small towns and booming cities alike. Churches held days of prayer and in many of the nation's parks and greenspaces, memorials were dedicated to those Americans who made the ultimate sacrifice in the five years at war. Grieving families and communities were invited as statues, spires, plinths, and plaques were consecrated. For some, whose loved ones were lost at sea or whose remains were never recovered, these monuments could take the place of a grave marker.
In the Carrollton neighborhood of New Orleans, citizens gathered for a ceremony at Palmer Park at a monument commemorating the centennial of the incorporation of the neighborhood into the city of New Orleans (in 1945.) The monument was dedicated to those neighborhood servicemen who were killed during the war and their names had been etched on the monument months prior. It was quite an event. The Army, Navy, Marines, Boy and Girl Scouts were represented at the service, as was the American Legion. The mayor of New Orleans spoke following an invocation by a Catholic priest and preceding a prayer by an Episcopalian rector and a benediction by a rabbi.
Richard T. McCurdy is one of the 90 names etched into the stone column. McCurdy enlisted in 1941. On December 7, 1941, Richard Tobin McCurdy was stationed at Camp Wheeler, Georgia and looking forward to holiday leave when he could visit his family back in New Orleans. McCurdy wrote home optimistically, "Everything is swell here, and the gang here thinks Uncle Sam will make a short War and we will be home for New Years." A Christmas visit was brief and perhaps the last time he saw his family. After training at Camp Wheeler, Georgia, McCurdy went overseas with the 3rd Battalion, 6th Armored Infantry Regiment, 1st Armored Division, staging first in Northern Ireland. In August 1942, in reference to how families were notified of a soldier's death, he wrote home "Yesterday I sent a cablegram, which I hope did not scare you too much, when it arrived." In his letters home he asked for small comforts like candy and "sweat" socks.
The 1st Armored Division would be the first US armored division to see combat in World War II when they were deployed during the first major joint Anglo-American offensive of the war, Operation Torch, the invasion of North Africa in November 1942. The operation was deemed successful and the loss of life relatively minor. PFC Richard McCurdy was one of 500 Americans killed during the operation, most of whom, like McCurdy, perished during Operation Reservist, part of Operation Torch intended to land troops directly into the harbor at Oran to secure its vital port facilities. McCurdy and the others from the 393-man force of the 3rd Battalion, 6th Armored Infantry, were aboard the HMS Walney, one of two vessels sunk in Oran harbor by Vichy French bombardment on November 8, 1942 during the invasion. They didn't have a chance to make it ashore and most of the wounded or dead went down with the ship as it exploded and capsized in the evening of November 8. Only 47 of the 6th Armored Infantry force survived. Soon after the invasion, McCurdy's mother received word of his status as missing in action. The event McCurdy had once written his mother about, the arrival of the dreaded telegram, came to pass. His family and community held out hope for his survival until his death was declared a year later, per regulation. 
Condolences were sent to and grief shared with McCurdy's family by many in the community including McCurdy's former employer, The Woodward, Wight & Company, a general supply warehouse (located just steps from the site of The National WWII Museum), who recalled him as "a fine boy; a loyal and conscientious employee," and said that "his many friends in this organization will surely miss him."
In April 1944, McCurdy's high school, Alcee Fortier High School in New Orleans, dedicated a plaque and had a memorial service for the former students who had been killed or who were missing in action. The number of war casualties was reported as higher than that of any other high school in the state of Louisiana, 37 killed in action and 15 missing in action. The school also served as one of the city's 17 draft boards. It was reported in Elizabeth Mullener's War Stories: Remembering World War II as the most enthusiastic, "where the 'Star Spangled Banner' played on opening day as the flag was raised, followed by speeches and a series of patriotic exercises." Overall, 37,000 eligible men were registered in Orleans Parish.
The 1946 Memorial Service did not conclude the grieving process or even inquiry into McCurdy's death. In February 1949, McCurdy's mother, Mrs. Lenore McCurdy received a letter from Army Adjutant General Edward Witsell detailing his loss during Operation Torch. That letter was one of thousands that commanders had to draft to families who still had unanswered questions about their loved one's last moments.
Decades later, park markers and memorials such as these may serve as a stretching post for runners, meeting places, centers for art markets, Instagram backdrops or they may be overlooked altogether. But on Memorial Day and every day, the names of Richard McCurdy and other boys like him should be kept alive and their sacrifices and those of their families remembered. They were and are part of a nation, a city, a neighborhood, and a family.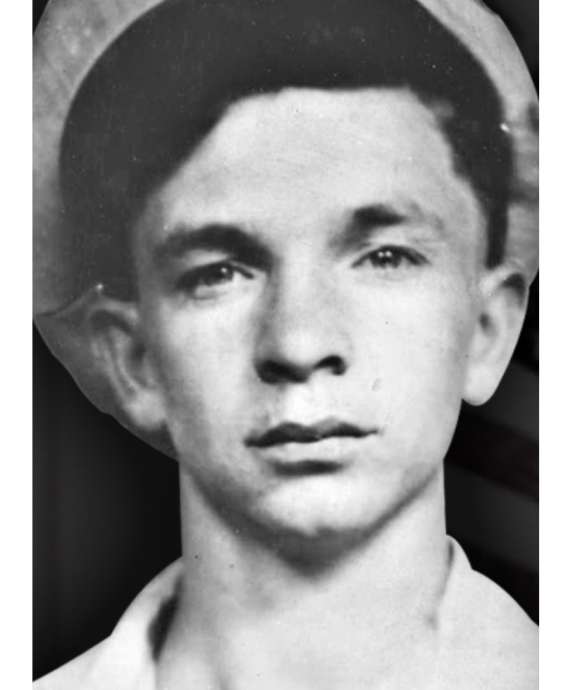 Remember Them
This Memorial Day, we highlight the artifacts, images and stories in our collection that honor those who made the ultimate sacrifice in one of the world's darkest hours. Read more about the soldiers who gave their lives during World War II. 
LEARN MORE

Contributor
Kimberly Guise holds a BA in German and Judaic Studies from the University of Massachusetts Amherst. She also studied at the Universität Freiburg in Germany and holds a masters in Library and Information Science (MLIS) from Louisiana State University. Kim is fluent in German, reads Yiddish, and specializes in the American prisoner-of-war experience in World War II.
Learn More