During World War II, roughly 280,000 men and women from Louisiana served in the armed forces. There were over 30 military installations in the state, in addition to more than 40 prisoner of war camps. Louisiana industry supplied the Allied war machine with vital materials such as oil, synthetic rubber, and ships of all sizes. Civilians collected scraps, grew Victory gardens, and bought war bonds to build aircraft. Louisianans were all in it together, and this series highlights when the Pelican State went to war.
One of the most well-known aviation groups from the war is the Red Tails, also known as the Tuskegee Airmen. Due to segregation, which existed in the US Army before and during the war, African Americans were not allowed to train as pilots or fly in regular US Army Air Forces (USAAF) groups. Aviation training for African Americans interested in becoming civilian pilots had begun at the Tuskegee Institute in Alabama in January 1940. Thus, Tuskegee was selected to become the center of training for African American pilot candidates, and in July 1941, the first class of African American aviation cadets began training at the Tuskegee Institute. Training later moved to the Tuskegee Army Air Field upon its completion a month later. As pilots began completing the multi-phased training program and fighter and bomber groups were organized, the need for skilled support staff grew. One of those many thousands of support personnel was Houma, Louisiana native Albert Porche.
Porche was born in Houma in 1922, and like many young people who grew up during the Great Depression, he experienced a tough childhood. In his oral history, Porche described his childhood as "poor, poor, poor." Raised by his grandmother, Porche was able to attend school, and after finishing his education he got a job with Western Auto Parts in Houma. The money he earned helped support his grandmother, sister, and cousin, with whom he lived. When a large number of his friends volunteered for the army before the war, Porche decided he might as well join them. After enlisting, Porche moved around between camps in Mississippi before being selected to train as support personnel for the new African American fighter squadron which had been formed, the 99th.
The 99th Fighter Squadron, to which Porche had been assigned, was the first African American aviation unit to be deployed overseas. The 99th left for North Africa in April 1943, sailing aboard the fast transport SS Mariposa. Porche and other men of the 99th arrived in North Africa just over a week after departing the United States. It was there that Porche and his fellow crewmen got their first taste of the military term SNAFU ("situation normal, all fouled up.") From Porche's perspective, no one seemed to know why they were there. Porche recalled that at one point he was told to grab his gun to which he responded that he only had tools. As an armorer for the 99th, Porche hadn't had significant training in using small arms, but in the maintenance, repair, and loading of the guns on the aircraft in his squadron.
The squadron moved to Sicily in July 1943. Flying P-40s at that time, the pilots of the 99th began to distinguish themselves, despite their abilities being called into question. When the squadron moved to Italy in October, the pilots really began to show their talents, scoring impressive numbers of aerial victories while their former commanding officer, Colonel Benjamin O. Davis, Jr., defended their combat performance to the War Advisory Committee on Negro Troop Policies in Washington, DC. Flying out of Italy for the rest of the war, the 99th provided fighter support for bombing missions as well as close air support for Allied ground troops, while some missions were focused on attacking surface targets, such as enemy shipping.
Whatever their mission, the pilots could not have flown without the support of a massive ground force of men like Porche. As an armorer, Porche was responsible for the maintenance and loading of the machine guns mounted in the aircraft, any bombs they carried, and the cameras if they were mounted in the aircraft. Contrary to the popular understanding of the "Red Tails," the 99th did not only fly P-51 Mustangs. They began combat flying with the P-40 Warhawk, then switched to the P-47 Thunderbolt. It wasn't until later in the summer of 1944 that all of the African American fighter squadrons switched to the P-51 Mustang. This was a normal progression through aircraft, which many older fighter squadrons went through. But this meant that armorers like Porche had to be familiar with each new aircraft, learning the intricacies of how the guns were positioned, installed, loaded, and sighted in. Armorers had to be experts in the weapons they worked with, usually .30 and .50 caliber machine guns, but also various types of ordnance, depending on which aircraft was in use.
It only took one man to fly a fighter, but a large number of skilled men on the ground to ensure he made it up and back safely. Each aircraft had a team to look after it, dedicated to that particular plane. Led by a crew chief, there was usually an assistant crew chief and an armorer. Squadron mechanics could help perform detailed work, but the successful operation of the machine guns on Porche's aircraft was his responsibility. He had to ensure they were kept dry, but well-oiled. Thousands of rounds of belted ammunition had to be loaded before each sortie, fed exactly right so that the gun wouldn't jam. If a gun jammed or otherwise failed to operate, it very well could mean the loss of many lives—the pilot and the bomber crews he was protecting. Porche was more fortunate than many ground crew teams. He never lost his pilot or his plane.
The Red Tails performed beyond the expectations of most during their deployment to Italy. Porche's unit, the 99th Fighter Squadron, eventually became part of the only all-African American Fighter Group, the 332nd under the command of Colonel Benjamin O. Davis. Pilots of the 332nd received 96 Distinguished Flying Crosses, were credited with 94 aerial victories, flew four different types of aircraft in combat (P-40, P-39, P-47, and P-51) and earned three Distinguished Unit Citations. They had much to be proud of, and the legacy of the men known today as the Tuskegee Airmen is one that will live on.
Porche returned to Houma, where he lived until he passed away in February 2018. In his oral history with the Museum, he recalled narrowly missing out on deployment to the Pacific theater, and a special homecoming, returning to his grandmother, proud of his service to his country.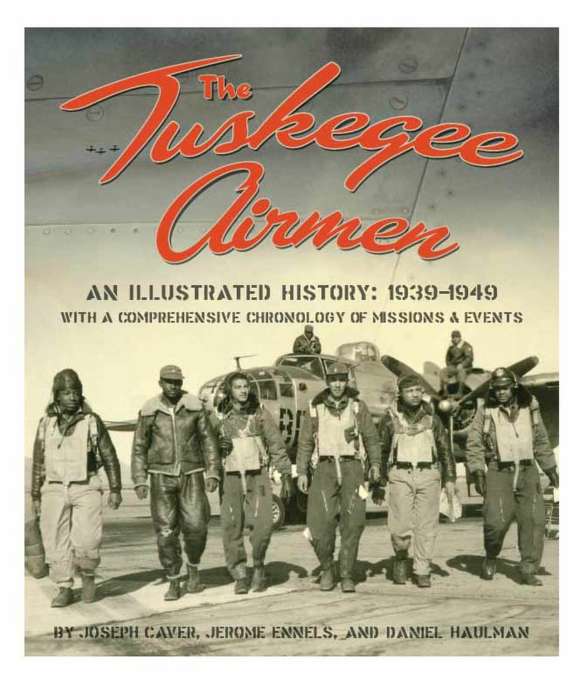 The Tuskegee Airmen, An Illustrated History: 1939-1949
Air Force historians Joseph Caver, Jerome Ennels, and Daniel Haulman chronicle the journey of the Airmen, including their training and combat missions, through nearly 300 captioned era photographs, many never before published. 
 
VIEW BOOK

Contributor
Kali Martin earned a bachelor's degree in International Studies and German at the University of Miami and a master's degree in Mili...
Learn More