Several states celebrate Fred Korematsu Day on January 30, Korematsu's birthday. Established in 2011, the "Fred Korematsu Day of Civil Liberties & the Constitution" honors the legacy of Korematsu, who resisted Japanese American incarceration during World War II. He was one of three who legally challenged imprisonment, all the way to the Supreme Court.
The issuance of Executive Order 9066 in February 1942 allowed for the removal of any persons from Western coastal areas. Although EO9066 did not specifically target Japanese Americans, it paved the way for the forcible removal of those of Japanese descent from their homes and into camps. In March, "Civilian Exclusion Orders" were posted for all those of Japanese ancestry in Washington, Oregon, California, and southern Arizona. The majority of those of Japanese descent in the US lived in these areas and two-thirds were native-born citizens of the United States. When faced with having to report to an assembly center, Oakland, California-born Fred Korematsu chose a different path. Korematsu, a 23-year old welder, stayed in Oakland with his Italian American girlfriend. He even had minor plastic surgery on his eyes and changed his name in an attempt to avoid recognition.
"…the Court for all time has validated the principle of racial discrimination. . . .The principle then lies about like a loaded weapon, ready for the hand of any authority that can bring forward a plausible claim of an urgent need."
– Justice Robert Jackson in his dissents to Korematsu v. United States.
Although in recent decades Korematsu has become a figure of resistance and standing up for civil liberties (he received the Presidential Medal of Freedom from President William Clinton in 1998), the Supreme Court's 1944 ruling in Korematsu v. United States has never been overruled. To learn more about Korematsu, visit the Fred T. Korematsu Institute for Civil Liberties and Education.
The National WWII Museum hosted a special exhibit in 2014 that highlighted the WWII experiences of Japanese Americans like Korematsu. Learn more about the exhibit, titled From Barbed Wire to Battlefields: Japanese American Experiences in WWII, here. The topic is also explored in the United but Unequal: I An an American gallery of Museum's The Arsenal of Democracy permanent exhibit (see photo below). Read about wartime life for Japanese American high school students here and here -- artifacts from the Museum's collection of high school yearbooks from the war years.  
Top image courtesy of the Fred T. Korematsu Institute for Civil Liberties and Education.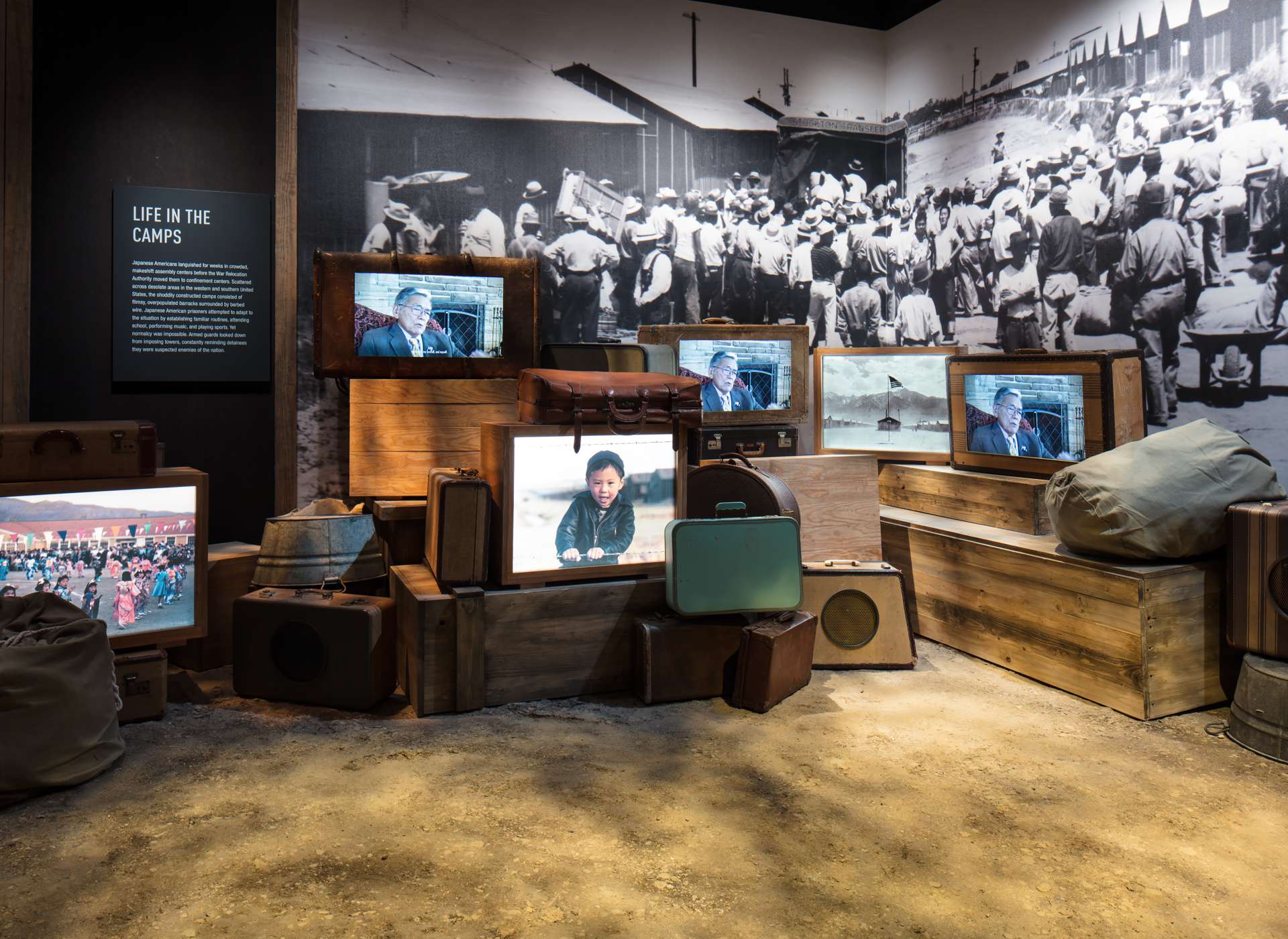 Contributor
Kimberly Guise holds a BA in German and Judaic Studies from the University of Massachusetts Amherst. She also studied at the Universität Freiburg in Germany and holds a masters in Library and Information Science (MLIS) from Louisiana State University. Kim is fluent in German, reads Yiddish, and specializes in the American prisoner-of-war experience in World War II.
Learn More