During World War II, baseball not only boosted the national spirit, America's pastime whipped soldiers, sailors, and pilots into fighting shape for combat.
Growing up in North Carolina, I was intrigued by a sepia-toned picture of my father as a child, receiving batting lessons from Boston Red Sox hitter Ted Williams with his shortstop Johnny Pesky. The Red Sox teammates were in their 20s when they played for a US Navy Pre-Flight baseball team based in Chapel Hill, known as the "Cloudbuster Nine."
In 1943, the Cloudbusters attracted a star-studded roster of Major Leaguers who had played for the New York Yankees, the St. Louis Cardinals, the Cincinnati Reds, the Detroit Tigers, the Philadelphia Athletics, and a host of other big-league teams.  When sportswriters claimed that the Navy pilots could beat the New York Yankees, who won the 1943 World Series, Babe Ruth was invited to orchestrate a War Relief game to be remembered.
Baseball Combat-Style
After Pearl Harbor was bombed, America faced a severe pilot shortage as factories rushed to crank thousands of warplanes. To widen its candidate pool, the Navy's V-5 Naval Aviation Cadet Training Program lowered its education requirement from college to high school.
For baseball players—who often came from rough-and-tumble backgrounds—it was a rare chance to earn their wings as pilots.
Aerial combat in the Pacific was one of the deadliest jobs in the service, and a magnet to a breed of athletically gifted ballplayers who enlisted in the V-5.
To ensure that pilots had the "right stuff" to make carrier landings, five elite Navy Pre-Fight ground training schools put trainees through the most most grueling ground training in the world before they got behind the controls of fighters.
Sports were used for training. Bases functioned like Olympic training villages, with non-stop boxing, football, basketball, wrestling, gymnastics, soccer, and other activities that developed quick thinking under stress. Athletics also cultivated the team spirit, confidence, dexterity, speed, and balance—critical skills for pilots.
In 1943, baseball was king in Chapel Hill when .406 hitter Ted Williams shipped into town with a cadre of Major League players.
For morale and competition, the Cloudbusters hit the road on tin-can buses, playing factory teams that built airplanes and supplied textiles and munitions for the war. The pilots faced some of the fiercest Army, Navy, and Marine Corps teams, from Norfolk Naval Training Station to Camp Lejeune. They also played neighboring college teams at Carolina, NC State and Duke University in a wartime "Ration League," created to conserve gas and rubber for tires when travel bans emptied highways.
It was a time when admission to Pre-Flight games were free, and civilians bought tickets to fund war bonds. To this day, men and women in their 80s and 90s tear up when they remember when they saw Ted Williams knock out a monstrous homerun, wearing a generic wool and cotton NAVY jersey.
The grand finale of the Cloudbuster's season took place on a sweltering summer afternoon at Yankee Stadium, when the pilots played a blended New York Yankees—the Cleveland Indians team was managed by Babe Ruth to raise funds for War Relief and the American Red Cross. Some of wartime baseball's most iconic images of Ruth with Williams were captured in the Yankee's locker room after that July 28 game Though the Yanklands exhibition lives on with patriotic nostalgia, the Cloudbusters' name vanished from headlines after the war.
Former batboys like my father, who grew up to narrowly miss a major-league bid with the Detroit Tigers in the early 1960s, kept the pilots' legend alive in scrapbooks and stories. When he died in 2014, clues from his childhood photograph inspired me to uncover one of wartime baseball's greatest untold stories.
Why did the Story about this Team Remained Untold?
Though Ted Williams is one of the most chronicled ballplayers and Marine combat pilots in history, much of his Pre-Flight story remained a mystery due to heightened security on the Pre-Flight base to protect celebrity athletes. Cadets were too exhausted to write letters after 25 mile hikes in a heatwave. The Navy was also careful to allow only the most trusted reporters, like Grantland Rice, to observe this dangerous sports-for-war training experiment that would ultimately help America win the war.
Keys to the story, which inspired my book, The Cloudbuster Nine: The Untold Story of Ted Williams and the Baseball Team That Helped Win WWII were found at my alma mater at UNC-Chapel Hill.
For more than 75 years, UNC's Louis Round Wilson Library has housed thousands of pristine Navy Pre-Flight images, declassified records, beautiful Pre-Flight football programs, and scrapbooks. Lori Miller, a professional researcher at The Naval Personnel Records Center in St. Louis, filled in the blanks of this little-known story with official military files on players like Williams, Pesky and Johnny Sain, who excelled at Pre-Flight.
The National WWII Museum also holds a rare interview with Johnny Pesky, when the Library hosted the (When Baseball Went to War) Conference in 2007. His interview is one of the only existing oral histories discussing the Chapel Hill program. 
Navy Pre-Flight proved to be a crucible grounded on hard work and discipline and that groomed extraordinary leaders including Presidents George H.W. Bush and Gerald Ford, coaches "Bear" Bryant and John Wooden, and astronauts Scott Carpenter and John Glenn, a Marine combat pilot who served as Ted Williams's wingman in the Korean War.
As Americans await the return of baseball season, our pastime's WWII history tells us that the country has the ability to survive any battle. When we emerge from quarantine ballparks will be the first place that people gather to enjoy a simple tradition that defines the culture and resilience of our nation.
Meet the Author 
Anne R. Keene's work has appeared in the New York Times, the Dallas Morning News, the Raleigh News & Observer, and a host of sports publications and podcasts. She has also collaborated with HISTORY, National Geographic Books, and FOX NATION on a variety of historic features, including an upcoming "Baseball at the White House" documentary showcasing the military service of Ted Williams and Joe DiMaggio.
The Cloudbuster Nine was a finalist for the CASEY Award for the "Best Baseball Book of 2018" and ranked among the top baseball reads for the season by Newsday. Her ongoing research focuses on the contributions of roughly two dozen surviving major-league players who served in World War II. She has spoken at the National Baseball Hall of Fame Museum in Cooperstown, the NINE baseball conference, ballparks, museums, libraries, Society of Baseball Research (SABR) forums, and Naval Academy chapters nationwide.
Keene graduated from the School of Journalism at the University of North Carolina at Chapel Hill. She has worked as a speechwriter/press secretary for a member of Congress and a presidential administration. She resides in Austin, Texas, where she is actively involved in the Texas Book Festival, the Writers' League of Texas, and the Texas Library and Archives Foundation.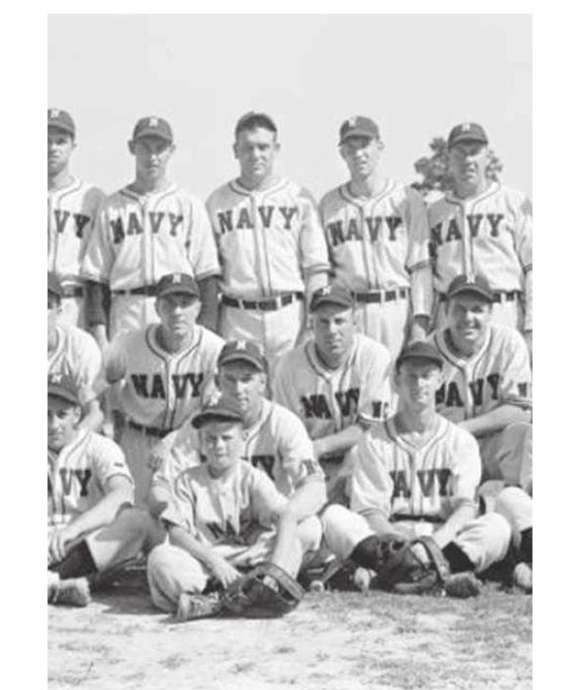 Keeping the Country Going: A Conversation with Anne Keene about Baseball and World War II
Author Anne Keene joins Jason Dawsey, PhD, from the Museum's Institute for the Study of War and Democracy, for a discussion of her new book, The Cloudbuster Nine: The Untold Story of Ted Williams and the Baseball Team That Helped Win World War II.
June 17 11:00 AM - 12:00 PM
LEARN MORE