There are so many of us with family who have lived experiences during key moments of WWII history, but have unfortunately not had the opportunity or the ability to hear their stories. My great aunt, Janine Simone (Cella) Hopkins was born April 5, 1933 to Louis and Marthe Cella in Paris, France. As an adult, she was encouraged by her family to record her experiences and reflections of her life in Paris during the German occupation. My great aunt was only seven years old when the Germans invaded Paris. Her sister Josette (Cella) Maddison, who was born in 1940, has some recollection of the occupation, as she was very small when Paris was liberated in August 1944.
The experiences faced by the French during the German occupation seems unfathomable to many of us today. Lack of heat, electricity, and adequate food were only a few things that impacted those under German occupation. My aunt and her sister Josette both recall that the winters of 1941-1943 were some of the coldest on record. They had chilblains (painful bumps) on their fingers and toes from the cold, and the ice on the inside of the windows of their apartment was about three inches thick. Although they had a coal cellar in their apartment, coal was not readily available for the heating of their apartments.
Air raids were a common occurrence. Although only two years old at the time, Josette remembers the one time her family used the old coal cellar as an air raid shelter. Their large apartment complex held hundreds of people, and all of them were huddled into this cellar. It was the only time that her family used the air raid shelter because it was so traumatic for the kids. They preferred to be huddled in their apartment together. Josette said, 
"If we were going to be bombed and die, then we would die together."
Both my aunt and her sister remember food being scarce. Adults were rationed 50 grams of meat a week, including bones and gristle. Their grandmother, who lived outside of Paris, would bring a suitcase full of vegetables from her garden, and sometimes a rabbit. Josette recalls her mother making "stone soup." The recipe her mother would use always included tapioca. Josette, to this day, hates tapioca. 
Her mother's recipe for this soup was shared with me last year for The National WWII Museum's "Baking on Rations" series on Facebook. The one flaw was that I included many more vegetables than they would have had handy at that time. The Germans had a rationing system for the French, and Josette remarked that, "Rationing is fine and dandy, but often… you would get to the places you were supposed to pick up the rations and there was nothing. Because they (the Germans) fed themselves first."
Both Janine and Josette remember their family gathered around the radio with the lights off. Josette remembers listening to de Gualle in England, but not what was being said. Their father hung a map of France in their hallway, and by June 1944, they would keep track of the Allies' progress towards Paris with little flags on the map designating the French, Americans, English and Russians.
When the Germans were leaving Paris, Josette remembers the Germans shooting out the lamp posts as they marched down the street. Janine remembers them shooting both a shopkeeper who was putting a French flag outside of his shop and a Black man who was putting a flag outside of his window of the apartment building next to theirs.
Janine remembered the liberation of Paris in her memoir:
"On the 24th of August, late afternoon, someone comes in the courtyard and yells: 'they're here, the Americans are here.' Without thinking, the hundreds of people who lived in all these apartment buildings, went down to the Pôterne des Peupliers, us included, Papa & maman carrying babies and me running; everybody running to greet the deliverer.
We stopped in the middle of the Pôterne and both parents were crying…There were half-tracks and tanks with colored shields on them. They were not Americans, but French 2nd Division (2eme DB) commanded by General Leclerc. They had started their campaign in Africa, the Tchad to be exact, and as Paris could not hold on any more, some of the Resistance (FFI) went on bicycles to Evreux and brought them to Paris the back way. They stopped there long enough to talk. One soldier said his Dad lived rue Damesme. A child went to get him, he came on his bicycle and the soldiers put him in one of the half-tracks, bicycle and all and they left.

We could all have been killed, standing there laughing, crying, kids running while cannon shells were passing over our heads. They could have just as well shot at us, but they didn't. That night, a little after midnight, after a lot of street fighting, they secured the Hôtel de Ville and Paris was finally free."
Josette does not remember the French soldiers, but remembers the Americans. She recalls the soldiers standing in the tanks and throwing gum and candy to the kids, which were things that the French children had not had in a long time. Josette also remembers the US Army convoy coming through and the print on the dress her mother was wearing at the time—little flowers (blue and pink flowers on a light blue background.) Janine would later write about the Americans formally entering Paris and the fireworks that would take place at the Eiffel tour. The Cella family was one of millions that attempted to board the metro and could never get off the subway to attend.
Even though Paris was liberated, the days following were still terrifying. My aunt recalls four German bombs falling,all of them missing their targets. "One fell across the street, the aim was the factory. It was so close, it bent the metal shutters on our windows."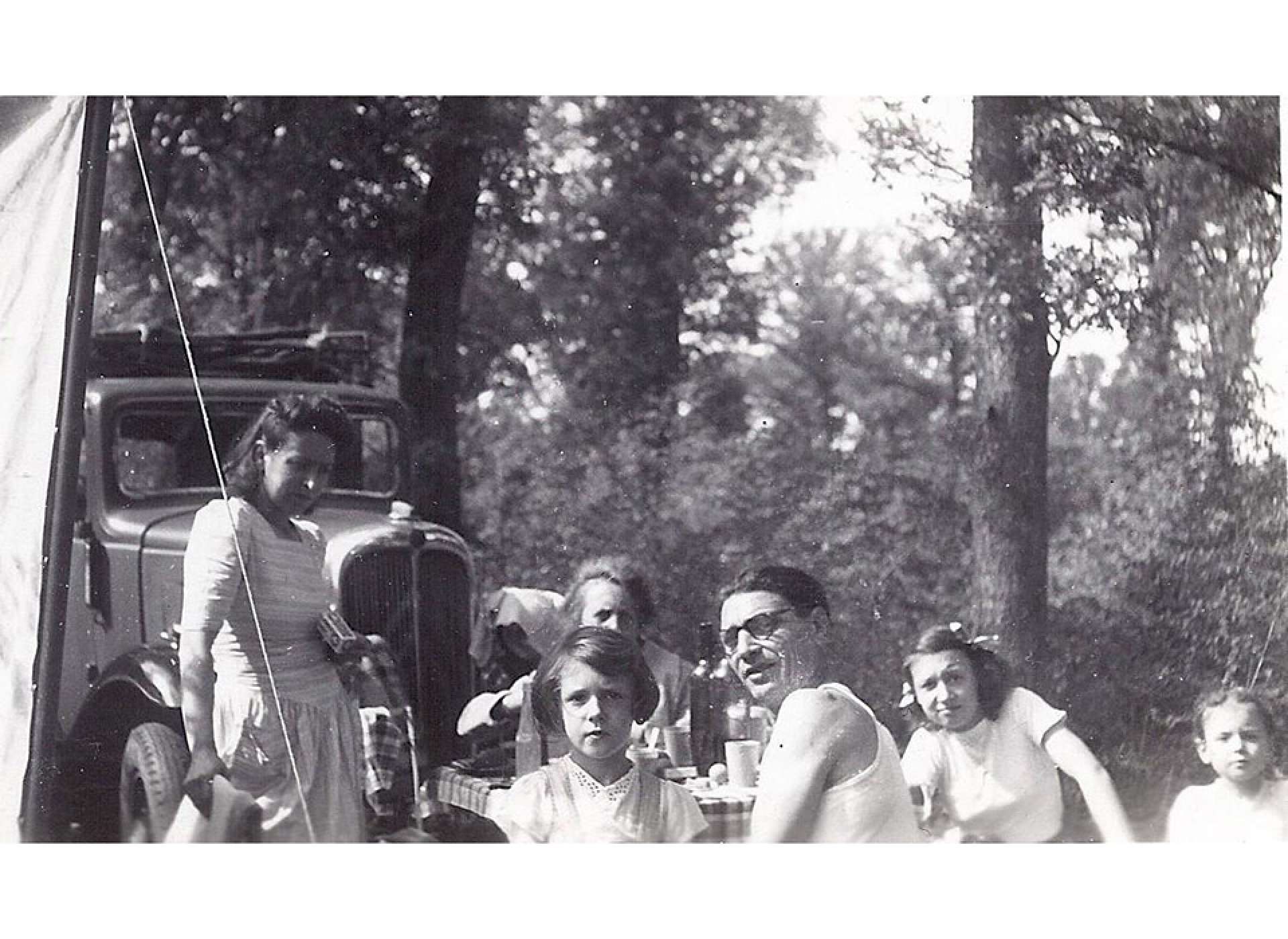 The Cella family's life, like other French families, did not go back to normal after Paris' liberation. The war raged on for almost another full year in Europe. Josette remembers when her great uncle came to visit when she was seven years old and Paris was still not back to normal. Care packages from family in America helped with food, clothing, and other items. Their father, who did everything he could throughout the war for his family to make sure they had plenty, suffered after the war—he needed shots of Vitamin B as he was so anemic.
Janine and Josette's parents did not talk about the war, but when they got together with friends, they would send the children to play—all the men would then discuss the war. Josette recalled that their father, who had served in the Franco-Syrian war, talked more about his experiences there than during World War II.
Whether it is through talking with Josette or reading my aunt's memoire, the lasting impressions, memories, and the emotional impact of the German occupation and the Liberation of Paris is still felt.

Contributor
Abbie Edens is the former Director of Education at The National WWII Museum.
Learn More