To help protect the health and safety of our visitors, staff, and volunteers, The National WWII Museum will temporarily close to the public, effective Saturday, March 14. 
All public programs and events scheduled during the closure will be cancelled or postponed, including the March 14 New Orleans Regional National History Day Competition and the March 28 Louisiana State Competition.
For the most up-to-date information on The National WWII Museum's response to COVID-19, click here.
---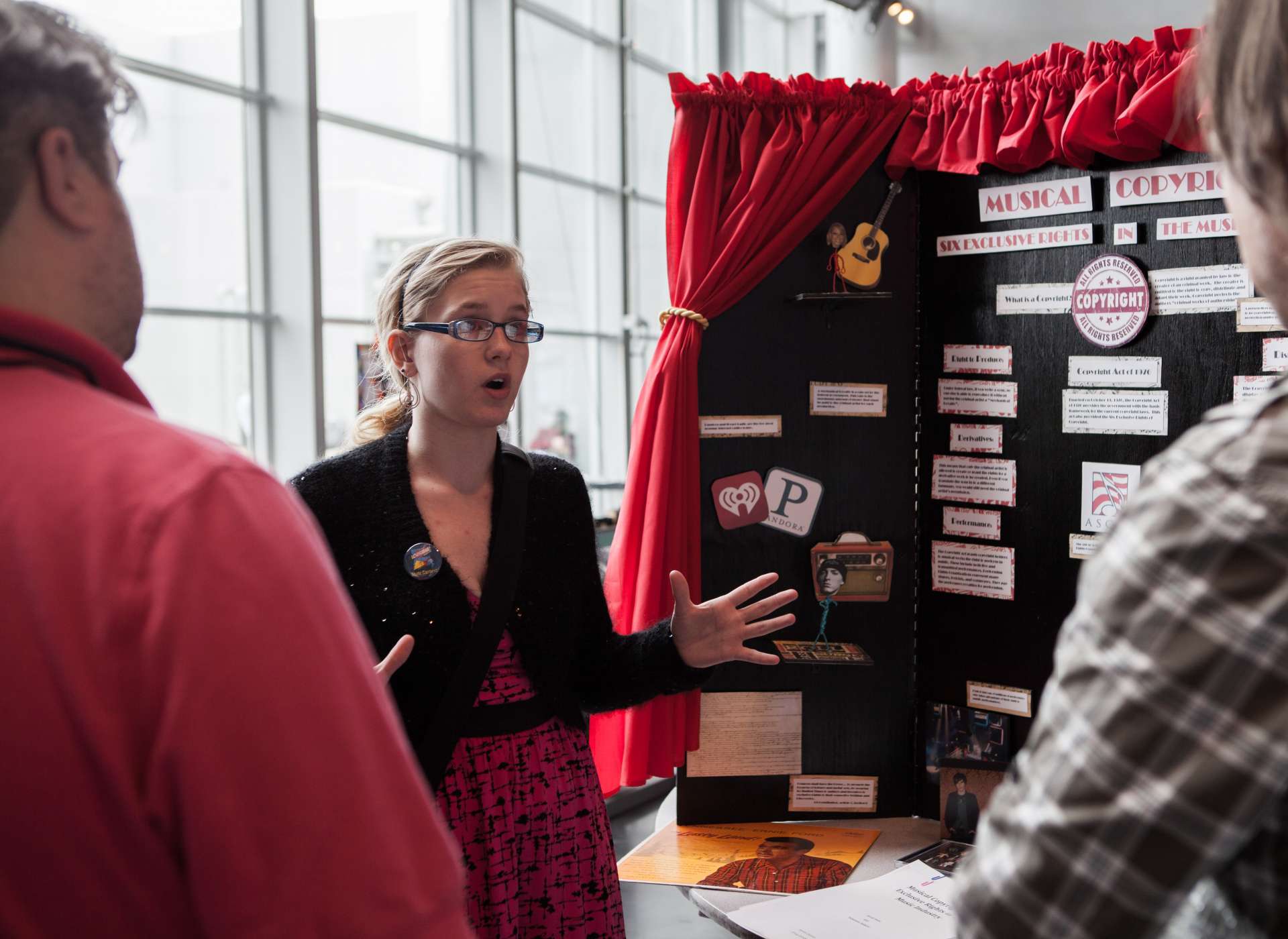 A High Quality Research Program

Louisiana History Day is an annual competition that encourages students to explore local, state, national, or world history by investigating and presenting on a topic of their choice. Students work either individually or in groups to take a deep dive into their topic, analyzing historical sources and gaining valuable research skills.
History Day projects can take a wide variety of forms: students can choose to write a research paper, develop a website, film a documentary, create an exhibit, or interpret their topic through a live-action performance.   
The competition progresses from individual schools to contests at the regional, state, and national levels. At each stage, students receive constructive feedback on their work, which gives them the opportunity to improve their projects and sharpen their skills as researchers and presenters. This experience is invaluable for young people headed for college and the workplace.
The National WWII Museum is the History Day affiliate for Louisiana. Regional competitions are held each year in Baton Rouge, Lafayette, Monroe, New Orleans, and Shreveport. The state competition is held at the Museum in New Orleans, and the national competition is held on the campus of the University of Maryland near Washington, DC. Nearly 6,000 students compete at the national level each year—an experience they'll never forget.
For more information or questions about National History Day contact Adam Foreman, Student Programs Specialist at historyday@nationalww2museum.org.
---
Social Studies Elective: Louisiana History Day Project-Based Learning

Louisiana History Day is proud to offer a social studies elective for Middle School and High School teachers across the state. Please note, the curriculum is only available to Louisiana teachers and cannot be shared outside of the state. Feel free to review the full class schedule.
For questions, please email historyday@nationalww2museum.org.
---
2020 National History Day
2020 Louisiana Contest Dates and Registration
View the Regional Map.
February 22, 2020: Monroe Regional Competition
Chennault Aviation and Military Museum
david@chennaultmuseum.org
Students, Teachers, and Judges Register Here for Monroe
February 29, 2020: Shreveport Regional Competition
Louisiana State Exhibit Museum
cgrogan@sos.louisiana.gov
Students, Teachers, and Judges Register Here for Shreveport
March 4, 2020: Baton Rouge Regional Competition
West Baton Rouge Museum
luckett@wbrmuseum.org
Students, Teachers, and Judges Register Here for Baton Rouge
March 7, 2020: Natchitoches Regional Competition
Louisiana Sports Hall of Fame and Northwest Louisiana History Museum
jbiddiscombe@crt.la.gov
Students, Teachers, and Judges Register Here for Natchitoches
March 14, 2020: New Orleans Regional Competition
The National WWII Museum
historyday@nationalww2museum.org
Students, Teachers, and Judges Register Here for New Orleans
March 21, 2020: Lafayette Regional Competition
Vermilionville Living History and Folk Life Park
Vville@bayouvermiliondistrict.org
Students, Teachers, and Judges Register Here for Lafayette
March 28, 2020: Louisiana State Competition
The National WWII Museum
historyday@nationalww2museum.org
Students, Teachers, and Judges Register Here for the State Competition
June 14-18, 2020: National Competition
University of Maryland
College Park, MD
Louisiana History Day is supported by:
Announcing Soon