Tour Overview
The Museum is honored to offer a travel program that provides the unique opportunity to explore Pacific island battlefields and landing beaches in the company of expert historians. Victory in the Pacific journeys from Pearl Harbor—where it all started for the Americans—to the islands of Saipan, Guam, Iwo Jima, and Tinian, where the Enola Gay departed to drop the first atomic bomb on Hiroshima, August 6, 1945. With exclusive access to the most intriguing battle sites, rich historical context from our expert guides, seldomly seen archival materials from the Museum's digital collections, and hand-selected oral histories found nowhere else, this tour promises to be a once-in-a-lifetime opportunity.
Quick Links
---

Additional Tour Dates
---
Explore the War in the Pacific
Introducing The National WWII Museum's Tour of the Pacific Theater. Take a journey that centers around the story of the Americans who forged a road to Tokyo through courage, ingenuity, and sacrifice, and ended the war, at last. Retrace the grueling trail that led from Pearl Harbor to Tokyo Bay, explore the evolving strategy for fighting relentless Japanese forces in Asia and the Pacific, and examine cultural differences, logistical challenges, and the staggering range of extreme conditions that confronted American military forces.
Steeped in WWII history, the present-day serenity found at these stunning locations is a stark contrast to ferocious fighting that once took place here. Breathtaking landscapes with secluded volcanic mountain peaks, clear waters surrounding coral fringed islets, and grottos filled with sea turtles—discover the Marianas with The National WWII Museum Educational Travel program and revel in the hidden treasures of these Pacific islands. From the blazing white shorelines of Saipan to the black volcanic ash on Iwo Jima's landing beaches, walk in the everlasting footsteps of the servicemen who gave their all for victory.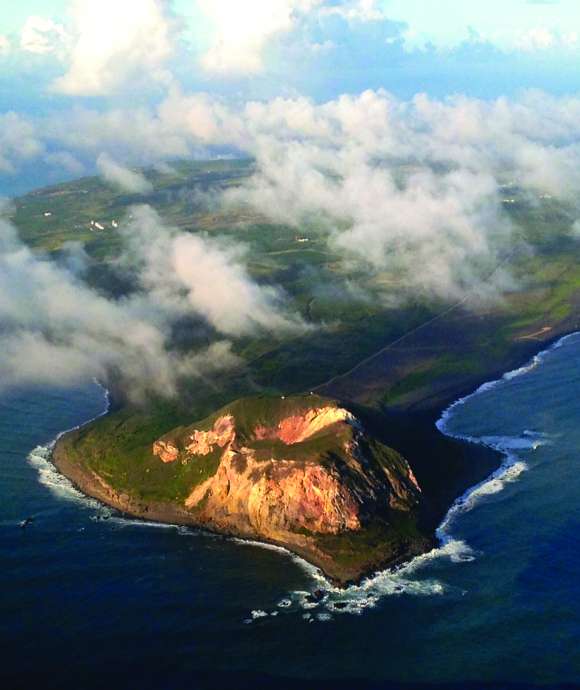 Book your Trip With Us!
Book early to save $2,000 per couple and receive complimentary economy-class air.
Book Your Trip
Tour Inclusions
Luxurious resorts
• Two nights accommodations at the historic, five-star Westin Moana Surfrider Hotel in Honolulu
• Three nights accommodations at the five-star Kensington Hotel Saipan
• Four nights accommodations at the five-star Dusit Thani Hotel Guam
Flights
• Round trip flight credits of up to $1,700 on economy flights from select US airports to Honolulu, Honolulu to Guam, and Guam (via Honolulu) to selected US airport.  Guests may choose an air carrier and regionally located airport for these commercial flights.
• Round trip privately charter air between Guam and Iwo Jima (United Airlines), Guam and Saipan (United Airlines), and Saipan and Tinian (Start Marianas Air).  Optional upgrades may be available for an additional fee on a first-come, first-served basis.
Museum amenities and services
• Nine breakfasts, five lunches, two receptions, and six dinners
• Beer, wine, spirits, coffee, water, tea, and soft drinks at all included meals and receptions
• Personal listening devices on all included touring
• Entrance fees to all sites, museums, and attractions included in the itinerary
• Video oral history presentations from the Museum's Digital Collection
• Private, air-conditioned motor coach transportation, including bottled water and refreshing cloths on excursions
• All airport transportation throughout program itinerary, including arrival transfer (Honolulu) and departure transfer (Guam) when arriving and departing on scheduled program dates
• Included gratuities to local guides, drivers, porters, and included meal service
• Expert Museum Historian-led battlefield tours
• Informative map book, including battlefield maps and archival images to be used throughout your journey
• Exclusive travel gifts to use while touring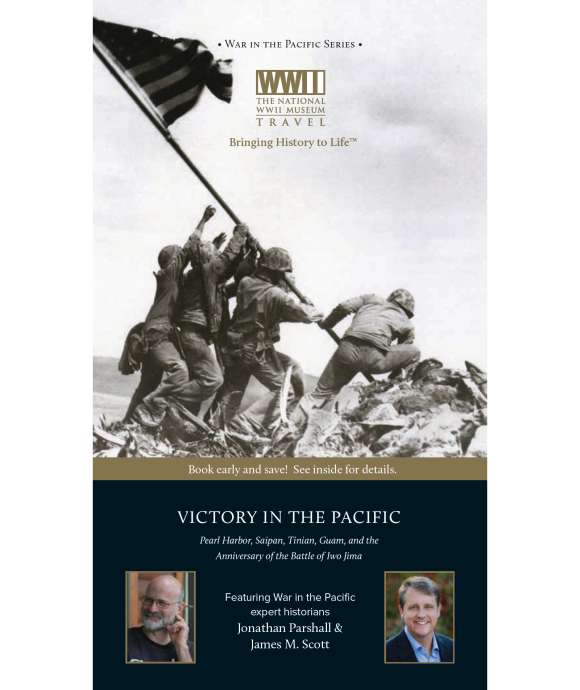 Download the Brochure
Download the official World War II in the Philippines brochure for a full listing of inclusions, accommodations, and other useful information.
Note: Brochure is a sample which details itinerary, featured historians,and accommodations, but may not contain accurate tour dates
Download Brochure
Day 1 - March 22, 2024
Arrival
Upon arrival into Honolulu International Airport, transfer to the five-star Westin Moana Surfrider, where you are welcomed by the Museum's travel team. This evening, enjoy a welcome reception and dinner with your fellow tour guests on the Diamond Lawn of the Moana Surfrider as you watch a lovely island sunset.
Accommodations: Westin Moana Surfrider (R, D)
Day 2: March 23, 2024
USS Battleship Missouri Memorial, Pearl Harbor Aviation Museum, andPearl Harbor National Memorial
Begin your exploration of the War in the Pacific where it all ended, on the USS Missouri, site of the formal surrender of the Japanese Empire to the Allied powers. Next, visit the Pearl HarborAviation Museum, an internationally recognized aviation museum on Ford Island that educates about and preserves aviation history while honoring aviators and their support personnel who defended freedom in the Pacific region. After an included lunch, spend the afternoon at the very place where a Japanese attack brought the country into the war. At the Pearl Harbor National Memorial, pay tribute to the 1,177 men who were killed when the USS Arizona forward magazine exploded causing the ship to sink in a matter of minutes. Also visit the USS Bowfin (SS-287), a fleet attack submarine that fought in the Pacific during World War II and helped to make famous the term "Silent Service." Bowfin was launched on December 7, 1942, exactly one year after the attack on Pearl Harbor. She was nicknamed "Pearl Harbor Avenger," so it's fitting that Pearl Harbor is her permanent home. The evening is free to enjoy Waikiki's many shops and restaurants.
Accommodations: Westin Moana Surfrider (B, L)
Day 3: March 24/25, 2024 (Cross the International Date Line)
Journey to Saipan
After a relaxing morning at leisure in Waikiki, fly to Saipan, where a ferocious battle waged for over three weeks from June 15 to July 9, 1944. Granted to Japan after World War I, the island was home to the Japanese forces that attacked Guam on December 8, 1941. At the same time the Allies secured Rome and were fighting in Normandy in 1944, American troops had advanced within striking distance of Saipan. Once captured, Saipan and the neighboring island of Tinian offered airfields from which B-29s could attack the Japanese home islands. Once ashore on Saipan, Americans faced challenges in the tiny island's formidable geography, a significant civilian population, and the Japanese military's willingness to fight to the last man.
Accommodations: The Kensington Hotel Saipan (B, D)
Day 4: March 26, 2024
Explore Saipan
The Battle of Saipan moved from south to north with the invasion beaches located on the southwest coast. After American forces secured the southern third of the island along with the airfield, the Japanese continued their relentless defence. Today, guests will stand on the landing beaches, explore the bomb magazine used to supply the planes attacking Guam on December 8, 1941, and participate in an incredibly moving visit to the cliffs where thousands of civilians and Japanese soldiers committed suicide upon realizing that Saipan was lost. Tour stops also include a scenic drive through Purple Heart Ridge,Suicide Cliffs, American Memorial Park, the remains of Aslito Airfield, Kilili Beach, Last Command Post, and Tank Beach.
Accommodations: The Kensington Hotel Saipan (B, L, D)
Day 5: March 27, 2024
Tinian and the atomic bomb
The island of Tinian is just minutes away from Saipan by air. After arriving at Tinian International Airport by privately chartered aircraft, embark on a tour of iconic North Field. The airfield today is a mixture of modern monuments and memorials with buildings and vehicles in varying states of preservation and decay. Explore a massive Japanese fuel storage facility where damaged oil drums still remain today. Stand above the bomb pits from which the atomic bombs "Little Boy" and "Fat Man" were loaded onto the B-29s Enola Gay and Bockscar. Walk the surprisingly narrow White Beach where the US Marine Corps landed to secure the island, and where debris from the battle remains today. Upon departure from Tinian to return to Saipan, your plane will embark on a scenic flyover of Tinian and the places you visited, giving you an aerial perspective of the day's touring.
Accommodations: The Kensington Hotel Saipan (B, L, D)
Day 6: March 28, 2024
Journey to Guam
After breakfast, bid farewell to Saipan and board a short flight to Guam. A US territory since the end of the Spanish-American War in 1898, Guam was attacked by the Japanese onDecember 8, 1941—technically the same day as Pearl Harbor, due to its location across the International Date Line. The Japanese occupied Guam until August 1944, when the island was liberated by the US 3rd Marine Division and 77th Infantry Division. This afternoon, tour the landing beaches of the Marines and Army soldiers at Agat Beach, Asan Beach, and Ga'an Point, and learn about their struggle to recapture the island and liberate American civilians fromJapanese occupation. A trip up to the Asan Bay Overlook reveals a commanding vantage point and exquisite views of the island. This evening, check into Dusit Thani Guam Resort and enjoy dinner at leisure.
Accommodations: Dusit Thani Resort (B, R)
Day 7: March 29, 2024
Guam
This morning, guests are invited to attend the Iwo Jima Symposium, an engaging series of talks hosted in conjunction with the Iwo Jima Association of America and Military Historical Tours in preparation for the next day's visit to Iwo Jima. After an included lunch, the afternoon is free for relaxation or independent exploration.This afternoon, a panel discussion featuring WWII veterans, moderated by James Scott and Jon Parshall, will bring to life the horrors these heroes faced during the war in the Pacific. This evening is free in preparation for an early morning departure to Iwo Jima.
Accommodations: Dusit Thani Resort (B, L)
Day 8: March 30, 2024
The Anniversary of the Battle of Iwo Jima
Board an early morning, privately chartered flight to Iwo Jima to take part in the anniversary commemorations on the island. The island of Iwo Jima, now named Iwo To, is open to American civilians only one day each year for this very special Reunion of Honor. On arrival, guests may take the opportunity to hike to the top of Mt. Suribachi, where the iconic flag-raising photo was taken, or attend a joint American and Japanese Water Blessing Ceremony and explore the nearby black ash landing beaches afterwards.
Today, guests reflect on the extreme American loss in this battle: over 26,000 casualties in 36 days of combat. Roughly one American out of every three who landed on Iwo Jima became a casualty. This day provides a unique opportunity for each guest to honor the men who fought in this historic battle, as well as the Gold Star Families who also gave so much for the capture of this island. Return to Guam this evening, with dinner served on the flight.
Accommodations: Dusit Thani Resort (B, L, D)
Day 9: March 31, 2024
Hafa Adai – Half A Day Tour
"Hafa adai," pronounced hå-FUH day, is a greeting used on all the inhabited Mariana Islands (Guam, Rota, Tinian, and Saipan). This native Chamorro greeting is similar to "Aloha" used on the Hawaiian Islands. The final day of the tour is designed to provide additional optional touring during a "hafa adai, half-day" tour of Guam. Spend time atThe T. Stell Newman Visitor Center part of the War in the Pacific National Historical Park, experience the highly interactive exhibits, and view the compelling 10-minute movie, The Battle for Guam.
Next, venture to Apaca Point, known for its natural beauty and intricate Japanese defensive fortifications from World War II. Next, at the Pacific War Museum, dive deeper into the Marines history on Guam. End the touring day at Fort Apugan and take in exquisite views of the island.
The afternoon is free for independent exploration or relaxation. Join the group this evening for a reception and farewell dinner at the hotel.
Accommodations: Dusit Thani Resort (B, R, D)
Day 10: April 1, 2024
Depart to the US
Depart the Dusit Thani Guam Resort this morning and transfer to the Guam International Airport for flights home or onward to the optional post-tour extension program, The Battle for Peleliu.
(B)
Extension - Optional Four-Night Post-Tour Program: The Battle for Peleliu
Program Pricing
Price per person based on Double Occupancy 
$18,999 $17,999
---
Price per person based on Single Occupancy
$24,499 $23,499
---
Taxes and Fees of $329 per person will be added to your final invoice.
---
POST-TOUR EXTENSION OPTION
The Battle for Peleliu Extension Program 
Price per person based on Double Occupancy
Optional 4-night post-tour extension program
$4,128 ($129 per person taxes and fees is included in the price listed)
---
The Battle for Peleliu Extension Program 
Price per person based on Single Occupancy
Optional 4-night post-tour extension program
$5,728 ($129 per person taxes and fees is included in the price listed)
---
Author & Historian
James M. Scott
James M. Scott, a former Nieman Fellow at Harvard, is the author of Target Tokyo: Jimmy Doolittle and the Raid That Avenged Pearl Harbor, which was a 2016 Pulitzer Prize finalist and was named one of the best books of the year by Kirkus Reviews, The Christian Science Monitor, and Fort Worth Star-Telegram. His other works include The War Below: The Story of Three Submarines That Battled Japan and The Attack on the Liberty: The Untold Story of Israel's Deadly 1967 Assault on a US Spy Ship, which won the Rear Admiral Samuel Eliot Morison Award. Scott's fourth book, Rampage, was named one of the Best Books of 2018 by the editors at Amazon, Kirkus Reviews, and Military Times. In addition, Scott has been interviewed on national television, public radio, and in newspapers ranging from The New York Times to The Washington Post.Scott also was a featured presenter on the Smithsonian Channel's television series Hell Below and at the 2018 International Conference on World War II. Scott lives with his wife and two children in Mt. Pleasant, South Carolina.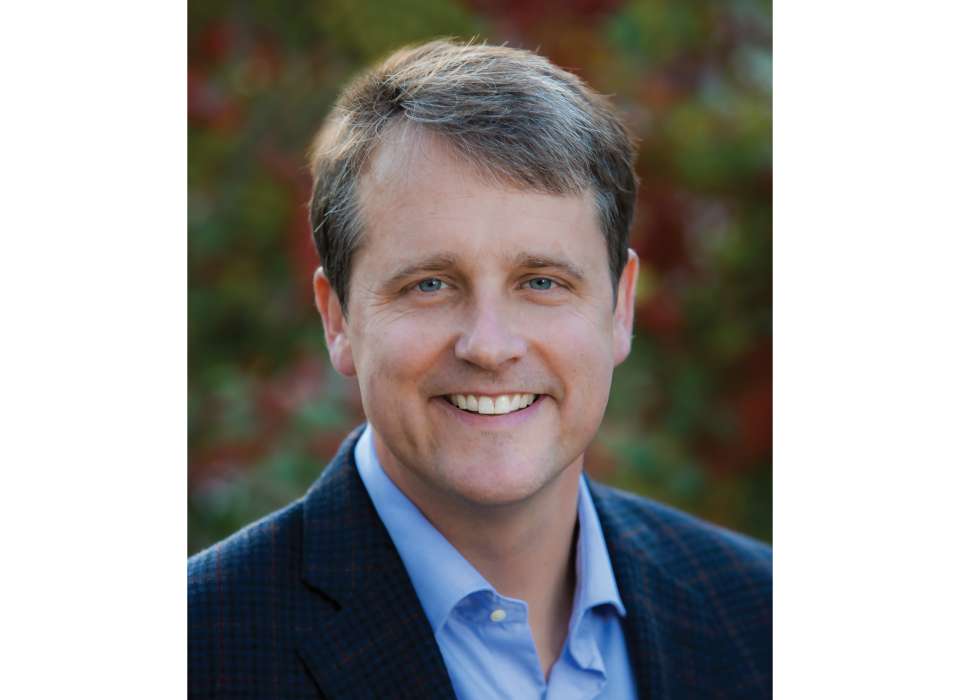 Author & Historian
Jonathan Parshall
Jonathan Parshall saw his interest in the Imperial Japanese Navy develop early in his childhood. As an adult, that passion led him to create the foremost website devoted to the Imperial Navy: combinedfleet.com, which he founded in 1995. Parshall's book Shattered Sword: The Untold Story of the Battle of Midway, which he co-authored with Anthony Tully, is seen as the definitive account of that pivotal battle in the Pacific. He has written for the Naval War College Review, the US Naval Institute's Proceedings and Naval History magazines, World War II magazine, Wartime (the journal of the Australian War Memorial), Flypast magazine, the Sankei Shimbun, and several overseas aviation publications. He has also illustrated numerous books on the Pacific War (including his friend Richard Frank's MacArthur). Parshall is an adjunct lecturer for the US Naval War College, and has appeared on the History Channel, Discovery Channel, and the BBC. A graduate of Carleton College and the Carlson School of Management, he is currently working on a history of the year 1942, focusing on how the Allies transformed themselves to meet their respective challenges during that year. He also brings an intimate knowledge of Japan to the post-tour extension, having lived in Hiroshima with his wife in the 1990s.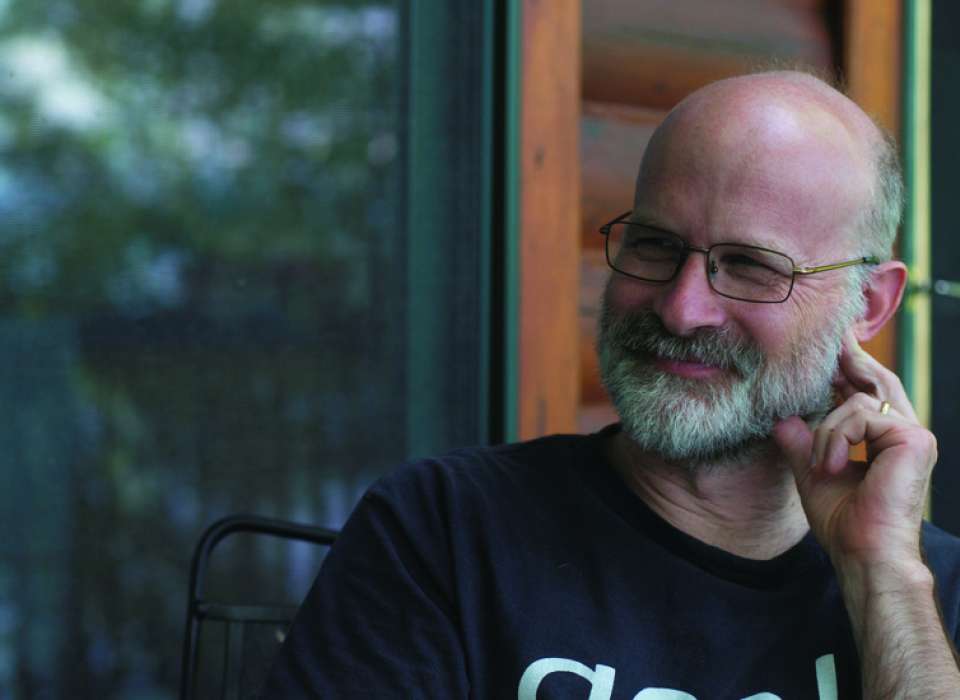 Featured Hotel
Westin Moana Surfrider Hotel
A National WWII Museum favorite, in the heart of Waikiki Beach, the Moana Surfrider opened in 1901 and is often referred to as the "First Lady of Waikiki." This oceanfront hotel is a legendary landmark and remains a premier five-star resort property on the island.
Our Tower Ocean View rooms measure 222 up to 322 square feet and offer:
• Private balcony
• Westin's signature Heavenly Beds
• Well-appointed granite baths with Westin Heavenly Spa bath products
• Complimentary Wi-Fi
• 32" LCD television
• Complimentary Kona Coffee & Tazo Teas
The property includes two excellent dining venues offering excellent views of the beachfront, along with two lounges and a convenient café offering light bites.
Featured Hotel
The Kensington Hotel Saipan
Newly renovated, this hotel's unique and luxurious boutique design make it a standout in our itinerary. Nearly 400 square feet, our Royal Deluxe room category located on floors 6 – 9 at this property assure incredible views the azure waters and white sands at Pau Pau Beach. 
Accommodations include:
• Four hundred-thread-count sheets and premium mattresses
• Spa-quality bath amenities with spacious shower
• Attractive nautical-style design with calming color palettes
• 50" LED television
• Complimentary in-room mini-bar
Featured Hotel
Dusit Thani Guam Resort
Located on the Island's magnificent Tumon Bay, the newest hotel on the island of Guam is the most luxurious yet. Spacious, well-appointed Deluxe Oceanfront guest rooms measure more than 450 square feet, and feature an expansive balcony offering stunning panoramic views of the Philippine Sea.
Our Deluxe Oceanfront rooms provide:
• Complimentary Wi-Fi throughout the hotel property
• Bottled water, replenished daily
• Satellite television
• Bathrobe, slippers, hairdryer, and spa-quality bath amenities
• Selection of daily newspapers and magazines
• Individual reading lights
Offering four dining venues, the Dusit Thani Guam offers guests an opportunity to enjoy an eclectic mix of dining options. The hotel's lobby lounge offers a terrace from which to enjoy the spectacular sunsets, along with a gourmet coffee shop. World-class facilities assure guests a memorable and comfortable stay. Enjoy a modern fitness center, pool, and the hotel's captivating Devarana Spa, which includes traditional Thai treatments from the hotel brand's homeland, as well as Chamorro inspired massage, influenced by the indigenous people of the island. Within steps of the hotel, the area features luxury shopping opportunities and a myriad of dining and entertainment options for your enjoyment.
Post Tour Extension Hotel
Palau Pacific Resort
A Trip Advisor Certificate of Excellence recipient, the Palau Pacific Resort sits on 64 acres of lush tropical gardens hugged by a spectacular private white-sand beach. This 165-room resort is decorated in traditional, but elegant island style, and provides luxurious amenities and service of a world-class property. 
There are both inside and outside dining and lounge venues, a swimming pool, an in-house dive shop, hair salon, art gallery, and sundry shopping, and comfortable open-air seating areas from which to enjoy the evening tradewinds. One of the Republic of Palau's leading hotels, the resort offers guests a full array of leisure activities and resort facilities conveniently available on property, including the world renowned Mandara Spa.
"This was THE trip of my lifetime. The quality of the arrangements, the staff, the historians, the planning, the hotels, the importance, the guides—everything was exceptional. Thank you so much for exceeding my expectations. Everyone was super helpful - an amazing experience."
---
"This was an amazing program. The staff was over-the-top fabulous… This was an amazing group of professionals leading a very well-planned and superbly-executed trip… I wouldn't change a thing. I also wanted to make a comment about the incredible attention paid to the WWII vets, one of whom is my Dad. The staff was incredible in how they honored their presence and made their trips easy and wonderful. From a personal perspective, I will forever be grateful; as an observer and participant, the staff's engagement of the veterans made the trip so much more incredible for all of us."
—Hope F., Phoenix, AZ
---
"I never thought in my lifetime that I would get to the islands that I have read so much about. I enjoyed the tour and especially visiting Iwo Jima. That was a once-in-a-lifetime experience." 
—Ross T., Baton Rouge, LA
---
"Everyone was wonderful, friendly and accommodating to all participants. All the guest speakers were informative and really explained the history as we went on the individual tours."
—Carter V., Philadelphia, PA
---
"All the staff on the trip were great. It was obvious that they were happy to accommodate our needs and were always available to help."
—Lee M., New York, NY
---
"Super nice and engaging employees and historians supplied by the museum. Absolutely excellent."
—Derrick S., Seattle, WA
---
"Superb. Professional."
—Joel O., Houston, TX
---
"Perfect. I have never been on a more organized tour with guides who were extremely knowledgeable and helpful."
—Joe F., Milwaukee, WI
---
"All the hotels were great. A favorite was Kensington in Saipan. Accommodations, staff, and a warm reception made that very special."
—Jonathan K., New Orleans, LA