Tour Overview
The National WWII Museum's most popular tour provides an in-depth itinerary exploring America's most famous WWII battle. Offering a full week of touring in Normandy at an incredible price, this unforgettable tour offers great value and features top guides, upscale accommodations in prime locations, comprehensive dining, and exclusive access to sites unseen on other programs.
TOUR NORMANDY WITH AMERICA'S NATIONAL WWII MUSEUM
The National WWII Museum's most popular tour provides an in-depth itinerary exploring America's most famous WWII battle. Offering a full week of touring in Normandy at an incredible price, this unforgettable journey offers great value and features top guides, superior accommodations in prime locations, comprehensive dining, and exclusive access to sites unseen on other programs. With stops at the Musée Airborne, Mémorial de Caen, the American Cemetery at Colleville-sur-Mer, and more, this tour is for both the advanced and amateur historian in search of the most authentic experience of Normandy as it was. Quaint, upscale accommodations, regional cuisine, and affordability are matched with firsthand history lessons found nowhere else.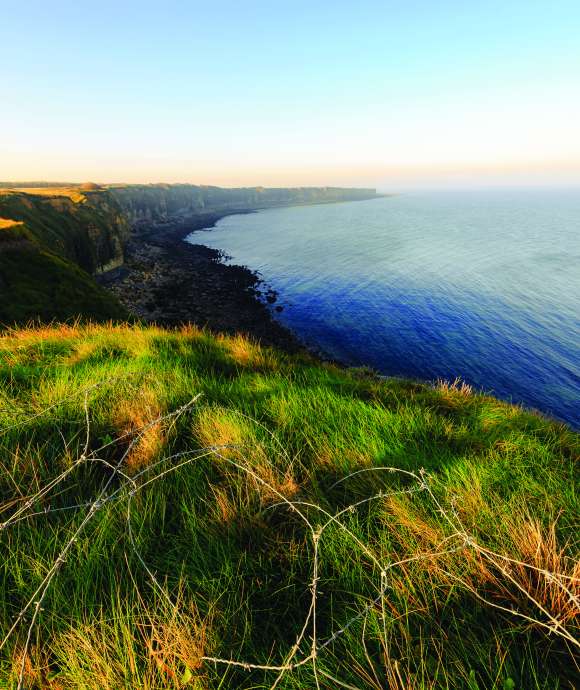 Book Your Trip With Us!
Pay a deposit to ensure your spot. Save $1,000 per couple when booking by November 15, 2018!
SOLD OUT
Tour Inclusions
Full-time logistical tour manager
Expert local battlefield guides
Roundtrip airport transfers (when arriving and departing on scheduled group tour dates)
Four-star historic, fully-renovated accommodation in Normandy
Four-star Charles de Gaulle Airport accommodations
Private, first-class air conditioned motor coach transportation
VIP access to sites not offered on other tours
Entrance fees to all sites, museums, and historic attractions in itinerary
Video oral-history presentations from the Museum collection
Personal listening devices on all included touring
Included gratuities to guides, drivers, porters, and servers
Six breakfasts, three lunches, and three dinners
Free-flow beer, wine, and soft drinks included with lunches and dinners
Welcome and farewell receptions
Informative map book including useful battlefield maps and archival images to be used throughout the journey
Document wallet, personalized luggage tags, and customized name badge
Personal journal and pen to document your journey
Additional Services
Additional pre and/or post-hotel nights
Travel insurance
Flight assistance
Private transfers
We're pleased to assist you with additional services you may require, ensuring you a worry-free journey with The National WWII Museum.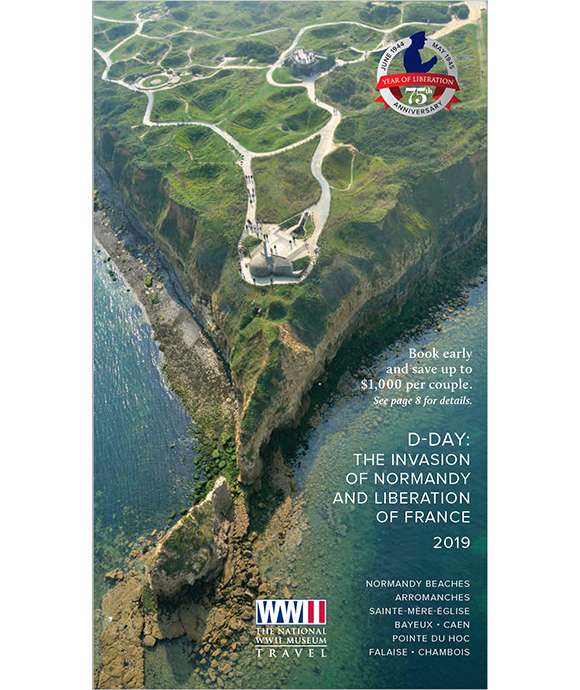 Download The Brochure
Download the official D-Day—The Invasion of Normandy & Liberation of France brochure for a full listing of inclusions, accommodations, and other useful information.
Download Brochure
Extension - Optional Three-Day Pre-Tour Program
The Treasures of Normandy
May 21 – May 23, 2019
Journey into the Middle Ages on our custom-curated extension program that focuses on the historic importance of the picturesque Normandy region! Enjoy a scenic transfer from Charles de Gaulle Airport to Bayeux and settle into the Hotel d'Argouges, your home for the next seven nights. Spend the afternoon and evening exploring the medieval town center and enjoying dinner on your own at one of the many cafés and elegant restaurants serving traditional fare. A morning departure from Bayeux begins a scenic drive to Mont Saint-Michel, a breathtaking tidal island just off the Normandy coast. The island's signature abbey projects a dominating presence that has attracted pilgrims, armies, and tourists for more than a millennium. The visit includes lunch and returns to Bayeux for free time and an opportunity to try another of Bayeux's restaurants. Follow the path of William the Conqueror the following morning to Château de Caen, which was constructed in 1060. Bombed during World War II, it has now been beautifully restored and houses several museums. Enjoy lunch and a visit to William's tomb at the nearby Abbaye aux Hommes before returning to Bayeux to enjoy a welcome dinner with main tour guests arriving today.
Hôtel D'Argouges
May 23, 2019 - Day 1
Paris / Normandy

Upon arrival at Charles de Gaulle Airport in Paris, guests are warmly welcomed and transported by private motor coach to Normandy. After enjoying some free time to relax or explore Bayeux, the group gathers this evening for a welcome dinner at a local French restaurant.
Hôtel D'Argouges (D)
May 24, 2019 - Day 2
Pegasus Bridge / Gold, Juno, and Sword Beaches

Today's tour of Normandy begins where the first shots of the invasion were fired by British glider troops at the crucial Pegasus Bridge. Guests learn about Major John Howard and his men of the "Ox and Bucks" and how they were able to secure and hold the bridge. The drives along the British and Canadian sectors become the backdrop for the stories of landings that took place to the east of the American assaults. In Arromanches, an exploration of the remains of a "Mulberry harbor" offers insight into this great feat of engineering and ingenuity. Following free time for lunch and exploration in the village, a trip up the commanding bluff culminates with a viewing of Cinema Circulare 360 and a visit to the German gun battery at Longues-sur-Mer. Guests enjoy free time this evening to explore Bayeux and enjoy dinner at one of the many cafés and restaurants serving traditional fare.
Hôtel D'Argouges (B)
May 25, 2019 - Day 3
Château de Bernaville / Sainte Mère-Église / Utah Beach

A visit to the private Château de Bernaville begins the day, before traveling along rural lanes, past hedgerows, and over causeways to La Fiere, where elements of the 82nd Airborne fought off four days of attacks from German troops trying to retake this strategic bridge. During today's drive, both the battlefield guide and the Museum's exclusive oral history collection offer personal stories from the men who fought on the frontlines. On arrival in Sainte Mère-Église, the famous crossroads town where American paratroopers landed during the predawn hours of D-Day, guests tour the Musée Airborne and visit the church made famous in the film The Longest Day. After an included lunch, the tour continues this afternoon to Brécourt Manor, where Dick Winters and some of his men from "Easy Company" launched the assault on German guns portrayed in the book and miniseries Band of Brothers. The day's touring concludes with a visit to the Utah Beach Museum, which includes the story of the exemplary leadership of General Teddy Roosevelt Jr. during the landings. Another free evening is at leisure in Bayeux.
Hôtel D'Argouges (B, L)
May 26, 2019 - Day 4
Bayeux / Caen

This morning's tour is devoted to the picturesque town of Bayeux, beginning with a viewing of the Bayeux Tapestry—a 230-foot-long embroidered chronicle of William the Conqueror's cross-channel invasion of England. Guests continue to the iconic skyline feature of Bayeux and center of the medieval center of the town, the Bayeux Cathedral, where a guided tour will bring to life the construction of the cathedral from the crypt to the spires. Following free time for an independent lunch, visitors journey to Caen to tour Memorial de Caen, a museum that places the battles of Normandy within the international context of World War II. This evening, the group enjoys dinner with a local citizen who shares stories of the German occupation and Allied liberation before returning to Bayeux.
Hôtel D'Argouges (B, D)
May 27, 2019 - Day 5
Omaha Beach / Pointe-du-Hoc / American Cemetery

Tours along Omaha Beach begin after breakfast with visits to St. Laurent-sur-Mer and Vierville-sur-Mer, providing an up-close view of the intricate German defense system and giving a sense of the overwhelming odds the American soldiers faced on that first day. Stories of individual acts of heroism that helped the Americans win the day at "Bloody Omaha" bring to life the challenges faced and conquered by the Allies. The group enjoys a picnic lunch en route to Pointe-du-Hoc, where the story of the 2nd Ranger Battalion scaling the cliffs to neutralize this heavily fortified German position is told. The last full day in Normandy culminates with Colleville-sur-Mer and the Normandy American Cemetery, with an opportunity to pay respects to the 9,387 Americans buried in the ground they helped liberate. The day concludes with a special "Farewell to Normandy" dinner.
Hôtel D'Argouges (B, L, D)
May 28, 2019 - Day 6
Argentan / Falaise Gap / Chambois

After breakfast, the group bids farewell to Normandy and begins the trip back to Paris. Focusing on the concluding battles of the Normandy Campaign, the first stop is in Argentan, where Patton's Third Army liberated the city from staunch German resistance. Memorial de Montormel on Hill 262, where the Falaise Gap was sealed, offers an incredible view across the landscape and the perfect vantage point for recounting these final battles. Traveling through a pastoral valley, a picnic lunch is enjoyed at a picturesque stop before arriving at Chambois, the memorial that commemorates the meeting of American and Polish troops and linking the Allied armies. Upon arrival at the Sheraton Paris Charles de Gaulle Airport, the remainder of the afternoon and evening are at leisure.
Sheraton Paris Charles de Gaulle Airport (B, L)
May 29, 2019 - Day 7
Paris Charles de Gaulle Airport to the United States

This morning, bid farewell to France and return to Charles de Gaulle Airport at leisure for individual journeys home.
(B)
Featured Hotel
Hotel D'Argouges
This centrally located, exquisite four-star boutique hotel offers a breathtaking view of the Cathédrale de Bayeux, while placing guests within a short stroll of the Musée de la Tapisserie de Bayeux and the Musée Mémorial de la Bataille de Normandie. The elegant rooms come equipped with free Wi-Fi, flat-screen TVs, and tea and coffee-making facilities. Buffet breakfast is served daily.
Featured Hotel
Sheraton Paris Airport Hotel & Conference Center
The Sheraton Paris Airport Hotel is a modern hotel situated inside terminal 2 of the Paris-Charles de Gaulle Airport. Its bright, airy atrium welcomes guests into a reception area, two restaurants, and a comfortable lounge.
All rooms are soundproofed and feature Sheraton's trademarked beds, spacious bathrooms, satellite TV, and internet access. The fitness center with sauna is open 24 hours a day, as is the business center. Dry cleaning service is also available at the hotel.
"I have been on dozens of military history tours—most with Ed Bearss, who is a national treasure—and Corrine and Stephane [the Museum guides] measured up with the best. They were well prepared and patient."
Richard C.
Potomac, Maryland
---
"We found the tour to be extremely well-organized in content. The combination of museums, outdoor sites, touring of towns was perfectly combined and orchestrated. The educational information presented was outstanding and extremely beneficial."
—Rebecca R., Lexington, Massachusetts
---
"Breakfasts provided at hotels were excellent. Very good choice of restaurants during tour; enjoyed ambiance and food."
—Rachel M., Boston
---
"Fantastic! Perfect blend of historical and personal reflections gave insight and depth. Both [guides] were knowledgeable to the nth degree and their presentations were concise and comprehensive, keeping us all enthralled."
—Fredericka P., New York
---
"i think the whole experience was first rate and i have recommended it to three friends since returning to the USA." 
—Mark M., Racine, Wisconsin
---
"The organizational aspects of the tour were excellent. Prior to the beginning of the tour we had a printed itinerary which was informative and useful. On a daily basis the guides kept us informed of the day's activities."
—James H., Farmington Hills, Michigan
---
"We all left Normandy changed people. The value on a trip that stimulates so much understanding and emotion is worth 10s of thousands of dollars but please keep the price affordable for the average family. The value far exceeded the price." 
—Stephen H., Phoenix
---
"[The battlefield guide and tour manager] were extremely knowledgeable and worked very hard to make it a wonderful and informative tour. My brother needed a wheelchair during the trip, both made an asserted effort to make his experience good." 
—Mark G., Belvidere, Illinois
---
"Great value for the money. I learned much more than I expected and returned with greater appreciation and understanding of both the small and big pictures."
—John M., Taylor, Texas
---
"My husband and I enjoyed every aspect of our tour. [The guide and tour manager] were superb, always friendly and extremely informative. We loved the hotel and fell in love with Bayeux. We thought the tour was beautifully paced; we rarely felt rushed. Participating in our private ceremony on June 6th with the beautiful bouquet was incredibly moving, something we'll never forget."
—Judy P., St. Louis, MO
---
"[The guide and tour manager] made this tour fantastically enjoyable, educational, and comfortable. [The tour manager] went beyond the call of duty, handling every challenge with easy and professionalism. [The battlefield guide] is terrifically knowledgeable and a great communicator. Willing to respond to all questions and comments from the group. Two real professionals. Great representatives of the WW-II Museum."
—Henry L., Metairie, LA
---
"We had been to Normandy twice before and this was by far our best experience. The Museum took us to three new place we had not seen before and [the tour manager and guide] made them come to life. Great experience."
—Doug H., Marietta, GA
---
"The best thing about WWII Museum tours as compared to other tour companies is that all participants share the same interest and passion about our history. This strong focus keeps everyone pointed in the same direction. This is my fourth tour and it speaks volumes about where I want to spend my money. I can't wait for my next trip wherever that may be."
—Drew L., Winston-Salem, NC
---
"This tour was fabulous and a really amazing experience. [Traveling with] the Museum was a great opportunity to save the worry of making sure we got places on time or didn't get lost, and we saw most of the highlights and must sees of the area, along with some important sights that we probably would have just driven by if we went without a guide. Overall this was an extremely special trip and I'd happily go on another tour with the Museum in the future."
—Emily S., Guilford, CT
Program Pricing
Price per person based on double occupancy
$5,495 $4,495
---
Price per person based on single occupancy
$7,242.50 $6,742.50
---
$199 per person taxes and fees will be included on final invoice
---
Pre-Tour Extension Options
The Treasures of Normandy 
Price per person based on double occupancy
Optional three-day pre-tour extension program
$1,199 per person
---
Pre-Tour Extension Options
The Treasures of Normandy 
Price per person based on single occupancy
Optional three-day pre-tour extension program
$1,650 per person
---
$99 per person taxes and fees will be included on final invoice