On February 22, 1946, jazz trumpeter John Birks "Dizzy" Gillespie led a recording date for RCA Bluebird. This was the first major label recording of a jazz style Gillespie and other African American musicians (notably alto saxophonist Charlie Parker, pianist Thelonious Monk, guitarist Charlie Christian, and drummer Kenny Clark) had pioneered earlier in the decade in after-hours jam sessions in Harlem clubs. Variously called rebop, bebop, or simply bop, the new approach was forged by restlessly innovative musicians who had grown dissatisfied with big-band swing, a dance-oriented style that required a predictable rhythmic groove, a sonic blend that favored tight section playing over improvised soloing, and an atmosphere of unfettered joy and gleaming optimism. 
Heralded as "modern jazz," the new music favored small combos playing an opening melodic theme (the "head") that introduced a set of chords, followed by a succession of solos in which players improvised new versions of the theme with agile, quicksilver runs through the governing chord progression, free to enrich the harmonic texture with substitute and extended chords. The tunes were played at blistering tempos. Drummers accented the soloists' fractured, serpentine phrasings with abstract, almost ironic, snare drum riffs and—in place of the martial four-to-the-floor style of swing drumming—the deft dropping of bass drum "bombs" in odd corners of the meter. 
Freed from an obligation to accommodate dancers, these musicians now emphasized technical virtuosity and creative ingenuity. Modern jazz was a listening music, and many of its players insisted on being seen as artists rather than as entertainers.  
From 1942 to 1944, as a member of the big bands led by Earl Hines and Billy Eckstine, Gillespie had worked side by side with Charlie "Yardbird" Parker, an extraordinary musician. He possessed an unmatched rhythmic fluency and harmonic intelligence steeped in the 12-bar blues-based, Kansas City swing style of the Count Basie band and its star tenor saxophonist, Lester Young. In 1944 and 1945, Gillespie and Parker led small combos in a series of club dates and recordings for small independent labels that turned the jazz world on its head. On tunes like "Ko-Ko," "Thriving on a Riff," "Anthropology," "Salt Peanuts," and "52nd Street Theme," Diz and Bird, as they were popularly known, produced a music of asymmetrical, disjointed, yet bracingly lucid patterns that swung harder than even the best of the riff-based swing bands. 
Many older musicians criticized the new approach—Louis Armstrong said it was "Chinese music" full of "weird notes"—but younger musicians like Charles Mingus, Dexter Gordon, James Moody, J.J. Johnson, Miles Davis, Kenny Dorham, Sonny Stitt, Don Byas, and Sarah Vaughan embraced it as the ultimate musician's music.
Gillespie, however, wanted bebop to achieve popular commercial success. He had returned from a set of much-anticipated dates in California in 1945 distressed by the indifferent reaction of West Coast audiences, and deeply upset about Parker's drug-induced erratic behavior (Bird, famously, was a heroin addict). The RCA Bluebird session represented a turning point, and not just because the company had a larger distribution network than Savoy, Continental, Dial, Apollo, and the other small labels, where bebop had resided up to now as a niche music confined to an in-the-know coterie audience. 
While bebop had been incubated in small groups, Gillespie saw it as a language that could be effectively used by ensembles of any size, and in ways that could attract larger audiences. For this recording date, he added vibraphone and guitar to the standard bop quintet of trumpet, saxophone, piano, drums, and bass. He liked the texture these instruments added, especially on "A Night in Tunisia," his own composition, written in 1942 as Allied troops invaded North Africa.
The tune starts with a nimble ostinato bass line, setting a different groove than the standard straight quarter note walking bass, and features an oscillating pattern of half-step chord changes. These elements, which gave the tune a seductively mysterious feeling, were common in Afro-Cuban music, a style that had been percolating in East Harlem, the Bronx, and other parts of New York City, where large numbers of migrants from the Caribbean had settled over the previous decade. After the recording session, Gillespie launched his own big-band, using "A Night in Tunisia" as its signature theme song. 
In September 1947, at a well-publicized Carnegie Hall concert, Cuban master conga player Chano Pozo joined Gillespie's band for the premier of "Cubano Be, Cubano Bop" and "Manteca," tunes that inaugurated yet another modern jazz style, Afro-Cuban (or, later, Latin) Jazz. After being recorded later that year, "Manteca" quickly became a hit, its mambo cymbal bell pattern and 3/2 clave pulse proving at once irresistible to dancers and alluring to bebop connoisseurs. Critic Gary Giddins has said that "Manteca" is "one of the most important records ever made in the United States."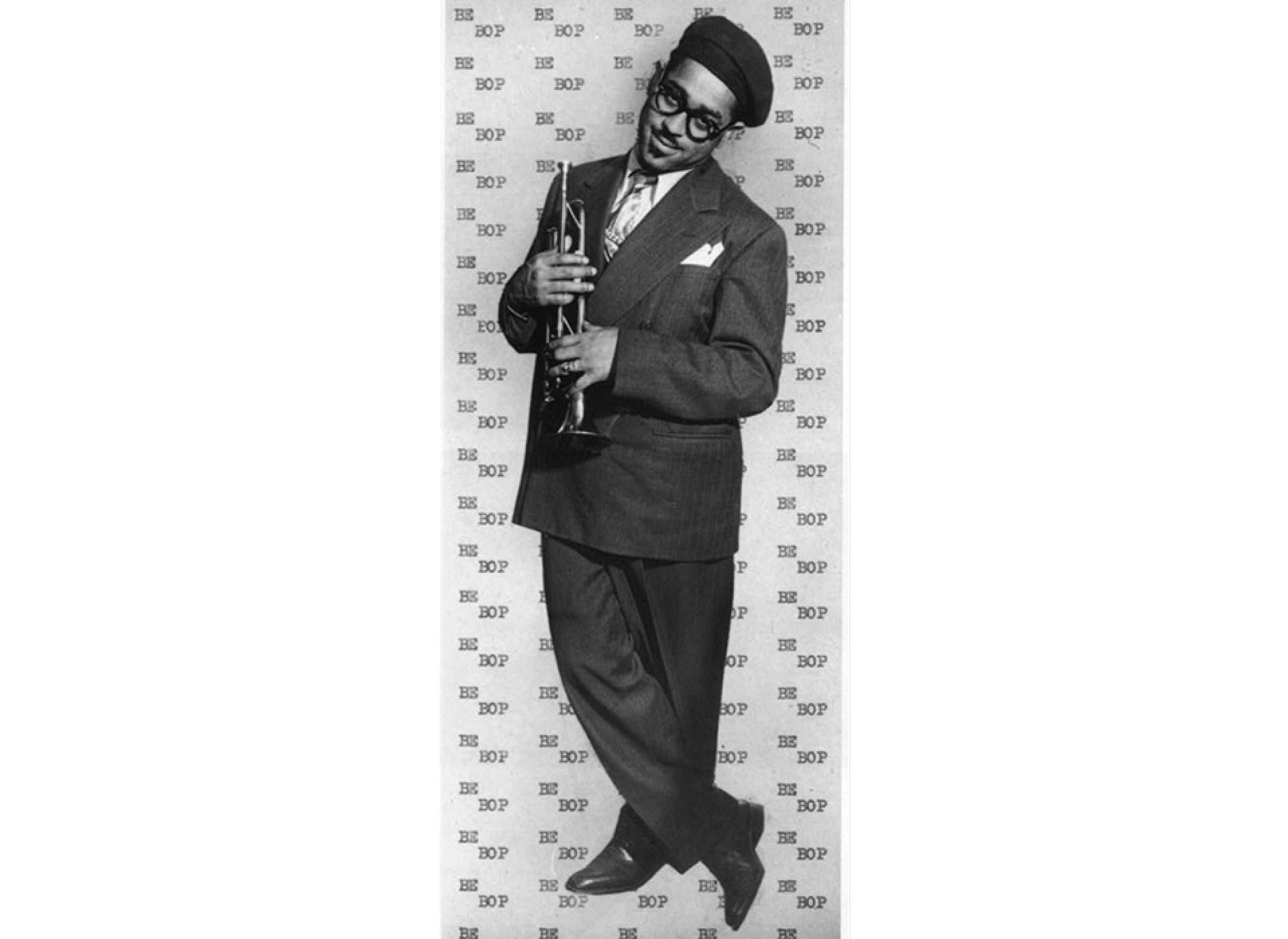 Gillespie's path in 1946 and 1947 suggests that bebop was not so much a revolution as a bold reimagining of what was possible within jazz's aesthetic framework. In his performance persona, as well, Gillespie complicated the notion of a strict dichotomy between jazz as art and jazz as entertainment. Not just a brilliant trumpeter, Gillespie was a gifted composer and arranger who worked out the complex harmonies of his tunes on piano before teaching them to his sidemen. He was, incontestably, a creative artist of the first rank. But he was also a jocular showman who loved working the crowd and sending up bandmates with his randy wit and unerring comic timing. 
Though most of his concerts were not occasions for public dancing, he often broke into quirky, whimsical dances of his own, both to register bodily feeling for the music and to draw laughs. Many jazz musicians of Gillespie's generation were uncomfortable with Louis Armstrong's stage presence, seeing it as a vestige of old-time minstrelsy. Gillespie understood the criticism, but he also embraced Armstrong as a kindred spirit and jumped at opportunities to appear on stage with him for some good-natured hamming and breathtaking trumpeting.  
Still, there was no question that the mood and atmosphere of jazz, and the meanings and social significance attached to it, had decisively shifted. In the years leading up to the war, America had taught itself and large swaths of the global population to swing. Millions of musicians, dancers, record collectors, and jukebox listeners thrilled to the streamlined locomotive-like rhythmic grooves and roaring brass of the great bands led by Duke Ellington, Count Basie, Benny Goodman, Jimmy Lunceford, Chick Webb, Artie Shaw, and others. 
Defense workers attended "swing shift" factory dances. Bette Davis, Hedy Lamar, Betty Grable, and other movie starlets danced the jitterbug with servicemen at the Hollywood Canteen, and "All-Girl" swing orchestras filled the entertainment void created by the military conscription of male musicians. Teenagers devoured the latest issues of Down Beat and Metronome, the leading jazz fan magazines, hungry for news and pictures of their favorite stars. Swing's pulsing energy and dynamism exemplified American modernity, while its spirit of egalitarian inclusiveness—its vision of the United States as both pluralistic and unified—presented an idealized model of American democracy-in-action and a symbol of wartime national consensus. But like the US war effort itself—a fight against international fascism waged by America's racially segregated armed forces—swing's assertive blare muzzled dissonances that expressed a different idea of America than the one propagated by the government and Hollywood.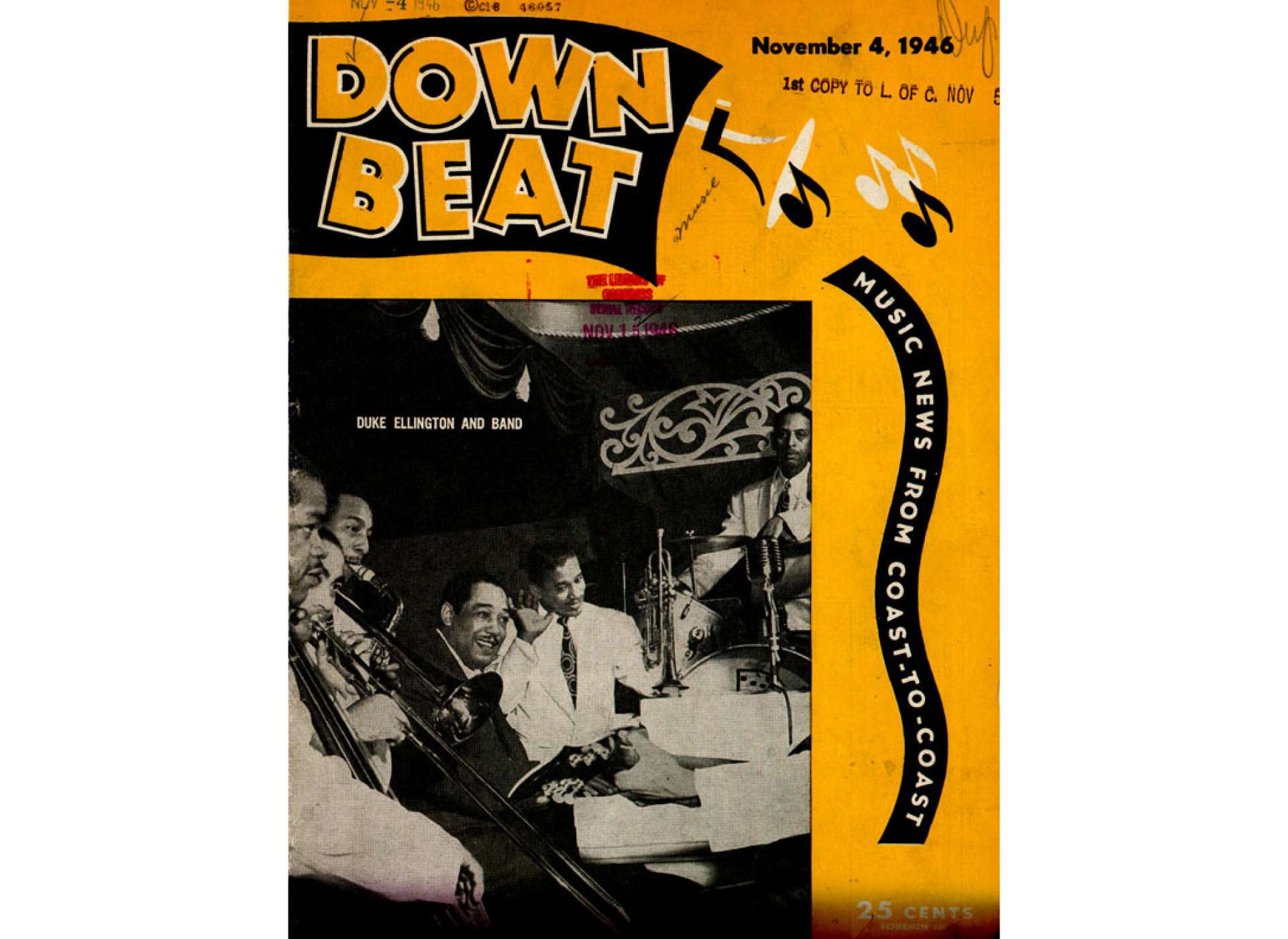 The end of the war brought relief and joy. But an honest recognition of its horrors, coupled with the onset of the Cold War and the fear of atomic warfare, changed national psychology in a way that registered deeply in literature and the arts. The ebullient atmosphere of wartime swing, exemplified in ethnically diverse crowds enjoying "battle of the bands" spectacles and the celebrated Lindy Hop troupe at Harlem's Savoy Ballroom ("The Home of Happy Feet"), represented jazz's zenith as a populist youth culture. After the war, jazz could no longer symbolize only optimism, joy, and pleasure; now it had to also register fear, doubt, and disappointment. 
This was especially true for African Americans, who contributed to the war effort with the promise of a "Double V"—victory abroad conjoined with the vanquishing of Jim Crow at home—only to find themselves still treated as second-class citizens. Black jazz musicians felt this acutely in their own industry. Their union, the American Federation of Musicians, continued to be racially segregated. Cover photograph choices, fan polls, and general editorial policy in Down Beat and Metronome, and jazz coverage in general interest magazines, heavily favored white musicians and bands over African American ones. White musicians like Benny Goodman, Artie Shaw, and Gene Krupa who had hired black musicians (Teddy Wilson, Charlie Christian, Billie Holiday, Lionel Hampton, Roy Eldridge) were either condemned or lionized for breaking the color line; either way, media coverage largely centered on them rather than on the black musicians, who often experienced Jim Crow indignities while traveling the country with their white bandmates.   
African American bebop musicians adopted a non-accommodating posture that boldly challenged and subverted racial norms. Sometimes this manifested in a public assertiveness that frankly astonished whites who had never questioned the racial system. More often it appeared furtively in a cultural style and attitude defined by an ineffable charisma, an air of mystery, a relaxed intensity, a paradoxical ability to create passion and excitement through aloofness and detachment. Called cool, even when the music itself burned hot, as with bebop's fleet tempos and mercurial chord changes, it was an ingenious tactic for warding off the invasive white gaze by donning a mask of integrity and self-possession. Cool, as scholar Joel Dinerstein has shown, resonated strongly across the color line and permeated modern art and culture, informing the work of writers, intellectuals, and film noir actors alike.
For its supporters, the advent of modern jazz signified progress, both artistic and social, a necessary and inevitable evolution in creative vision and technique as well as in racial opportunity and parity. This position met with fierce and often bitter opposition from partisans of older jazz, the small-group collective improvisation model associated with New Orleans and Chicago in the 1920s. Proudly calling themselves "moldy figs," this group argued that the earlier music evinced qualities of warmth, intimacy, and soulfulness that disappeared in the noise of mechanistic big-bands and the cool, detached, affectless posture of the beboppers. 
The figs saw themselves as defenders of authentic jazz, which, in their unyielding formula, required proper instrumentation (a front line of trumpet, trombone, and clarinet, but not saxophone), blues harmony and tonality, and a natural swing feeling. Even their hero Louis Armstrong was accused of committing apostasy against real jazz when, in his Hot Seven recording of "West End Blues" in 1928, he used a saxophonist and allowed pianist Earl Hines to play non-blues, "sentimental" harmonies, and later, when he fronted his own big-band. A group of 14 or 16 players, in the traditionalists' view, was simply too big to swing with the nimble and relaxed feeling of a group of five or seven rhythmically agile players. And bop groups, though properly sized, gave off a nervous, frustrated, neurotic vibe that countered the warmth and genial humanity that were the hallmarks of New Orleans and Chicago jazz.
Jazz's modern-traditionalist polemical war played out in Down Beat and Metronome, the latter adopting a strong modernist orientation led by critics Leonard Feather and Barry Ulanov, and in newer, more specialized traditionalist publications such as Record Changer and Jazz Information. The traditionalists, led by Rudi Blesh, whose 1946 book Shining Trumpets, a purported history of jazz that took a staunch New Orleans absolutist stance—real jazz had died in 1926, he claimed—hatched an effort to revive the careers of New Orleans musicians like trumpeter Bunk Johnson and clarinetist Edward "Kid" Ory. 
Proselytizing the older style as an authentic folk music (a "people's music") pitted against the alleged bourgeois, high-art pretensions of modern jazz, the revival attracted a mostly white, middle-class audience. Soon, large numbers of white musicians took up the traditionalist banner, launching a new jazz subculture calling itself "Dixieland." Across the United States and Europe, "Basin Street Blues," "When the Saints Come Marching In," and other early New Orleans jazz tunes found mass popularity as instantly recognizable vessels of devil-may-care frolic and festivity. Younger African American musicians largely shunned Dixieland, put off by the name's transparent association with the old-time South, and a sense that the music catered to the nostalgic desires of white audiences.
Here was a development fundamental to the racial dialectic of American popular culture. As with country music and what is now called "classic rock," Dixieland was coded as "white" music, despite its origins in black culture. In each case, as younger African American musicians and audiences carve out a space of innovation and creative leadership (blues, bebop, R&B, soul, funk, hip-hop) that becomes the cutting-edge for American popular music writ large, large swaths of the white population gravitate to older styles. It is not just the sound of the new music that fractures the audience; it's the larger cultural atmosphere and landscape shaped and signified by the music. 
Bebop and Afro-Cuban jazz modeled a much more pluralistic concept of America than did Hollywood and the mass media, whose notion of American diversity and pluralism in this era was largely restricted to white European ethnicity. Dizzy Gillespie's avid involvement in Afro-Cuban religion, and the fact that several bebop musicians converted to Islam, struck some as anti-American rather than what it was—an extension of American diversity and multiculturalism. 
There were excellent white bebop musicians (Stan Levy, Al Haig, Buddy De Franco, Red Rodney, Tony Scott, and George Wallington among them) and legions of white bebop fans, many drawn to the music and its surrounding scene expressly because of its cool, hip, intellectual, and countercultural qualities. But the late 1940s also brought white-centered developments in modern jazz. The California-based bandleader Stan Kenton hatched a style of orchestral modernism he called "progressive jazz," using big-band instrumentation and a language influenced by modern classical composers such as Igor Stravinsky and Paul Hindemith replete with dissonance and atonality. Critics derided the style as cold and bombastic; enthusiasts ballyhooed the technical skill of the musicians and appreciated an orchestral sound that captured the feeling of living in the atomic age. 
Pianist and composer Lenny Tristano played as a sideman with leading bebop musicians before forming his own small groups that performed his compositions featuring contrapuntal interaction within complex harmonic structures. Tristano's music anticipated the avant-garde developments in late 1950s free jazz, but its abstract, intellectual quality won it only a coterie audience. He made his mark more as a teacher, where he achieved something close to guru status instructing his students in disciplined approaches to improvisation.
Jazz in the late 1940s was no longer the national popular music it had been in the heyday of the swing big-bands. It was no longer primarily dance music—that territory was now occupied by jump blues acts like Louis Jordan and His Tympany Five, Big Joe Turner, Roy Brown, and Wynonie Harris, precursors to early rock and roll—and it no longer defined itself as a form of commercial entertainment. But it was still very entertaining, still deeply engaging, and still hugely important to its fans. 
A new ecosystem was needed to facilitate the proper relationship between the musicians and their listeners. The small jazz club—Small's Paradise, Birdland, the Royal Roost, Café Society, and the Famous Door in New York; the Hi-Hat in Boston; the Chatterbox in Cleveland; the Flame Show Bar in Detroit; Club DeLisa and Rhumboogie Café in Chicago; Club Riviera in St. Louis; the Down Beat and Billy Berg's in Los Angeles; Bop City in San Francisco—with a stage just large enough to accommodate four or five musicians, a lively bar, and intimate seating for patrons, became an iconic cultural space where listeners witnessed at close range the magic of a band's alchemy and the charisma and individuality of each performer. 
In 1945, a former Hollywood film editor named Norman Granz launched "Jazz at the Philharmonic," a traveling concert series with a loosely organized ensemble of marquee performers, including Gillespie, Parker, Young, Eldridge, Coleman Hawkins, Ben Webster, and Oscar Peterson. Over the next decade JATP grew into a 150-performance-a-year series that spanned the globe, with concerts in Europe, Japan, and Australia. Granz was also a prolific record producer, owner of the Clef and Verve labels. After Columbia Records introduced the long-playing, 33 1/3 rpm disc (the LP) in 1948, Granz and Columbia's George Avakian became two of the producers most responsible for turning a few jazz musicians into international stars.
Jazz, like all music, is an invisible art form. And yet jazz culture is intensely visual, its history not just one of dazzling sound but also of imagery replete with beauty, cultural meaning, and social importance. The late 1940s was a crucial moment in the history of jazz photography. Consider the case of Thelonious Monk. Monk had been the house pianist at Minton's Playhouse in Harlem in 1941, where important breakthroughs in bebop had been made. But it was Parker and Gillespie who emerged as the public face of bebop—especially the amiable Gillespie, who started appearing in national magazines wearing a beret and horn-rimmed glasses, hip accessories Monk had introduced to the jazz subculture. 
Monk eschewed the blistering tempos and flashy technical displays that became bop hallmarks in favor of medium tempo swing grooves and ballads tethered to the song's melody. But even as Monk sounded sturdy and old-fashioned in his faithfulness to melody, he also waxed experimental and futuristic in his use of dissonant chord clusters, intervallic leaps, silences, hesitations, and disjointed phrasing. It was a paradoxical musical grammar at once angular and abstract, warm and witty. It seemed both amateurish and profound, a series of mistakes that added up (for those who dug it) to something perversely logical.
Monk remained a largely invisible, behind-the-scenes character until 1948. The breakthrough started the previous year with a profile in Down Beat magazine by the writer and photographer William Gottlieb. Titled "Genius of Bop," the piece asserted Monk's preeminence in the new music. A Gottlieb photograph that ran with the piece pictured Monk, resplendent in goatee, drape suit, beret, and heavy shell glasses, standing in front of the sidewalk awning of Minton's alongside trumpeters Roy Eldridge and Howard McGhee and former Minton's manager Teddy Hill. 
Gottlieb's photograph later achieved its own iconic status as part of jazz's visual memory; in its own original context, it cleverly illustrated—in Monk's hip attire and in his positioning closest to the club awning—Gottlieb's brief for Monk as the "George Washington of bebop." The publicity turned Monk's career around. Within days, Alfred and Lorraine Lion and Francis Wolff of Blue Note Records were at his home to talk about cutting his first discs as a leader, which were released in 1948.
Photographs shot by Gottlieb, Wolff (whose expressionistic chiaroscuro style gave Blue Note album covers special value), and Herman Leonard (author of famous images of Billie Holiday and Dexter Gordon enveloped in noir-ish curls of cigarette smoke) became iconic representations of jazz's special look, shaping how listeners see as well as hear the music. As scholar Benjamin Cawthra has argued, photographs of jazz musicians have been crucial in shaping black freedom and modern racial liberalism. They have provided images of dignity, humanity, and grace that powerfully countered images of black inferiority and servility that dominated US popular culture from blackface minstrelsy to Hollywood's amiable "darkies." 
They have made jazz synonymous with hipness, cool, and charisma—in short, "American culture at its most alluring." The visual personalities of legendary jazz musicians—the elegant Duke Ellington, the spellbinding Billie Holiday, the insouciant Benny Goodman, the ebullient Dizzy Gillespie—collectively constitute nothing less than the cultural DNA of urbane American modernity.
Jazz was born on riverboats and in the street parades and sporting houses of early twentieth-century New Orleans. By the late 1940s, the music had developed a profusion of styles, all of them still played, but just one of them—bebop—challenging and reinterpreting the jazz tradition in a way that would prove enduring. Jazz had also developed a new ecosystem and new cultural tools that secured its status as a leading force in American modernism. The jazz club, the jazz concert, and (soon) the jazz festival and the jazz school would reshape the music's possibilities as an artistic practice and a social institution. 
As America moved into the 1950s, the Cold War, suburbanization, and shifting gender dynamics would make the private home and the ideology of domesticity a locus of national belonging. With the advent of the LP, and with record companies keen on selling both their latest jazz projects and re-issues of older music, jazz was happy to cede youth audiences to R&B and rock-and-roll and to step in to its next role—as the music of the comfortably furnished, hi-fi audio-outfitted adult living room.
---
Meet the Author
John Gennari is Chair and Professor of English at the University of Vermont. His book Blowin' Hot and Cool: Jazz and Its Critics (University of Chicago Press, 2006) won the ASCAP-Deems Taylor Award for Excellence in Music Criticism and the John G. Cawelti Award for Best Book in American Culture Studies. His most recent book is Flavor and Soul: Italian America at Its African American Edge (University of Chicago Press, 2017). He is currently working on two projects, "The Jazz Salon: Photographer Clemens Kalischer at Music Inn," and "The Kitchen Sessions," a collection of music- and food-themed poems.
---
Further Reading
Benjamin Cawthra, Blue Notes in Black and White: Photography and Jazz (Chicago: University of Chicago Press, 2011).
Scott DeVeaux, The Birth of Bebop: A Social and Musical History (Berkeley: University of California Press, 1999).
Joel Dinerstein, The Origins of Cool in Postwar America (Chicago: University of Chicago Press, 2017).
Ira Gitler, Jazz Masters of the 40's (New York: Da Capo, 1984 [1966]).
Robin D.G. Kelley, Thelonious Monk: The Life and Times of An American Original (New York: Free Press, 2009).
Dizzy Gillespie, To Be, or Not…To Bop (Minneapolis: University of Minnesota Press, 2009 [1979]).
---
This article is part of a series commemorating the 75th anniversary of the end of World War II made possible by the Department of Defense.