The National WWII Museum pauses each June 6 to remember the boys of Pointe du Hoc, Easy Company, the 82nd Airborne Division, the 29th Infantry Division, and all those who landed on the beaches of Normandy, as well as the men and women of Higgins Industries in New Orleans and other WWII Home Front workers. They and so many others were all at the tip of freedom's spear on June 6, 1944. 
The Museum's June 6, 2019, commemoration of the 75th anniversary of D-Day garnered unprecedented media attention, with reports on network news, in national newspapers, and coverage by dozens of local and regional outlets. 
Here's an overview: 
Live from Normandy, Museum Senior Historian Rob Citino was on-set with CBS This Morning anchor Anthony Mason. "Everything was at stake" on D-Day, Rob said. "World War II had been raging now for five years, and it was time to bring it to an end." 
Aboard one of the cruise ships that delivered more than 900 Educational Travel tour guests and many WWII veterans to the 75th anniversary commemoration in Normandy, CNN's Jim Bitterman interviewed some of those veterans, including Paul J. Hilliard, Chairman of the Museum's Board of Trustees. "Keep that memory alive," Paul said in the story. "There was a very high price paid for that freedom, so value it. So I guess that's what we're trying to bring forward—the value of freedom." 
Senior Curator and Restorations Manage Tom Czekanski was live with Shepard Smith on Fox News on the afternoon of June 6. Tom's father, a paratrooper, jumped on D-Day. "We try to cover the war quite in-depth, and we have an excellent audiovisual presentation, Beyond All Boundaries, produced by Tom Hanks. It gives you the story of the war in 45 minutes, which is a lovely overview for people who may not have learned as much as they should have in school." 
Live from the Museum on June 6, D-Day veteran Vito Mastrangelo recalled his approach to the beach at Normandy. "I just about drowned" en route to the beach on June 6, he said. "I composed myself. It was low tide. The beach was quite a few yards from the landing craft. … We found an empty German trench and hunkered down in that trench for overnight."
Dr. Citino lent his expertise to a June 6 report on PBS NewsHour. "Where does D-Day fit into the military history of the world?" he said. "I would place it in the top five most important battles of all time. First, sheer size. Second, complexity. Third, what were the stakes? And the stakes were ridding the world of Adolf Hitler. And I, frankly, can't think of a more important mission than that."
In a June 6 front-page story in The New York Times,  Dave Philipps spotlighted the Museum's WWII Research Services, which tracks down official records of WWII veterans for families. "We have people calling every day to try to find out about their fathers," said the Museum's Tanja Spitzer. "They regret that they didn't do anything when their parents were alive. We get a lot of apologizing about it. For them, it is very emotional."
Also in The New York Times, Turner Classic Movies host Ben Mankiewicz offered an op-ed piece that explored how D-Day is defined by film depictions. Marking the 75th anniversary of D-Day, the Museum and Turner Classic Movies partnered on a series dedicated to film depictions of the war, filmed on our campus and featuring interviews with our historians. "While many of the greatest films dealing with World War II (including series like HBO's Band of Brothers) are inflected by the higher goal of 'the elimination of Nazi tyranny over the oppressed peoples of Europe,' as General Eisenhower told his troops that June 75 years ago, they are foremost anchored by gut-wrenching, up-close stories of self-sacrifice and heroism," he wrote.
In the days before the anniversary, Walter Isaacson and Tom Brokaw discussed the re-release of Saving Private Ryan then the Museum on MSNBC's Morning Joe. The sequence starts at about the 7:30 mark of this clip. "The National WWII Museum … was originally just designed to celebrate the Higgins boats, the landing craft," Tom said. "Now it has become a world-class institution that takes in the entire big picture of World War II—the airplanes the submarine missions the combat parts of it. And people come away from there both shaken and impressed and deeply moved about what they have to do as American citizens."
An episode of NPR's On Point originated from the Museum and featured as guests Isaacson and Gemma Birnbaum, Associate Vice President of the Media and Education Center.
And on June 12, Philipps returned to explore the special exhibit In Memory of What I Cannot Say: The Art of Guy de Montlaur for The New York Times Magazine.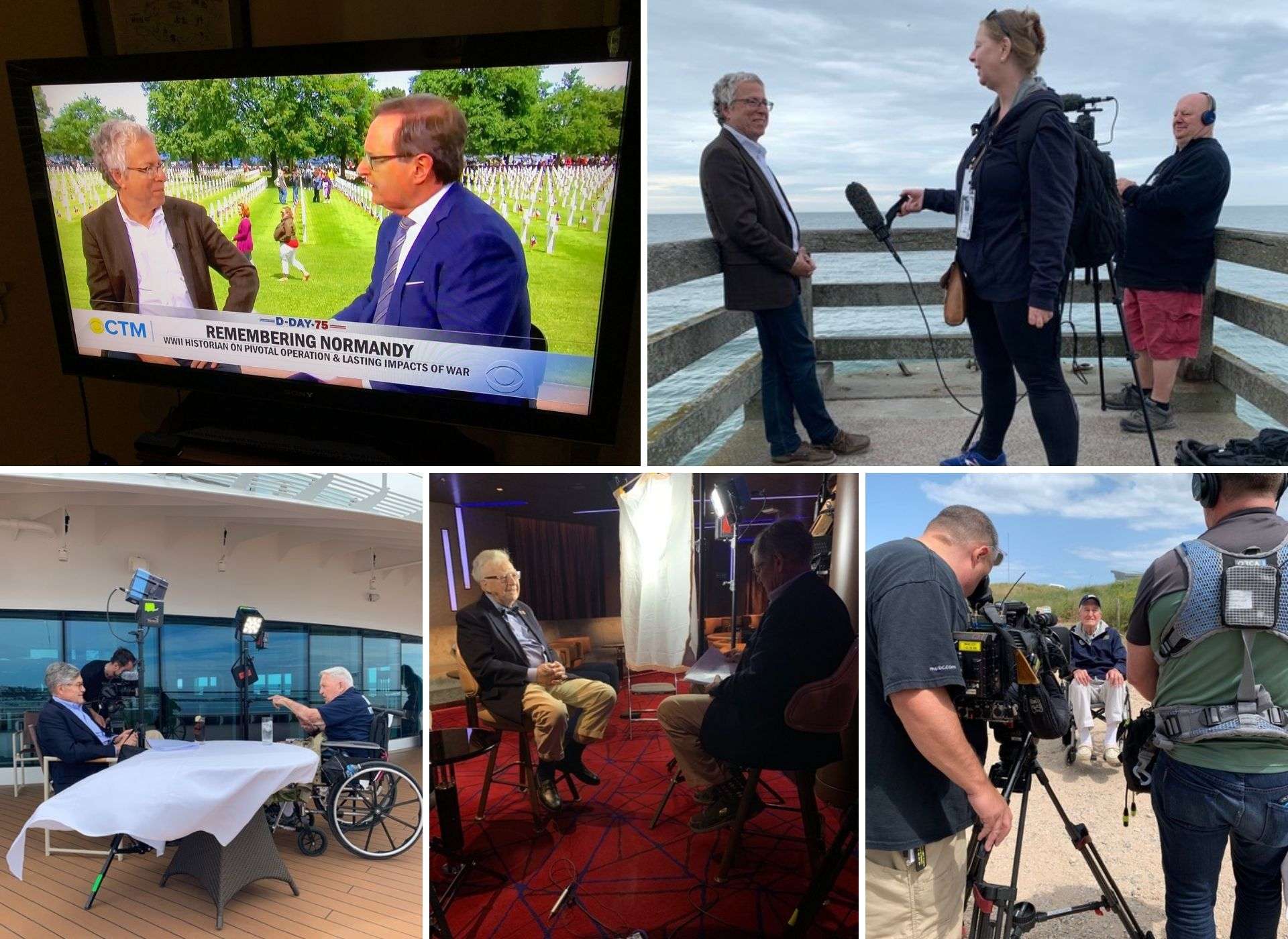 The New Orleans Advocate previewed anniversary events with several different stories: 
WWL-TV remembered Andrew Higgins.
The Museum also earned mentions at Nola.com and New Orleans Magazine. 
In addition, the Museum, its staff members, and programs were featured in stories in the following outlets, among others: