Donald Malarkey, who with fellow members of E Company, 506th Regiment, 101st Airborne Division, US Army, parachuted into Normandy on D-Day then fought onward through the Netherlands, Belgium, and Germany, has died at age 96. 
An Oregon native, Malarkey was awarded the Bronze Star and the French Legion of Honor Medal, among many other honors, for his WWII service. 
With other members of his unit, Malarkey was a key contributor to Band of Brothers, Museum cofounder Stephen Ambrose's 1992 account of Easy Company's WWII journey from Camp Toccoa, Georgia, to Hitler's Eagle's Nest. 
In Band of Brothers, Ambrose let Malarkey describe the bond that was forged among the men of Easy Company during the war—a spirit that was later captured in the HBO miniseries of the same title, executive produced by Museum champions Steven Spielberg and Tom Hanks: 
Forty-nine years after Toccoa, Pvt. Don Malarkey of Oregon wrote of the summer of 1942, "So this was the beginning of the most momentous experience of my life, as a member of E Company. There is not a day that has passed since that I do not thank Adolf Hitler for allowing me to be associated with the most talented and inspiring group of men that I have ever known." 
In an email interview, actor Scott Grimes, who portrayed Malarkey in Band of Brothers, said he frequently conferred with Malarkey during the making of the miniseries. 
"Don Malarkey was a very private man, as were most of the men," Grimes said. "For the first year I knew him, he hardly wanted to talk at all, and when he did he would get emotional. I believe it was because he was alive and some of his best friends died in front of him, and why would you want to talk about that? 
"I would call Donald when I got each script to make sure that everything was accurate—like was he really a smoker, things like that." 
Grimes said Malarkey voiced a mild objection to the script for the ninth episode of the miniseries, in which Easy Company encounters the Kaufering concentration camp.
"I'm in the scene," Grimes said. "The only thing Don Malarkey said to me was that he wasn't there. He wasn't upset but was definitely a little ticked off that I was in that." 
Malarkey said he had been ill the day his unit entered the concentration camp, Grimes added. 
"He did not want to take any credit for something other men did," Grimes said. 
Grimes hadn't talked to Malarkey in several years, but vividly remembered one thing about the time they they'd spent together years earlier. 
"As a person Don Malarkey was the strongest man I've ever met," he said. "And I mean that literally. His handshake was incredible." 
Donald Malarkey's oral history is one of more than 9,400 personal accounts of the war years in our Digital Collections. He and the other men of Easy Company are principal players in The National WWII Museum's origin story. 
Though grieving, we're deeply grateful for that. Here, now, and always, we'll remember Donald Malarkey's brave service through some of World War II's most grueling action, and for the generosity he showed in sharing with Stephen Ambrose the war he saw. 
From this day to the ending of the world
But we in it shall be remembered 
We few, we happy few, we band of brothers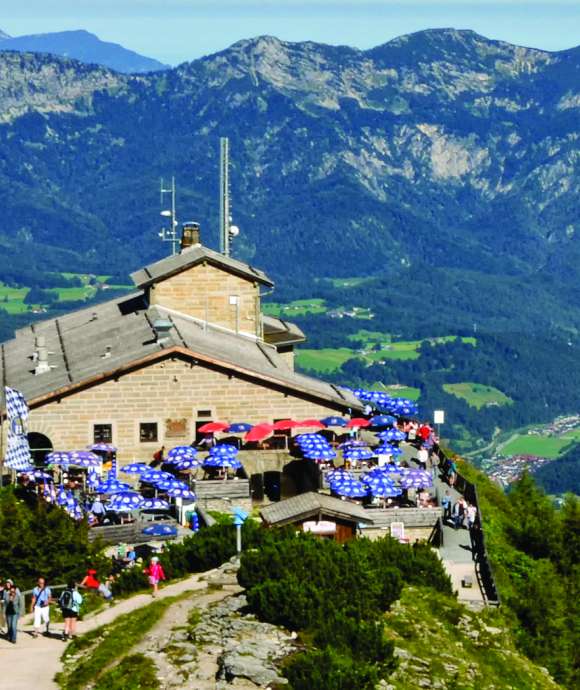 Easy Company: England to the Eagle's Nest
In 1992, Museum founder and award-winning author Stephen E. Ambrose published the New York Times bestseller Band of Brothers — which became not only a successful HBO miniseries, but also a cultural phenomenon that continues today. Join staff from America's official WWII museum and notable historians for the real-life epic journey across Europe. This exclusive travel opportunity includes tour stops and special guests not featured anywhere else.
Book Now