PARKING RATES AND OPTIONS: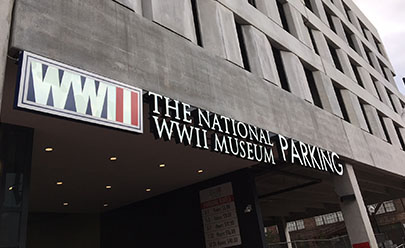 Parking available in garage located at 1024 Magazine Street. This portion of Magazine Street is a one-way, and the garage is located on the left side.
PARKING RATES

0–1 Hours

$5.00

1–3 Hours

$8.00

3–7 Hours

$10.00

7–12 Hours

$16.00

12–24 Hours

$40.00
Parking garage cannot accommodate motorcycles or any vehicle over 6'8" tall. There are several paid surface lots in the neighborhood, some not owned by the Museum, which can accommodate oversized vehicles and motorcycles.
For questions or further information, contact us at parking@nationalww2museum.org.

Special Note for Buses
The bus loading and unloading lane is behind the Museum on Magazine Street, on either side of Andrew Higgins Drive. From St. Charles Avenue, turn right onto Higgins Drive, take the first left onto Camp Street, the next right onto St. Joseph Street and then another immediate right onto Magazine Street. The bus lane is on the right side. Bus parking is available approximately two blocks away under the interstate overpass, on the left side of Magazine Street.

DIRECTIONS