NEWS:

Special Event: "Unsung Heroes: Seven African American Heroes, Seven Medals of Honor, and the Decades that Came Between Them"
Wednesday, October 14
6:00 p.m. Reception | 6:30 p.m. Presentation
US Freedom Pavilion: The Boeing Center
The National WWII Museum is honored to display several Medals of Honor from the seven men awarded the nation's highest military honor in January 1997, more than 50 years after the actions that earned the honors. Family members and loved ones will retell their experiences of the long fight for recognition and bravery rewarded at last, and particularly the long-awaited ceremony in which President Clinton awarded the medals. Presented as part of our award-winning exhibit Fighting for the Right to Fight: African American Experiences in WWII and in partnership with The Congressional Medal of Honor Foundation (and featuring Honor Deferred), this special event will be produced for The History Channel by Al Roker Entertainment. Roker will be our Master of Ceremonies for this special evening.
RSVP now. (This event is free and open to the public. Please RSVP for our records.)
Can't make it to the Museum? Watch the event live.
Plan your visit to the Museum today.
Visit our calendar for information on upcoming programs and events at The National WWII Museum in New Orleans or sign up for our email list to receive regular updates.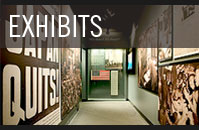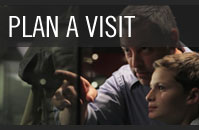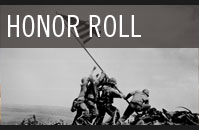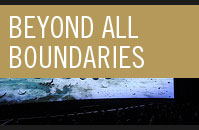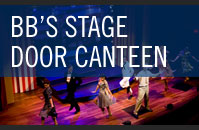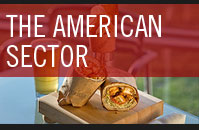 FEATURED EVENTS: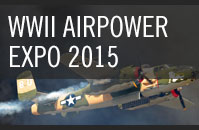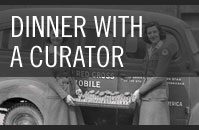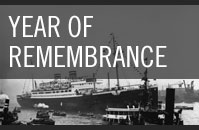 WWII AirPower Expo 2015
Friday, October 23–Sunday, October 25, 2015
For one weekend only, WWII AirPower Expo 2015 takes over the tarmac at the New Orleans Lakefront Airport with a fleet of legendary WWII aircraft. Presented by The National WWII Museum and the Commemorative Air Force. Learn more and purchase tickets.

Dinner with a Curator: Toni Kiser presents "What'll it Be: Exploring Menus from World War II"
Tuesday, October 27, 2015
6:30 p.m.–8:30 p.m.
This look into the menu collection in the Museum's archive will show what soldiers, sailors, marines, and civilians were eating during the war years. Learn more and purchase tickets.

Windell Memorial Lecture: Tara Zahra presents "Emigration, Ethnic Cleansing, or Humanitarianism? The Campaign to Resettle Eastern European Jews in the 1930s"
Thursday, November 5, 2015
5:00 p.m.–7:30 p.m.
Join us as Tara Zahra, Professor of East European History at the University of Chicago, presents. Learn more and RSVP.

MUSEUM BLOG:

In honor of National Hispanic Heritage Month, this month's Calling All Teachers e-newsletter highlights resources for you and your students to explore Latinos' varied World War II experiences. You can introduce your students to Latinos' WWII experiences through our Fact Sheet, then dig deeper into the stories of Latino war heroes and average soldiers as well […]
The post Explore Latino Experiences in World War II appeared first on The National WWII Museum Blog.
Read More

Yesterday the winners of the Nobel Prize for Medicine or physiology were announced. Sharing the prize were Drs William Campbell and Satoshi Omura, who together found drugs to treat parasitic diseases like river blindness, and Dr Youyou Tu who discovered a drug that fights malaria. The earliest drug research teams, formed by German chemical companies […]
The post SciTech Tuesday: The 2015 Nobel Prize for Medicine appeared first on The National WWII Museum Blog.
Read More

Home Front Friday is a regular series that highlights the can do spirit on the Home Front during World War II and illustrates how that spirit is still alive today! This week was Banned Books Week! Every year, for a week, the freedom from literary censorship is celebrated across the United States. This celebration dates […]
The post Home Front Friday: Burn Baby Burn appeared first on The National WWII Museum Blog.
Read More

FEATURED PROGRAM: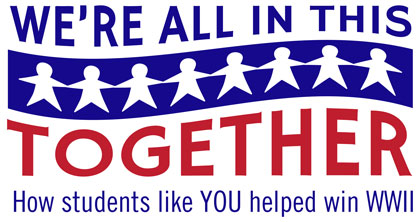 We're All in this Together! How Students Like YOU Helped Win WWII
Wednesday, November 4
Two Chances to Watch: 10:00 a.m. and 1:00 p.m. CT
The WWII-era slogan—We're All In This Together!—included students just like yours on the Home Front. Help your students see themselves in history by joining WYES and The National WWII Museum for a fun, interactive, and LIVE electronic field trip all about the lives of students during World War II. Follow our student reporters as they explore the Museum, learn about rationing, grow a Victory garden, dance the jitterbug, and collect scrap for the war effort. Examine artifacts and primary sources, ask questions to our Museum's expert staff, tour immersive exhibits, and participate in live polls without leaving your classroom.

This FREE electronic field trip is appropriate for students in grades 4–8 and can be streamed directly to your computer and shown on your white board.

Register now: www.wyes.org/fieldtrips

FOCUS ON: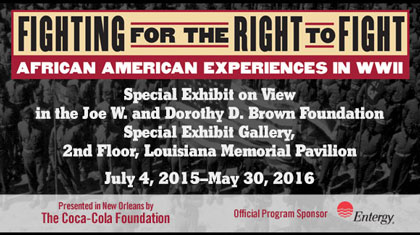 Fighting for the Right to Fight: African American Experiences in WWII
Our newest exhibition, Fighting for the Right to Fight: African American Experiences in WWII is a poignant retelling of the stories of the thousands of African Americans who rushed to enlist at the start of the war, intent on serving the country that treated them as second-class citizens. Open since July 4, the special exhibit discusses how hopes of equality inspired many to enlist, the discouraging reality of the segregated non-combat roles given to black recruits, and the continuing fight for "Double Victory" that laid the groundwork for the Civil Rights Movement.
View the microsite to learn more.