ANNOUNCING THE NATIONAL WWII MUSEUM MOBILE APP
The National WWII Museum is proud to announce a new way to connect with us — our first-ever mobile app. It is our mission to engage a worldwide audience in new and innovative ways. This App is the official visitor's guide to The National WWII Museum. We strove to create an immersive experience that tells the story of the war that changed the world — why it was fought, how it was won, and what it means today.
&nbsp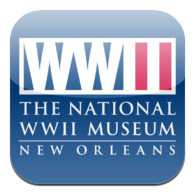 This App is free and offers:
• GPS maps of Museum buildings and galleries

• Access to related oral history and video content

• Full descriptions and images of over 75 exhibits and select artifacts

• Helpful information to plan your visit to The National WWII Museum

• Fun WWII-themed activities, including puzzles and fun photos that let you put yourself in a propaganda poster!

• Listings of events and activities at the Museum

• Suggested half-day, full-day and two-day tours as well as the ability to design your own custom tour
Whether you plan to explore our exhibits from the comfort of your own home, or enrich your visit to the Museum by going deeper into our artifacts, we hope that you connect with us now.
GET IT NOW


POWERED BY: