GENERAL INFORMATION:


Hours of Operation:
Museum exhibits and the Museum Store are open seven days a week, 9:00 am – 5:00 pm. We recommend that you allow a minimum of 3 hours to view exhibits.
The Solomon Victory Theater shows Beyond All Boundaries daily from 10:00 am to 4:00 pm, Sunday – Thursday, with an additional 5:00 showing on Friday and Saturday. The 4D film runs approximately 45 minutes and is preceded by a seven minute pre show. Showtimes are based on availability.
Final Mission: The USS Tang Experience is available daily from 9:35 am to 4:55 pm, Sunday – Thursday, with additional 5:15 pm and 5:35 pm shows on Friday and Saturday. Final Mission can accommodate a maximum of 27 visitors. Advance ticket purchase is recommended.
The Malcolm Forbes Theater shows two exclusive films daily, each running approximately 45 minutes. Price for Peace shows at 9:30 am, 11:30 am, 1:30 pm and 3:30 pm. D-Day Remembered shows at 10:30 am, 12:30 pm and 2:30 pm. Both are also available for purchase in our Museum Store.
The American Sector restaurant is open from 11:00 am to 9:00 pm 7 days a week (special event hours apply). The Soda Shop is open daily from 7:00 am – 5:30 pm.
Stage Door Canteen hours are based on the performance schedule. Advance ticket purchase is recommended.
All venues are closed Mardi Gras Day, Thanksgiving Day, Christmas Eve and Christmas Day.
The Museum is fully accessible to all visitors. A limited number of wheelchairs are provided for use in the Museum at no charge.

Experience the best that The National WWII Museum has to offer, along with the rich history and culture of New Orleans.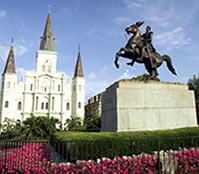 New Orleans History & Heritage
Join us for an itinerary that includes touring the galleries of the Museum and new John E. Kushner Restoration Pavilion, the 4D film Beyond All Boundaries and the delicious on-site dining at the American Sector restaurant. Highlights include an afternoon cruise on the Mississippi River aboard the Steamboat Natchez and shopping and exploring amidst the architectural treasures of the French Quarter. NEW — Early bird discounts now available on select tour dates.
View Itineraries