FEATURED ARTIFACTS: WOMEN IN WWII: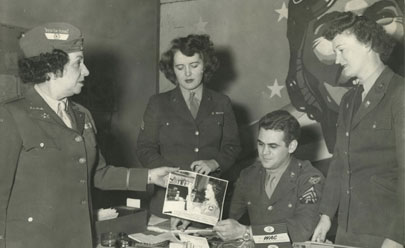 The National WWII Museum pays tribute to the millions of American women who served in the military or supported the troops at home and abroad during World War II with featured pieces from two collections received in 2011. We are actively seeking additional artifacts and personal stories for our collection that speak to the female experience during WWII.
Find out more about donating artifacts to the Museum.
Learn more about women in WWII through Focus On: Women at War.

"Air WAC" Dora Feinbloom:
New Yorker Dorothy "Dora" Feinbloom entered Army service in 1943 and was sent to a very different landscape — the Amarillo Army Air Base in Texas. Members of the Women's Army Corps (WAC) assigned to the Army Air Forces were referred to as "Air WACs," and they helped to staff airbases by administering payroll, rigging parachutes, inspecting and dispatching aircraft, maintaining bombsights, and serving food in mess halls. Feinbloom worked at the Rationing Post in Amarillo.

Army Nurse Susie Paffrath:
Eleanore "Susie" Paffrath served in the Army Nurse Corps with the 76th Station Hospital from February 1945 – May 1946. After V-J Day, her unit sailed to Japan aboard the hospital ship USS Repose. While in Japan, Paffrath was part of a three-nurse team that staffed a hospital train designed to transport injured troops from Hokaido.