FEATURED ARTIFACTS: MOTHER'S DAY IN WWII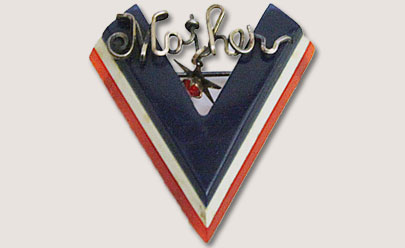 Anna Jarvis of Grafton, West Virginia created the first holiday to celebrate mothers at her local church in 1908. She continued to promote the celebration of mothers and Woodrow Wilson made it an official national holiday in 1914. The holiday quickly grew in popularity and is still one of the biggest days for flower sales in the United States.
As World War II began and mothers were separated from their husbands, sons and daughters, many mothers began to wear jewelry and pins as a way to demonstrate their patriotism and sacrifice. These items were sometimes commercial pieces while others were handmade items sent from overseas. Most recognizable even today are the "son-in-service" banners with a blue star representing each son, husband or daughter serving in the military. Blue stars had been used on son-in-service banners since World War I and were meant to represent hope and pride in those serving in the military.
Find out more about donating artifacts to the Museum.

Related Images: