FEATURED ARTIFACTS: FOURTH OF JULY IN WWII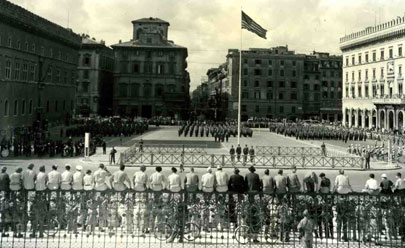 On July 4, 1776, the Second Continental Congress approved the Declaration of Independence, a statement which announced the 13 colonies' separation from the British Empire. This independence would not be recognized officially until September 3, 1783, with the signing of the Treaty of Paris.
From the very first "Independence Day," it was considered a day for celebratory activities. John Adams wrote to his wife Abigail, "It ought to be solemnized with pomp and parade, with shows, games, sports, guns, bells, bonfires, and illuminations, from one end of this continent to the other, from this time forward forever more."
During wartime, July Fourth observances spread beyond the borders of the United States to wherever Americans were serving, taking on a deeper significance than ever before.
Do you have images and artifacts representing the Fourth of July during WWII? Find out how you can share them with future generations.
Find out more about donating artifacts to the Museum.

Featured Artifacts: