FEATURED ARTIFACT: GERMAN UNIFORMS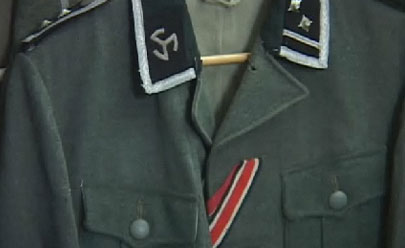 As the tide turned against Germany on the Eastern front, the Nazi government, already pilfering the natural resources and industrial capacity of occupied Europe, began swelling the ranks of their military with non-German volunteers. Volunteers from all over Europe were recruited to join in the struggle against Communism by fighting with the German military, particularly the SS. The foreign troops had specialized insignia that indentified them by country or nationality and in some cases, divisions were organized by nationality. By the time Germany surrendered in 1945, nearly 350,000 non-German volunteers and conscripts had served in the Waffen SS.
On Loan Courtesy of Curt Schilling, The National World War II Museum, Inc.