NEWS:

#GivingTuesday
For the third year in a row, the Museum will be participating in #GivingTuesday, a national day of giving, on Tuesday, December 1. While Black Friday and Cyber Monday are days devoted to holiday shopping, Giving Tuesday is a day of charity support for nonprofit organizations during the holiday season.
This year, we are happy to dedicate our #GivingTuesday campaign to our $10 for Them program.
Started in 2010, this program allows us offer free admission for WWII veterans and to continue building our collection of personal accounts of World War II.
Last year, we welcomed 1,550 WWII veteran visitors at no cost to them. Our members and donors graciously provided the $20,150 cost of this initiative. Our goal today is to match that amount and ensure we can continue to welcome veterans through our doors and add their stories to our collection.
We need your help to reach our goal. Please give today!
GIVE NOW
Plan your visit to the Museum today.
Visit our calendar for information on upcoming programs and events at The National WWII Museum in New Orleans or sign up for our email list to receive regular updates.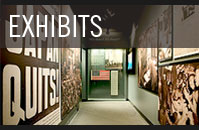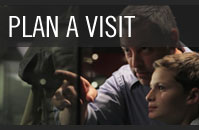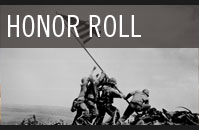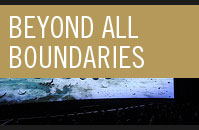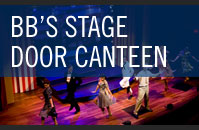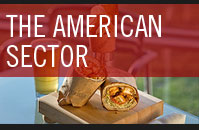 FEATURED EVENTS: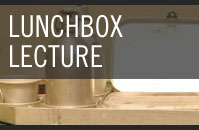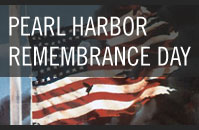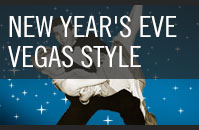 Lunchbox Lecture
Wednesday, December 2, 2015
12:00 p.m.–1:00 p.m.
Rick Jacobs presents "Naval Battles of the Pacific"
Learn how the Pacific War saw the US Navy rise to unprecedented power as it marched across the Pacific toward Japan. Learn more.

Pearl Harbor Remembrance Day
Monday, December 7, 2015
9:00 a.m.–5:00 p.m.
Seventy-four years ago, a surprise attack on Pearl Harbor launched the United States into World War II. Join the Museum as we commemorate this important anniversary. Learn more.

New Year's Eve Vegas Style
Thursday, December 31, 2015
9:00 p.m.–1:00 a.m.
Dance to the music of Louis Prima and Frank Sinatra featuring Lena Prima, Clint Johnson, and our own Victory Swing Orchestra! Learn more and purchase tickets.

MUSEUM BLOG:

In 1943 a Naval engineer named Richard James was working to make new kinds of springs. There was a need to protect sensitive equipment from the motion on ships and boats. James had built springs of a number of different sizes and materials. There is a term for the accidental quirks of historical discoveries and […]
The post SciTech Tuesday: Birth of The Slinky appeared first on The National WWII Museum Blog.
Read More

Home Front Friday is a regular series that highlights the can do spirit on the Home Front during World War II and illustrates how that spirit is still alive today! We'd like to remind you all of the "Franksgiving" controversy that existed between 1939 and 1942. In 1939, after being pressured by retail executives, President […]
The post Home Front Friday: Franksgiving appeared first on The National WWII Museum Blog.
Read More


FEATURED PROGRAM: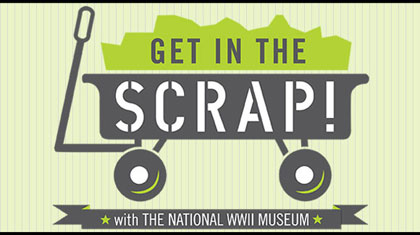 Get in the Scrap!
A Service Learning Project for Grades 4-8
Inspired by the scrapping efforts of students during World War II, Get in the Scrap! is a national service learning project for students all about recycling and energy conservation. Your students have the power to affect positive change on the environment, much like students 70 years ago played a positive role on the Home Front in securing victory in World War II.

Sign up your class, complete fun activities, share your progress with the Museum, and win great prizes for your students!

Teachers, sign up today at getinthescrap.org!

FOCUS ON: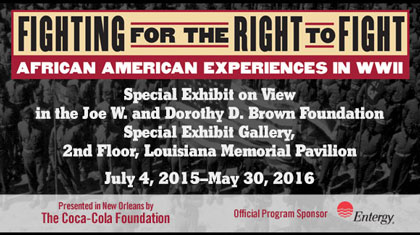 Fighting for the Right to Fight: African American Experiences in WWII
Our newest exhibition, Fighting for the Right to Fight: African American Experiences in WWII is a poignant retelling of the stories of the thousands of African Americans who rushed to enlist at the start of the war, intent on serving the country that treated them as second-class citizens. Open since July 4, the special exhibit discusses how hopes of equality inspired many to enlist, the discouraging reality of the segregated non-combat roles given to black recruits, and the continuing fight for "Double Victory" that laid the groundwork for the Civil Rights Movement.
View the microsite to learn more.