NEWS:

The National WWII Museum Voted TripAdvisor® Travelers' Choice® Attraction
TripAdvisor®, the world's largest travel site, has announced the winners of its Travelers' Choice Awards based on feedback from millions of TripAdvisor travelers. The National WWII Museum, currently ranked #1 of 150 New Orleans attractions on the site, was named #4 museum in the United States and #11 museum worldwide — up three spots from our rankings in both categories in the 2013 poll!
Plan your visit to the Museum today.
Follow us on Twitter @wwiitoday for regular updates on 70th anniversaries in America's WWII story featuring images, oral histories and artifacts from the Museum's collection.
Visit our calendar for information on upcoming programs and events at the Museum or sign up for our email list to receive regular updates.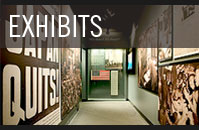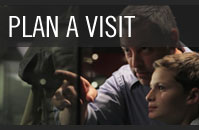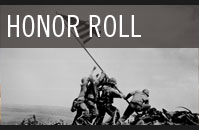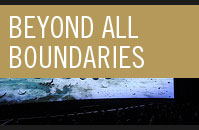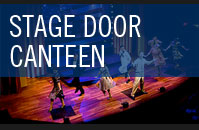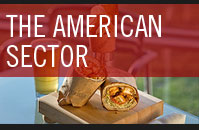 FEATURED EVENTS: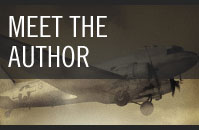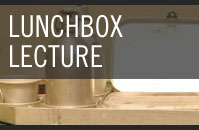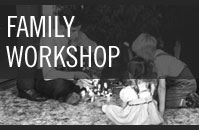 Meet the Author
Tuesday, December 2, 2014
6:00 pm – 8:00 pm
Preeminent World War II historian Gerhard L. Weinberg presents on the legacies of World War I. Presented with UNO's Center Austria, The UNO History Department, and the Friends of the UNO Earl K. Long Library.
RSVP now.

Lunchbox Lecture
Wednesday, December 3, 2014
12:00 pm – 1:00 pm
Walt Burgoyne presents "Cargo Cults"
Pre-order your lunch and pick it up in The Soda Shop before the lecture. Call 528-1944 x 210 for the daily soup and sandwich special and to place your order!

Family Workshop: Toys and Games
Saturday, December 13, 2014
10:00 am – 11:30 am
Discover what a Christmas in World War II might look like for a child on the Home Front. Participants will recreate some of the toys and games popular during the war years. Workshops are designed for children ages 8 – 12.
RSVP now.

MUSEUM BLOG:

Ever wonder about how America was able to achieve a "production miracle" during WWII? Searching for interesting ways to teach about industry, problem-solving, and how wartime labor shortages contributed to social change? Then, take a look at The National WWII Museum's special exhibit website, Manufacturing Victory: The Arsenal of Democracy! Learn about how well-known leaders […] Read More

Seventy years ago, on 30 November 1944, the "Kriegies"– short for Kriegsgefangener, German for POW– in Stalag Luft IV celebrated Thanksgiving. They used the traditional date of the 30th of November (for more on this see the previous post on "Franksgiving"). Naturally, this issue of Kriegie Kronikle spotlighted the work of the "Chow Chuckers," the men […] Read More

For the second year in a row, the Museum will be participating in #GivingTuesday, a national day of giving, on Tuesday, December 2, 2014. While Black Friday and Cyber Monday are days devoted to holiday shopping, Giving Tuesday is a national day of giving to celebrate and encourage charitable activities that support nonprofit organizations during […] Read More

FEATURED ARTIFACT: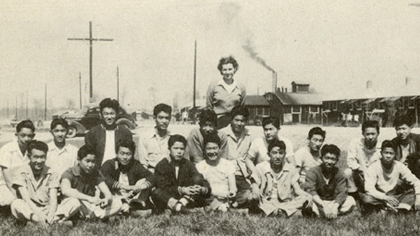 Rohwer Center High School Yearbook
At first glance, the pages of the 1944 Résumé yearbook make Rohwer Center High School seem like any other high school on the Home Front, rich with student life, activities, victory gardens and dances. In reality, however, the experience of Rohwer Center students couldn't have been more different. The school, located at the Rohwer War Relocation Center in McGehee, Arkansas, was created to educate the children of Japanese American descent who were forced from their homes and required to live behind barbed wire for the duration of WWII. Guard towers and barbed wire were everyday features of the lives of these Americans. The majority of those incarcerated at Rohwer came from California, from both rural and heavily populated urban areas like Los Angeles. Most were not used to the climate; inmates were subjected to heavy rains, extreme heat and humidity in the summertime, and poisonous snakes.
View the yearbook in the Museum's online collection, See You Next Year: High School Yearbooks from WWII, to find out more.

FOCUS ON: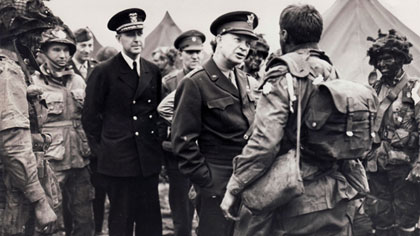 D-Day Timeline
For over two and a half years the Allies planned and gathered their military strength to hurl into the decisive amphibious invasion of northern France and strike a mortal blow against the empire of Nazi Germany. In anticipation, Adolf Hitler stockpiled reserves across French coastlines into the Atlantic Wall defenses, determined to drive the Allied forces back into the sea. There will be no second chance for the Allies: the fate of their cause hangs upon this decisive day.
Here are pieces of the story of D-Day, told through the words and eyes of those who were there.