WWII SCIENCE AND TECH ELECTRONIC FIELD TRIP: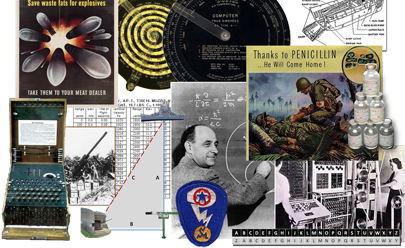 The War that Changed YOUR World - WWII Science and Technology:
A FREE Webinar from The National WWII Museum
To mark the anniversary of the creation of the Manhattan Project, join us for a special one-time only webinar about the role of science and technology in WWII. Much of today's technology can trace their origins back to WWII innovations and inventions. Count down the top technological advancements see how they've changed our lives today. Crack and encode secret messages to understand the significance of WWII computers. Participants will encounter museum artifacts, primary sources, photographs and videos.Students will be able to submit questions throughout the webinar and teachers will receive classroom materials to supplement the information presented. Perfect for history, science, and computer classes, grades 5-12.

When Is It?
We're offering the same program at two times to accommodate schools in all time zones.
Date: Wednesday, October 10, 2012
Times: 9:00AM CST and 1:00PM CST
Length: Approximately one hour

What You Need
All you need to participate in the webinar is an internet connection. For your whole class to participate, you'll also need an LCD projector or interactive whiteboard and external speakers.

Registration
To register, please fill out the form below. For more information or if you have any questions, email virtualclassroom@nationalww2museum.org
We apologize, but the selected Survey is currently unavailable.