SPECIAL EVENTS: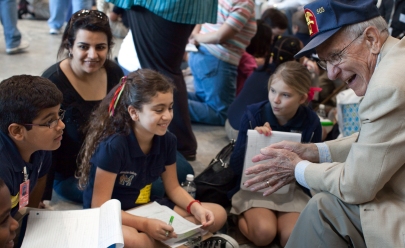 The National WWII Museum periodically hosts special programs and events designed for your family, including Scout Days and our popular "Overnight at the Museum." Check this page to find out about our next event!

Upcoming Events
Family Overnight
Saturday, June 24, 2017
4:30 p.m. – 7:30 a.m.
Cost: $75 per person; $50 for Museum members.
The National WWII Museum in New Orleans cordially invites all families with children aged 7–12 to join us for an exciting pajama party at the Museum. Enjoy sleeping under our B-17 and have a special experience you will talk about all year. This great Museum adventure is packed full with hands-on activities, scavenger hunts, teamwork challenges, and even the opportunity to climb inside the Museum's Sherman Tank. The annual Family Overnight at The National WWII Museum is your family's opportunity to experience the Museum in an intimate, fun, and immersive way.
One adult per three children required. Participants register as families and spend the evening together—from activities to making camp. Advanced ticket purchase is required.
View our Frequently Asked Questions.

Schedule:
4:30 – 4:45 pm Pick up Beyond All Boundaries tickets at the Solomon Victory Theater ticket desk*
5:00 – 6:00 pm View Beyond All Boundaries*
6:00 – 6:30 pm Registration and stowing of belongings in the US Freedom Pavilion: The Boeing Center
6:30 – 7:00 pm Orientation and icebreaker activity
7:00 – 10:00 pm Hands-on activities throughout the Museum campus
10:00 – 11:00 pm Camp set-up, joke telling contest, and icebreaker activity wrap-up
11:00 pm – 1:00 am Late night movie
1:00 am Lights out for all participants
6:00 – 7:00 am Reveille and continental breakfast
6:30 – 7:00 am Continental breakfast
7:00 am Pack-up and go home
*Beyond All Boundaries is included in your Family Overnight purchase, but it is not mandatory for participation. Those who wish to opt out of the film may begin arriving to the US Freedom Pavilion: The Boeing Center at 6:00 p.m.