PLANT A LIMA BEAN: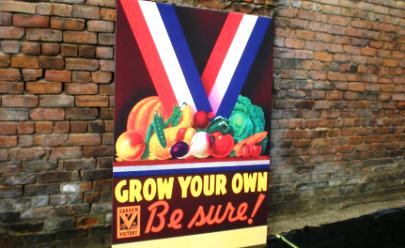 Plant a Lima Bean and Grow Sprouts
During WWII, Americans at home wanted to do their part to help the soldiers fighting abroad. One way they could do this was to grow some of their own food by planting a Victory Garden. That way, the food they would normally buy at the grocery store could be sent to feed the soldiers. Get a taste of planting your own garden without the mess by following these instructions to plant a lima bean in a plastic cup:
What You'll Need:
Lima beans
Water
A plastic cup
4-6 paper towels
One large sealable plastic bag (Ziploc bag)
Spray bottle
Directions:
Place enough water in a plastic cup to cover the lima beans. Leave to soak overnight.
The next day, remove the beans from the water.
Place the beans on 2-3 paper towels. Cover with 2-3 more paper towels.
Use the spray bottle to soak the paper towels so that both layers of towels are thoroughly damp.
Still in the paper towels, place the beans inside the plastic bag. Seal, making sure to leave some air inside.
Place the bag near sunlight, such as on a window sill. This allows the heat from the sunlight to create a humid environment.
Check on the beans each day to make sure the paper towels are still wet. Use the spray bottle to re-soak them.
Keep checking in! Sprouts should begin to form in as little as five days.