MAKE A MILITARY NURSE'S HAT: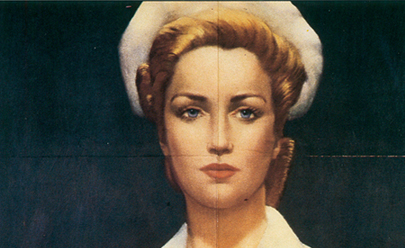 Make a military nurse's hat out of newspaper
Approximately 16 million men and women served in the United States armed forced during World War II. Additionally, many women served their country as nurses, tending the wounded. Nurses used the hats to keep their hair neat and to look professionally dressed. You can make your own nurse's hat out of a recycled newspaper.
What You'll Need:
A newspaper or other piece of paper sized to 8 1/2 X 11 inches
Double-sided tape
Bobby pins
Directions:
Lay the newspaper so that the 11-inch side is horizontal.
Fold the top right and left corners so they meet in the center of the paper or fabric. It should be about 2 inches from the the bottom edge of the newspaper
Add the double-sided tape to the edge of the bottom part of the newspaper. Fold the bottom 2 inches up so that it starts to look like a boat and press the tape to hold it.
Fold back the two edges that stick out to create a triangle shape. Pull them far back enough so that they meet. Use the tape to stick them together.
Fold the point of the hat toward the back so that the point ends up at the bottom edge of the back of the hat. Use the double-sided tape to stick it to the hat's back. You're all set! Now place the hat on your head. The bobby pins should be used to hold it in place.