CRACK THE CODE: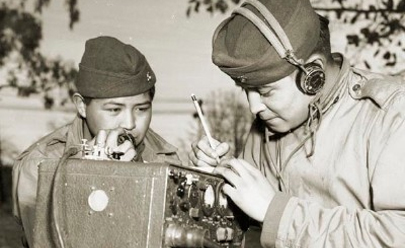 Crack the Code: Allied Code-breaking During WWII
During WWII, wireless radio communication was crucial for directing military forces who were stationed around the world. The danger was radio messages could be intercepted by the enemy, so secret codes were used to transmit sensitive messages. The Navajo Code Talkers are the most famous group of Allies who transmitted these secret messages. Over 400 Native American Marines served primarily as code transmitters, building codes based on their native languages. These codes proved to be unbreakable during the war, and were very important in winning the war.
The Axis Powers also used code, and breaking German and Japanese codes meant that the Allies were able to intercept key enemy information that saved the lives of of many soldiers and civilians. One of the most famous examples is during the Battle of Midway, when the United States decoded messages that revealed the location of a planned Japanese attack.
For these activities, you'll get to decode the secret Japanese message that was broken and create your own coded message!