LAGNIAPPE (JUST FOR FUN!):


How were robots used during WWII?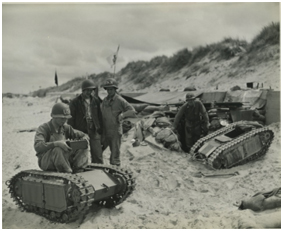 The goliath tracked mine was developed by Germany for use beginning in 1942. Goliath operators used a joystick control box connected by 2,000 yards of wire to steer the battery powered device. Carrying over 200 pounds of high explosives, the device was intended for one-time use including destroying enemy tanks, disrupting troop formations, and demolishing structures. Slow moving and highly visible Goliath's command cables were often severed by Allied gunfire and its thin armor provided minimal protection during battle. Despite its limited success, technology used to develop the Goliath helped to lay the foundation for modern robotics.
Pictured: US Navy men examine captured Goliath tracked mine on Normandy beach. 17 June 1944. Gift of Charles Ives, 2011.102.152

Activities:
Download and print these fun activities!