TEACHER PROFESSIONAL DEVELOPMENT: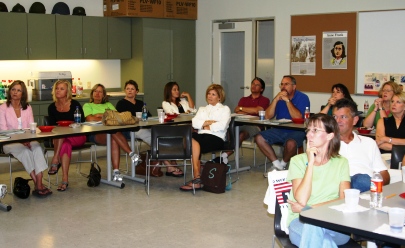 The National WWII Museum offers two ways for teachers to participate in professional development workshops: via online webinar and at the Museum. These workshops, led by Education Department staff, explore the history and lessons of various WWII topics. Participants receive historical background and classroom-ready lesson plans, view rare WWII video footage, study relevant artifacts, discuss strategies for teaching each topic in the classroom, and learn about the teaching resources available from The National WWII Museum.

Professional Development Webinars:
No matter the distance from the Museum, teachers can access unique and essential classroom resources and training from expert Museum Educators. All that's needed is a computer with high speed internet connection to watch and interact. All teachers will receive a certificate of completion upon participating and a recording of the program to review anytime. Check back soon for future online teacher programming!

On-Site Workshops:
The Museum offers teacher workshops for local teachers. Check our calendar for upcoming workshops, which are generally offered free of charge. You can also be the first to learn about on-site professional development opportunities by signing up for our monthly e-newsletter Calling All Teachers.