About The National WWII Museum in New Orleans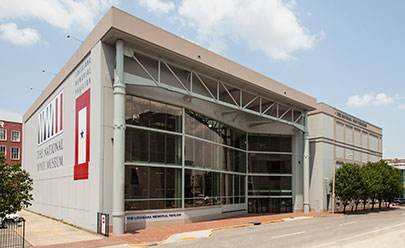 If you're looking for New Orleans museums with over 178,000 square feet of engaging content and multi-sensory exhibits, come visit The National WWII Museum. The history museum was voted the #1 tourist attraction in New Orleans and the #3 US museum by TripAdvisor.
Originally founded in 2000 as the D-Day Museum, The National WWII Museum is an unforgettable way to experience World War II—from industrial efforts on the home front to the combat experience of the American soldier abroad—and honor the generation that sacrificed so much to secure our freedom. Offering an impactful blend of sweeping narrative and poignant personal detail, the Museum features immersive exhibits, state-of-the-art multimedia experiences, and an expansive collection of artifacts and first-person oral histories to take visitors inside the story of the war: why it was fought, how it was won, and what it means today. Beyond the galleries, the Museum's online digital collections, virtual field trips and webinars, exclusive travel programs, and renowned International Conference promote continuing scholarship and offer patrons new ways to connect to history.
The biggest building on the Museum's campus is The US Freedom Pavilion: The Boeing Center, which boasts an incomparable collection of wartime bombers and aircrafts. It is also home to the USS Tang, the remarkable interactive submarine experience that takes visitors on the final mission of the United States Navy's first submarine. My Gal Sal, the illustrious airplane that was lost while on a mission in Greenland and recovered 53 years later, can only be seen by visitors to The National WWII Museum.
Designated by Congress as the official WWII museum of the United States, The National WWII Museum is located in downtown New Orleans on a six-acre campus, where five soaring pavilions house historical exhibits, on-site restoration work, a period dinner theater, and restaurants. A capital expansion program includes the construction of two additional pavilions in coming years, cementing the Museum as a state-of-the-art educational institution and a premiere destination for travelers from around the world and well as locals in New Orleans. Museums with this many interactive learning experiences and entertainment are one in a million. Plan your visit today!