TRAVELING EXHIBITS: TURNING POINT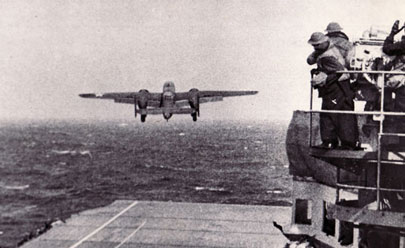 Curated by Larry Decuers and Seth Paridon
Exhibit Overview:
In the early, dark days of World War II, the remnants of the United States' Pacific Fleet fought a defensive withdrawal as the seemingly invincible Imperial Japanese forces extended the borders of their empire closer and closer to the US mainland. Stopping the Japanese onslaught would come down to a woefully out-gunned and outnumbered task force of aircraft carriers, diligent intelligence work and a handful of intrepid aviators.
This exhibit uses archival photos, maps and photos of artifacts to commemorate the 70th anniversary of the Battle of Midway and other battles in the Pacific that turned the tide of war.
At this time, this exhibit is only available in the Digital Exhibit format.
For more information about this exhibit, including the rental process, please contact Toni Kiser at 504-528-1944 x 601 or toni.kiser@nationalww2museum.org.

Digital Exhibit Details:
A CD-ROM containing digital exhibit collateral will be shipped via FedEx. Files include a PowerPoint slideshow (for projection or display on a monitor), an 82-page, high-resolution PDF file with maps and images with integrated captions for print and display and general instructions. Your institution is responsible for the printing and mounting of the images.
Price: $200, plus shipping


Sample Exhibit Panels:
Back to Traveling Exhibits Page