JOHN E. KUSHNER RESTORATION PAVILION: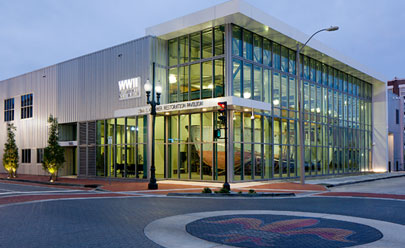 The John E. Kushner Restoration Pavilion features glass exterior walls that allow the public a permanent, behind-the-scenes view of the restoration and preservation of priceless WWII artifacts. New to the pavilion is the STEM (science, technology, engineering, and math) gallery, which focuses on how problems were solved during World War II through ingenuity and innovation. The pavilion, which recently housed PT-305 during its restoration, now provides a family-friendly gallery for science-based learning and close-up exploration, and houses several of the Museum's macro-artifacts.
One of the first items restored inside the 14,000-square-foot facility was a Higgins Industries PT boat, PT-305. Built in New Orleans, the vessel saw service in the Mediterranean theater, and is now heading to her home waters of Lake Pontchartrain, where she will be available for tours and rides.
About John E. Kushner
A native New Orleanian, John E. Kushner was an ardent enthusiast of World War II history, and donated several valuable items to the Museum's collection of wartime artifacts — including a World War II Jeep similar to the one his father, Jack Kushner, had driven during his service in the War. John believed in the importance of educating future generations about the values and lessons of World War II, and was instrumental in securing the original Museum site. He was one of the initial Trustees of the Museum — serving in that capacity from 1997 until his untimely death in 2005. Kushner had a particular affinity for collecting and restoring artifacts. The Museum's Restoration Pavilion provides an exceptional space for Museum staff and volunteers to carry on that important activity.
A very special thanks to our Kushner Restoration Pavilion Donors
The John E. Kushner Restoration Pavilion was funded in part by the Office of the Secretary of Commerce, Economic Development Administration.

The National WWII Museum would like to acknowledge the generosity of John Kushner's family and friends who have contributed to the completion of the John E. Kushner Restoration Pavilion in his honor:
Mr. and Mrs. Joseph C. Canizaro
Coya and Frank Levy
H. Britton Sanderford
Mr. and Mrs. Judah Hertz
Mr. and Mrs. Robert E. Smith Lupo
Richard and Toni Bachmann
Terri and John Havens
Scott and Leslie Jacobs
Robert Newman Family
Mr. and Mrs. Rick S. Rees
Andrew and Barbara Rosenberg
Merritt and Elly Lane
In honor of Calvin C. Fayard, Sr.
Tripp and Heidi Friedler
Valentino Family
Barbara Kushner and Family
Laitram, LLC
Mr. and Mrs. James M. Lapeyre, Jr.
Russell Palmer
David R. Sherman
Michael J. Siegel Steve and Donna Stumpf
Robert E. Talbot
Transoceanic Trading and Development

Images: