VEHICLES OF WAR: M3A1 STUART TANK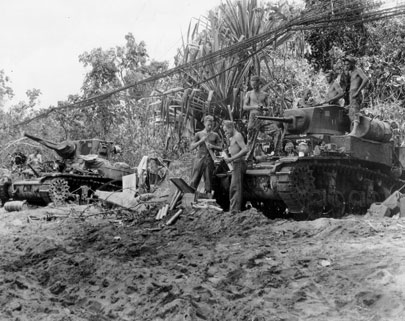 Photo courtesy of the National Archives

The US Army began development of a light tank in the early 1930s. After a number of models which progressively increased armor and fire power, the M3 series was initiated in July 1940. Provided to British forces as part of the Lend-Lease agreement, the M3 first saw combat with British forces in North Africa in November 1941. The British found the M3 to be under-gunned, but were so pleased with its mechanical performance they nicknamed it "Honey."
The M3 saw service with American forces in the Philippines when the Japanese invaded in December 1941. Feedback from these actions led to improvements incorporated in the M3A1, which began production in May 1942, including the addition of a gyro stabilizer for the 37mm main gun and a power traverse for the turret. The addition of the power traverse required the turret to be fitted with a basket or floor which rotated with the turret. This was the first American tank to include such features.
The M3A1 also saw service with American forces during the North African Campaign. The 37mm main gun which had proved inadequate for British forces a year before was now even more ineffective since German armor had continued to upgrade. One veteran noted, "Popcorn balls thrown by Little Bo Peep would have been just as effective" as the 37mm against German armor. Following the 1st Battalion, 13th Armored Regiment's participation in the Battle of Kasserine Pass, the Stuart tank was relegated to the role of reconnaissance and flank security. The M3 and its successor, the M5, continued to be utilized in Europe through the end of the war.
Although poorly suited to tank warfare in Europe, the Stuart tank proved effective in the Pacific. In New Guinea and the Solomons, the Stuart served in an infantry support role. Although the 37mm gun was not ideal, the small Stuart was much more practical for jungle warfare than the much larger and heavier Sherman that replaced it in late 1943.
The National World War II Museum Inc., 2009.411
Statistics
Type: Light Tank
Production
Date Introduced: 1942
Manufacturer: American Car & Foundry Company
Number Produced: 4,600+
Specifications
Crew: 4 (Commander, Gunner, Driver, Assistant Driver)
Maximum Speed: 36 miles per hour
Engine: Continental W670-9A
Weight: 28,500 pounds
Armament: 37mm main gun, three .30 caliber machine guns

Vehicles: