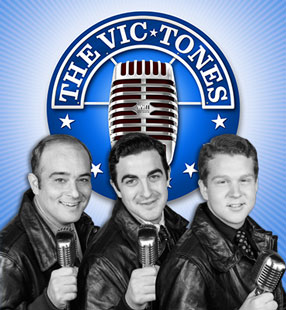 The Vic-Tones
Wednesdays, January 18 – August 23

The Vic-Tones, a dynamic male vocal trio with their own distinctive sound, are the newest addition to The National WWII Museum's entertainment roster! These talented singers celebrate the music of the 1940s. Swing, big band, jazz, Latin, and country music dominated and defined this decade, and the Vic-Tones bring it all to life in BB's Stage Door Canteen. You'll swoon and swing to the harmonic vocal stylings of ageless classics like Chattanooga Choo Choo, Way Down Yonder in New Orleans, Pistol Packin' Mama, The Way You Look Tonight, and I'll Be Seeing You, among many others.
Purchase tickets
View matinee menu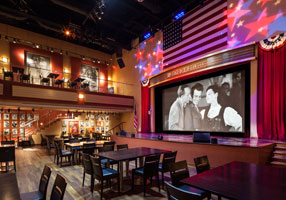 BB's Stage Door Canteen Launch Party
Friday, July 7

This event is at capacity.

Join us for the unveiling of our 2017–18 season, featuring teaser performances and live music by our Victory Six Swing Band! Drinks and delicious hors d'oeuvres provided by The American Sector Restaurant + Bar.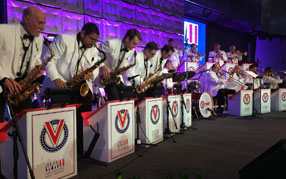 Dine & Dance with the Victory Swing Orchestra
Saturdays, July 8 – September 9

The National WWII Museum's own Victory Swing Orchestra celebrates the great big bands of the WWII era. This amazing ensemble of talented New Orleans musicians will have you In the Mood to dance the night away!
Purchase tickets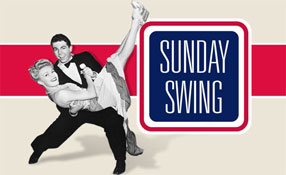 Sunday Swing
Sundays, July 9 – August 27, 2017
Dance class: 1:30 p.m. – 2:30 p.m.
Bands: 2:30 p.m. – 4:30 p.m.

Now in its 12th season, Sunday Swing is a popular summer program featuring local swing bands and dance instructors. For more information, call 504-528-1944 x 267.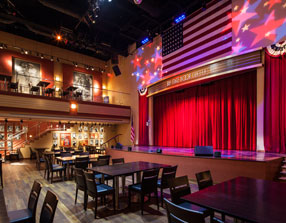 Stage Door Idol
Preliminary rounds: July 11, 18, 25, and August 1
Finale: August 15

Come see finalists compete for a headlining spot at BB's Stage Door Canteen! Singers will perform a song written or recorded in the 1940s, either with an accompaniment or a cappella. The winners of each preliminary round will perform in the finale on August 15 for a $1,000 cash prize!

For more information, call 504-528-1944 x 267.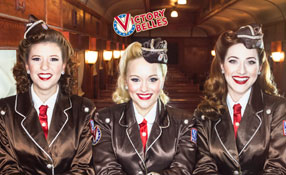 The Victory Belles
July 15 and September 15

The Victory Belles are a delightful vocal trio performing the music of the 1940s, serenading audiences at The National WWII Museum and across the globe. The music of the 1940s brought hope and joy to our GIs and those on the Home Front alike—and the Victory Belles keep that tradition alive in rich, three-part harmony. Their repertoire includes all the treasured gems of the WWII era plus patriotic classics including a musical salute to each branch of the US armed forces.
Purchase tickets
View matinee menu
View brunch menu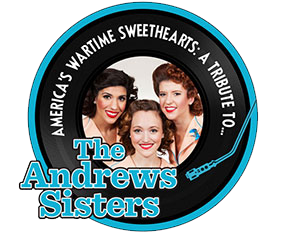 America's Wartime Sweethearts: A Tribute to the Andrews Sisters
Wednesdays, September 13 – November 22

Known for close harmonies, synchronized dance steps, and exuberant performances for troops here and abroad, the Andrews Sisters epitomized the "We're all in this together" spirit of the war years. The Victory Belles are proud to honor this talented trio with an upbeat Canteen salute, featuring Boogie Woogie Bugle Boy, Don't Sit under the Apple Tree, Chattanooga Choo Choo, and many more signature favorites. Starring the talented Shelbie Mac as Patty Andrews!
Purchase tickets
Like the Victory Belles!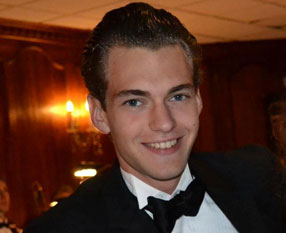 Spencer Racca & The Victory Six
Weekends, September 16 – October 1

2016 Stage Door Idol winner Spencer Racca croons Frank Sinatra, Bobby Darrin, and Dean Martin tunes with our popular Victory Six Swing Band. Catch him now before he becomes a star!
Purchase tickets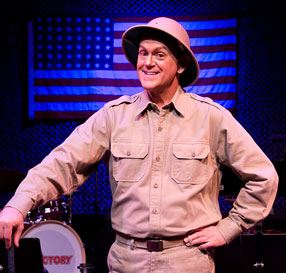 On the Road with Bob Hope & Friends
Weekends, October 13 – November 26

Our last Bob Hope show, which took place in the South Pacific during World War II, was such a big hit we decided to write another! This new variety show broadens our travels to span Hope revues presented during several American conflicts and will still feature a bevy of beauties, fondly referred to as "Hope's Gypsies." Bob Hope toured for more than 50 years to take his variety show on the road to entertain US troops. Bill Johnson, who stars as Bob Hope, along with a talented cast of seven will take you on a journey from the end of World War II through Vietnam.
Purchase tickets