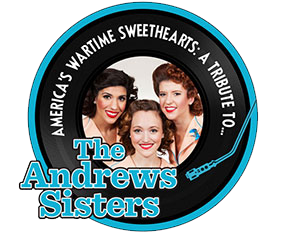 The Victory Belles present America's Wartime Sweethearts: A Tribute to The Andrews Sisters
Now Thru August 19, 2015

Top 10 Best Musicals of 2014
Theodore P. Mahne, NOLA.com | The Times-Picayune

Noted for their close harmonies and synchronized dance steps, the Andrews Sisters epitomized the "we're all in this together" spirit of the war years, and their optimistic songs and exuberance made them ideal morale boosters. The Victory Belles are proud to pay tribute to this talented trio, who volunteered so much time entertaining our troops here and abroad. Boogie Woogie Bugle Boy, Don't Sit Under the Apple Tree, I'll Be With You in Apple Blossom Time, and Chattanooga Choo Choo are just a few of the signature favorites you'll hear in this upbeat Canteen salute.
Purchase tickets
Purchase June 5 - 7
Like the Victory Belles!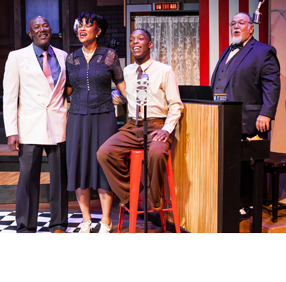 On the Air: A Live Radio Broadcast Musical
Now Thru May 31, 2015

"This upbeat production features a remarkable local cast and top-notch band."
Pamela Marquis | The Advocate

This brand new show revisits the live radio broadcast of New Orleans' own WSDC radio station! Hilarious, heartwarming, and irresistibly vivacious, On the Air will have you singing along to the hit songs of the 1940s, including You Are My Sunshine, Minnie the Moocher, When You're Smiling, Sentimental Journey, and Birth of the Blues. Featuring an incredibly talented cast of four plus the Hugh Dat Mystery Band, the show brings to life poplar gems recorded by Louis Jordan, the Mills Brothers, Nat King Cole, Sammy Davis Jr., the Ink Spots, and many more. Don't miss your chance to be part of our "studio audience"!

Use code 10105075 now to save $15 on Dinner and Show tickets!
Purchase tickets
View dinner menu
View brunch menu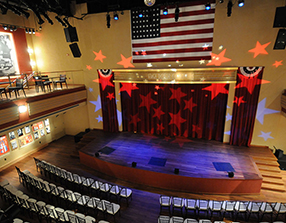 Stage Door Idol 2015
June 14 – August 18, 2015

The National WWII Museum is seeking the most talented singers from across the region to compete for a headlining spot in the Museum's new BB's Stage Door Canteen. The five-week competition will feature performances of the greatest hits of the war years for celebrity judges. The public is also invited to attend and cast their vote.

Preliminary auditions will be held on Sunday, June 14, 3:00 pm – 5:00 pm and Monday, June 15, 5:30 pm – 7:30 pm in BB's Stage Door Canteen. All contestants must attend a preliminary audition to advance to final rounds, and are asked to prepare a song that was written or recorded in the 40s. A Museum accompanist will be available but will require sheet music in the appropriate key. Contestants can also accompany themselves or sing a cappella. The competition is open to ages 17 and up. Preliminary auditions are not open to the public.

Finalists will receive an invitation to compete in one of four final rounds on July 14, July 21, July 28, and August 4, all from 6:00 pm – 7:30 pm in BB's Stage Door Canteen. The winner will be announced at the finale on August 18 and will win a $1,000 cash prize. For more information, call 504-528-1944 x 267.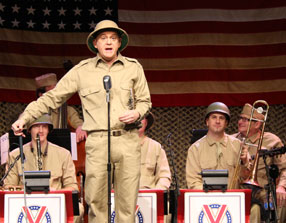 Thanks for the Memories: Bob Hope and His All-Star Pacific Tour
June 19, 21, 26, 27, 28

Take a seat in the crowd as Bob Hope takes the stage, just as he did during WWII to entertain the troops. This lively reenactment takes you there as Bob Hope presents a bevy of beauties: Judy Garland, the Andrews Sisters, Deanna Durbin, Carmen Miranda, and Frances Langford, bringing levity and music to war-zone islands during WWII. A talented cast of 14 including our Victory Swing Band perform many nostalgic gems such as Boogie Woogie Bugle Boy, Stormy Weather, I'll Be Seeing You, Somewhere Over the Rainbow, and, of course, Thanks for the Memories.
Purchase tickets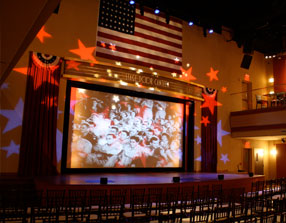 Moonlight Serenade: The Music of Glenn Miller
July 11 – September 12, 2015

Glenn Miller was the best-selling recording artist from 1939 to 1943. Our very own Victory Big Band, and five vocalists channeling the Modernaires, recreate timeless Glenn Miller hits such as In the Mood, Chattanooga Choo Choo, A String of Pearls, At Last, (I've Got a Gal In) Kalamazoo, American Patrol, Tuxedo Junction, Elmer's Tune, Little Brown Jug, and his signature Moonlight Serenade. Bring your dancing shoes!
Purchase tickets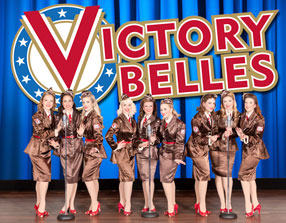 The Victory Belles present Songs that Won the War
September 16 – November 25, 2015

The songs, the style, the spirit of America! These glamorous girls will take your guests on a nostalgic musical journey through WWII-era classics including spirited performances of such hits as Boogie Woogie Bugle Boy, Don't Sit Under The Apple Tree, Chattanooga Choo Choo, and dozens more, all sung in rich, three-part harmony.
Purchase tickets
Like the Victory Belles!