FOCUS ON: VERNON BAKER: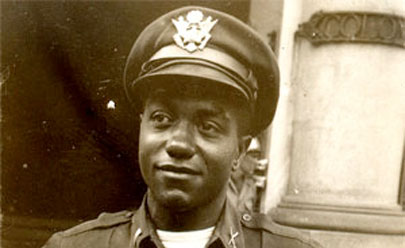 December 17, 1919 – July 13, 2010
The Medal of Honor is the highest decoration the US military bestows upon members of the Armed Forces. It is awarded to men and women who distinguish themselves "conspicuously by gallantry and intrepidity at the risk of his or her life above and beyond the call of duty while engaged in an action against an enemy of the United States."
Vernon J. Baker received the Medal of Honor from President Bill Clinton in 1997. Baker tearfully and humbly accepted the honor for courageous deeds performed over a half-century before in World War II. His bravery had previously earned him the Distinguished Service Cross. His fellow soldiers, aware of the realities of the time, did not nominate him for the Medal of Honor because they were certain that Baker, an African American, would be denied by white officers.
Baker, along with six other African American World War II vets, was eventually awarded the Medal of Honor by President Bill Clinton in 1997. He was the only recipient who was still living. He also was decorated with a Purple Heart and a Bronze Star.
In 2008, The National WWII Museum presented its highest honor, The American Spirit Award, to Baker and the other living World War II Medal of Honor recipients. His story will be the centerpiece of the galleries on the war in Italy in the new Campaigns of Courage: European and Pacific Theaters exhibit pavilion, opening in 2014.


Medal of Honor Citation for First Lieutenant Vernon J. Baker
For extraordinary heroism in action on 5 and 6 April 1945, near Viareggio, Italy. Then Second Lieutenant Baker demonstrated outstanding courage and leadership in destroying enemy installations, personnel and equipment during his company's attack against a strongly entrenched enemy in mountainous terrain. When his company was stopped by the concentration of fire from several machine gun emplacements, he crawled to one position and destroyed it, killing three Germans. Continuing forward, he attacked an enemy observation post and killed two occupants. With the aid of one of his men, Lieutenant Baker attacked two more machine gun nests, killing or wounding the four enemy soldiers occupying these positions. He then covered the evacuation of the wounded personnel of his company by occupying an exposed position and drawing the enemy's fire. On the following night Lieutenant Baker voluntarily led a battalion advance through enemy mine fields and heavy fire toward the division objective. Second Lieutenant Baker's fighting spirit and daring leadership were an inspiration to his men and exemplify the highest traditions of the Armed Forces.