FOCUS ON: SENATOR DANIEL INOUYE: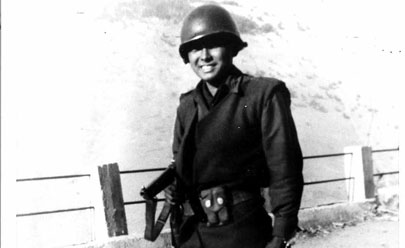 The country and The National WWII Museum lost a great friend and leader with the death of US Senator Daniel Inouye.
Inouye served as US senator from Hawaii for 49 years, the second-longest tenure of a senator in American history. As a celebrated World War II veteran and recipient of the Medal of Honor, he had worked tirelessly in support of efforts to document and pass on the war's history, and we owe him a great debt.
Inouye's death comes just weeks before the opening of the US Freedom Pavilion: The Boeing Center at the Museum, an exhibition hall made possible in part by his strong support. Inouye played a lead role in securing a $20 million Congressional grant in 2010 to support construction of this wonderful pavilion and its educational exhibits.
Senator Inouye recently videotaped a welcome address for the new pavilion and an oral history that holds immense value for Museum visitors and researchers.
Inouye served with the Japanese American 442nd Regimental Combat Team. He is remembered for his courage and tenacity in leading an assault that knocked out three fortified German machine gun nests at the Gothic Line in Italy. As he attacked with grenades and a sub-machine gun, enemy fire wounded Inouye in the stomach and lacerated his right arm. His arm later had to be amputated, dashing the young man's dream of becoming a surgeon. He turned to the study of law and public service.
Inouye and the late Ted Stevens, a senator from Alaska, also a WWII veteran, provided early support for development of The National WWII Museum, which opened in 2000 as The National D-Day Museum. The two senators joined other members of Congress in sponsoring a measure in 2003 that dramatically expanded the Museum's role, designating it "America's World War II Museum" with responsibility for depicting the full American experience in the pivotal military struggle of the 20th century.
They were both tremendous forces in the realization of efforts to enlarge our mission to encompass all theaters of World War II. These men believed that our nation needed a museum of broad scope and exceptional quality to tell the American story of WWII for future generations.
We plan to pay tribute to the leadership and friendship of these great Americans when we dedicate our new pavilion in January.
Dr. Gordon "Nick" Mueller
President and CEO
December 18, 2012


Senator Inouye's Medal of Honor Citation:
Inouye, Daniel K.
Rank and organization: Second Lieutenant, U.S. Army, Company E, 442nd Infantry. Place and date: San Terenzo, Italy, 21 April 1945. Birth: 7 September 1924, Honolulu, Hawaii. Entered service at: Honolulu, Hawaii.
Citation:
Second Lieutenant Daniel K. Inouye distinguished himself by extraordinary heroism in action on 21 April 1945, in the vicinity of San Terenzo, Italy. While attacking a defended ridge guarding an important road junction, Second Lieutenant Inouye skillfully directed his platoon through a hail of automatic weapon and small arms fire, in a swift enveloping movement that resulted in the capture of an artillery and mortar post and brought his men to within 40 yards of the hostile force. Emplaced in bunkers and rock formations, the enemy halted the advance with crossfire from three machine guns. With complete disregard for his personal safety, Second Lieutenant Inouye crawled up the treacherous slope to within five yards of the nearest machine gun and hurled two grenades, destroying the emplacement. Before the enemy could retaliate, he stood up and neutralized a second machine gun nest. Although wounded by a sniper's bullet, he continued to engage other hostile positions at close range until an exploding grenade shattered his right arm. Despite the intense pain, he refused evacuation and continued to direct his platoon until enemy resistance was broken and his men were again deployed in defensive positions. In the attack, 25 enemy soldiers were killed and eight others captured. By his gallant, aggressive tactics and by his indomitable leadership, Second Lieutenant Inouye enabled his platoon to advance through formidable resistance, and was instrumental in the capture of the ridge. Second Lieutenant Inouye's extraordinary heroism and devotion to duty are in keeping with the highest traditions of military service and reflect great credit on him, his unit, and the United States Army.

Service Photos of Senator Inouye:

A Salute To Freedom:
When The National WWII Museum honors Senator Inouye's many contributions to our nation and this institution at the US Freedom Pavilion: The Boeing Center grand opening ceremonies in January, at least one member of the audience will have a very special connection to the Senator. Student Megan Madeira will represent Hawaii as part of a partnership effort between the Museum and National History Day. The project "A Salute to Freedom" asked students across the country to identify what they felt was their state's biggest contribution to World War II. Essay contest winners were selected to attend the grand opening ceremonies. Megan choose the 442nd Regimental Combat Team, Inouye's unit. During her research, Megan was able to meet with Senator Inouye.