BB's STAGE DOOR CANTEEN FACT SHEET:

All requests, layouts, and media need to be finalized and delivered to A/V department 48 hours before event. Testing of Media received after this 48 hour period is not guaranteed and you run the risk of not having time to make corrections. No further changes can be made once the event has started. All Events in this room will need at least 1 technician assigned.
View all of our venue layout options in BB's Stage Door Canteen.

Dimensions — Approx. 60' x 33'
Square Footage — 2,300

Capacities
Theater Style — 200 guests
Banquet Style — 188 guests
Reception Style — 200 guests

Audio Visual Capabilities
Audio
Board: Yamaha LS-9 (64 channel digital sound board)
Speakers:
Main — Renkus Heinz TRX121T (3 left, 3 right)
Fill — Renkus Heinz SGK41 (4 front fill, 6 back fill)
Subs — Renkus Heinz BPS15-2k (1 left, 1 right)
Monitors — 3 built into stage flooring (2 rears, 1 aux)
Microphones:
10 Wireless Handheld — Shure UHF-R. H4 frequency (4 beta 87, 2 beta 58)
2 Wired — Shura Beta 57A, Super Cardioid Mic
4 Wired — Shure SM57, Dynamic Instrument Mic
1 Wired — AKG D112 Kick drum/Bass Mic
1 Wired — Bluebird Cardioid Mic
2 Wired AKG 214
1 Sm 7b
Players:
Connectivity — Patch Panel backstage:
8 inputs to board fixed, 18 possible if communicated beforehand
8 returns from board
Audio Recording: Yes. Single Track MP3
Video: 1920x1080p "Widescreen." 16:9 Aspect Ratio


Resolution for PPT Presentation, images, and video set to 1920x1080
16:9 Aspect Ratio
Acceptable computer file formats: JPEG, PNG (for logos) MP4, H.264 (for Video)
Projector: Digital Projections TITAN 1080p. 10k lumen. Fixed in place, backstage, rear projection.
Screen: Flyable 20'w x 12'h screen (23.3 diagonal)
DVD Player (BLURAY) – Denon DVNV500BD
Acceptable computer file formats: JPEG, H.264 (MP3 + MP4), DVD
Internet connectivity is available through Museum Wi-Fi.
Lighting
System: ETCION
Any general color wash can be done on stage
1 Vari-lite moving light (VL1000)
Power
QTY of 12, 20a standard (located back stage, stage right)
QTY of 4, 220v twist (located back stage, stage right)
Optional equipment available pending on other events within the Museum:
4 = D.I. Boxes
Roland LX-10F Piano
Baby Grand Piano
HotSpot PA6S Monitor speaker
4-Mackie Thump 15" Monitors

ATRIUM:

Dimensions — Approx. 70' x 21'

Square Footage — 1,498
Capacity: Reception Style — 75 guests

CANTEEN + ATRIUM:

Square Footage — 3,798
Capacity: Reception Style — 300 guests

Venue Schematics (click on thumbnail to view larger image):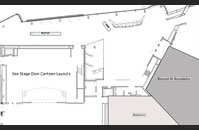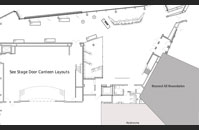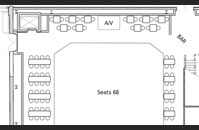 | | | | | |
| --- | --- | --- | --- | --- |
| BB's Stage Door Canteen Atrium Buffet | | BB's Stage Door Canteen Atrium Reception | | BB's Stage Door Canteen Level 2 Max Seated |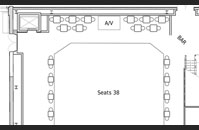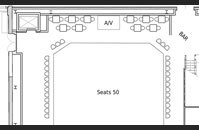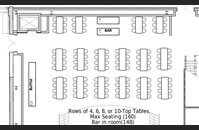 | | | | | |
| --- | --- | --- | --- | --- |
| BB's Stage Door Canteen Level 2 Show Seating | | BB's Stage Door Canteen Level 2 Theater Seating | | BB's Stage Door Canteen Max Seated or Buffet |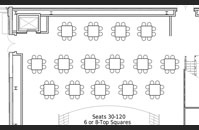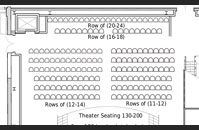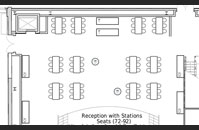 | | | | | |
| --- | --- | --- | --- | --- |
| BB's Stage Door Canteen Max Squares Seated | | BB's Stage Door Canteen Max Theater Seating | | BB's Stage Door Canteen Reception (additional seating) |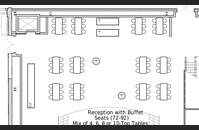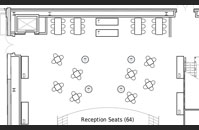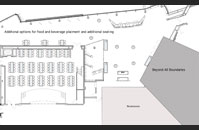 | | | | | |
| --- | --- | --- | --- | --- |
| BB's Stage Door Canteen Reception with Buffet | | BB's Stage Door Canteen Reception | | SDC and SVT Atrium Reception |

Additional Information: